We bring you everything you need to know about Our Favorite Cristiano Ronaldo, CR7.
CRISTIANO RONALDO NET WORTH
420 million euros
JUVENTUS NET SALARY IS
31 million euros
ESTIMATED INCOME IN 2020
100 million euros
Cristiano Ronaldo is considered one of the best and most dangerous soccer players in the world and with his engagement at Juventus Turin and his numerous advertising contracts with big labels ensures a considerable income. Cristiano Ronaldo net worth is 420 million euros. He is the richest active footballer, just ahead of Lionel Messi. Only David Beckham, as an ex-football professional, was able to build up almost as much wealth. Ronaldo opened his own museum in Madeira in 2013.
How much does Ronaldo make?
Cristiano Ronaldo earns around 31 million euros with his contract with Juventus Turin alone, which runs until 2022. With his old contract with Real Madrid, it was 21 million euros net per year. The transfer fee to Real Madrid is said to have been 112,000,000 euros. (100 million euros fee and 12 million euros solidarity contribution). Lucrative advertising contracts bring millions more into his account. The superstar receives more than twice his basic salary through his lucrative advertising deals. Cristiano Ronaldo earns over 90 million euros a year. He is currently the highest-paid athlete on the planet.
The earnings from advertising deals – Cristiano Ronaldo Net Worth
The star has received many millions of euros in advertising money from a mailbox company in the Caribbean. Of course, this also saved taxes again. Cristiano Ronaldo received 1.9 million euros from advertising for Toyota. In 2013, the car manufacturer was allowed to advertise Ronaldo's pictures for 13 months, but only in the Middle East and in Algeria, Morocco, and Afghanistan. Worldwide advertising would, of course, have cost more, so it was limited to certain countries. China also advertised with Cristiano Ronaldo, Honda had a contract with him at the same time. CR7 received 2 million euros for this, the term was limited to one year.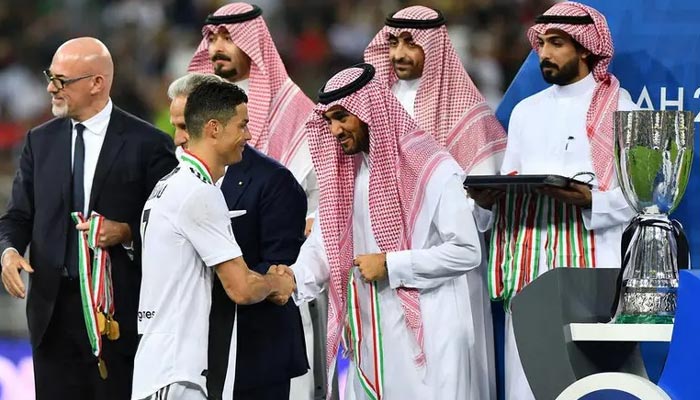 A world footballer like Ronaldo is of course also interesting for manufacturers. This results in a lot of income from advertising contracts. He was an advertising star for Nike, Armani, Clear, TAG Heuer, Samsung, Herbalife, KFC, Castrol and many more. Nike always releases new soccer shoes with the CR7 logo. Cristiano receives 5 percent from the sale of the shoes. In addition, the sports company pays a nice fixed salary of 1.6 million euros per year. The American food giant, Herbalife, pays Cristiano Ronaldo 15.1 million euros for a five-year advertising contract. Such advertising revenue makes the superstar's cash register ring.
CR7 investments
Pestana CR7 Hotels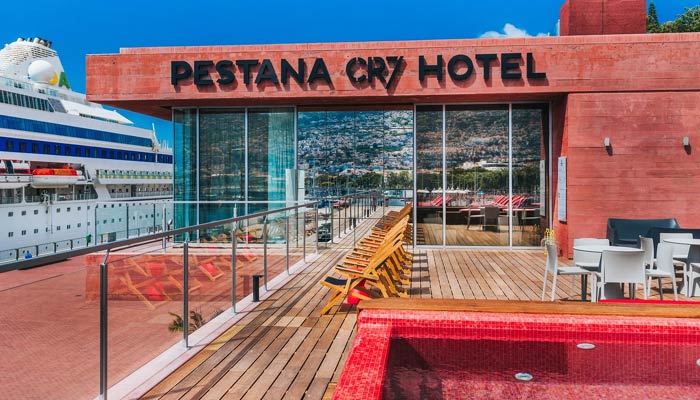 In order to spread the money in different companies and to invest it sensibly, Ronaldo founded together with the Pestana Hotel Group an own hotel chain under the name "Pestana Cr7 Hotels". In summer 2016 the first CR7 hotel was opened in Ronaldo's hometown Madeira and shortly afterward the hotel in Lisbon. Three more hotels are planned for 2020 in New York, Madrid, and Marrakesh. In addition, an additional hotel is to be opened on Paris' Rive Gauche in 2021. Construction price around 60 million euros, half of which is financed by the superstar and the other half by Pestana.
Also Read: 10 Cristiano Ronaldo Quotes That Will Motivate You To The Core
Restaurant chain – Tatel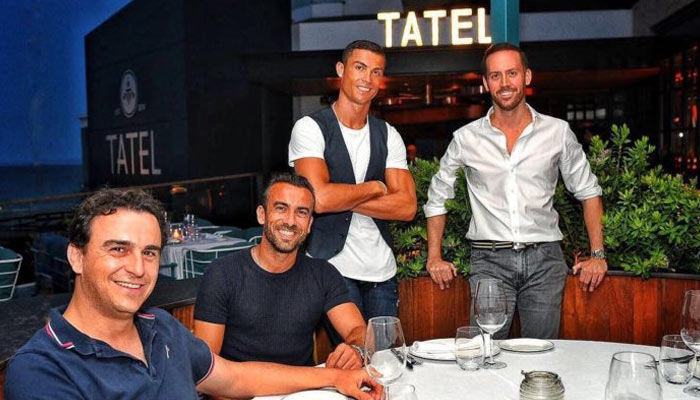 In addition to celebrities such as Rafael Nadal, Pau Gasol, and Enrique Iglesias, CR7 invested in the Tatel restaurant chain in summer 2017. The company currently operates restaurants in Madrid, Miami, and Ibiza. Further locations (Los Angeles and Mexico) are to follow in a short time. It is another lucrative source of income for CR7 since he himself has been a regular customer for years.
Clinic for hair transplants – Cristiano Ronaldo Net Worth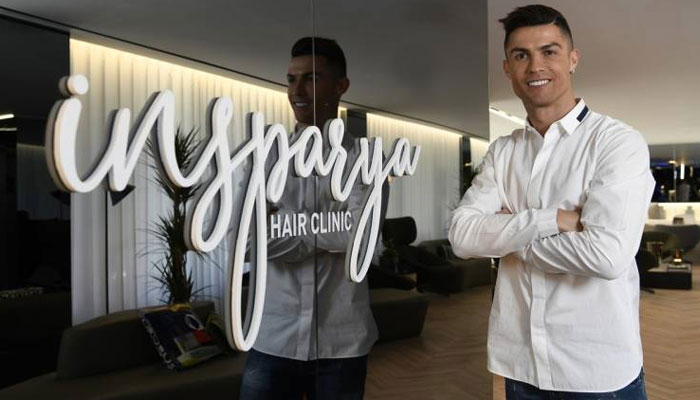 On March 18, 2019, a beauty clinic for hair transplantation will be opened in Madrid with the name "Insparya Hair Medical Clinic". CR7 is said to have a 50% stake in the company Insparya Group and has already invested one million euros, which are to be increased by another 25 million euros in the next 4 years. Ronaldo's girlfriend Georgina Rodriguez will get a position as a managing director. 150 employees are employed on 2,500 square meters, who are supposed to perform 18 hair transplants per day, starting price from 4,000 euros.
Cristiano Ronaldo And The Tax Affairs
The superstar once said 'it doesn't matter whether you play well or badly, the most important thing is to win'. This should not only be the motto when playing football. In 2014, the professional collected 63.5 million euros and did not pay tax on it. This was even legal, Cristiano Ronaldo cleverly did it. Professionals have to pay tax on their salaries at the top rate, which is around 50 percent in Europe. The trick is to bypass this rule.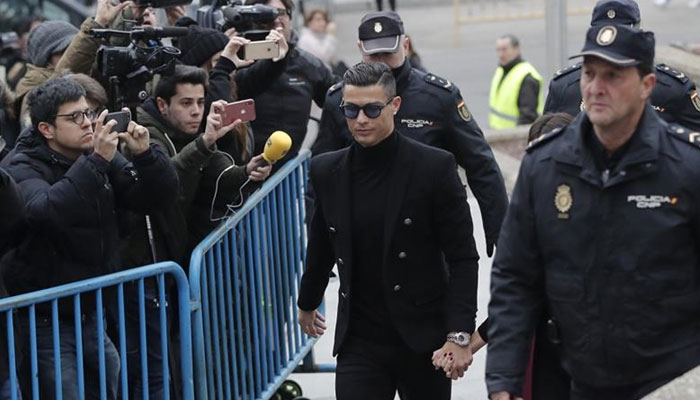 The advertising rights can be transferred to a company, which then collects the advertising revenue. However, companies tax at a lower percentage, they only have to pay the corporate tax. This is how you can optimize taxes. It is similarly done with the football clubs. Real Madrid, for example, buys the image rights from Ronaldo and pays him a fixed salary. This, in turn, is taxed at the corporate tax rate. Through the mailbox company in the Caribbean, CR7 was able to cheat a lot of money past the tax authorities. Overall, there is talk of more than 70 million euros. Ronaldo's contractual partner was Tollin Associates Ltd.
The consequence of the tax scandal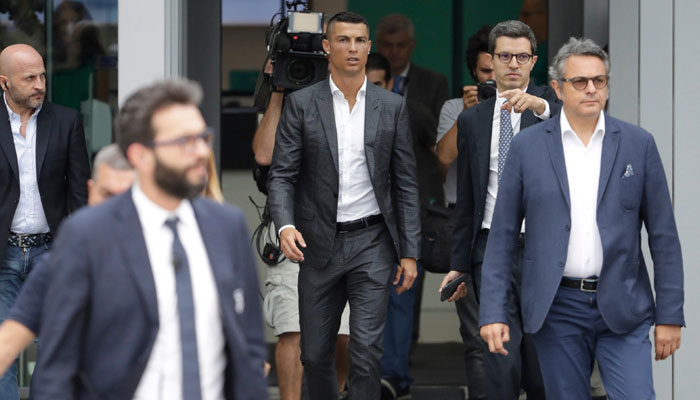 There was also a nice treat from the Spanish tax authorities. While the Spanish football colleagues had to pay tax on their salary at a tax rate of more than 50%, it was just under 25% for Cristiano Ronaldo. Those who had not lived in Spain ten years earlier were allowed to tax domestic income there with the low tax rate. In this way, CR7 was able to save a good quarter of its taxes, In addition, only the money that was earned there had to be taxed in Spain. The Spanish tax authorities were not interested in advertising revenue from abroad. In 2014 the kicker sold his image rights for the future. For the years 2015 to 2020, two letterbox companies in the British Virgin Islands bought his image rights for a proud sum of 75 million euros. As a result, Ronaldo has already saved taxes in the future.
Ronaldo's Spared by Court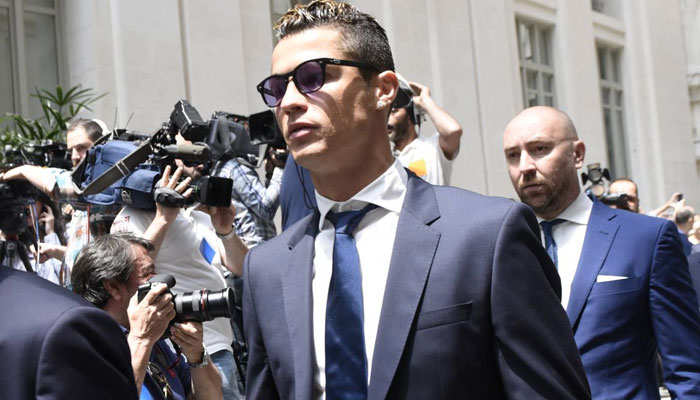 As it became known in June 2017, the footballer was now responsible for tax evasion. In total, it is said to be an amount of 14.7 million euros, which the Spanish authorities were able to prove. The management behind CR7 has long denied that tax evasion has ever occurred, but a lawsuit has been brought. In June 2018, he was given a prison sentence of 2 years (on probation) and he has to pay 18.8 million euros. In Spain, it is common for prison terms of 2 years or less to be imposed as suspended sentences. If you're a footballer in one of the top Spanish teams, then you can probably buy yourself out of any prison sentence, as Messi from FC Barcelona has already proven. So Ronaldo had a criminal record and had to pay 18,800,000 euros to the Spanish tax authorities, but he was spared prison time.
His career – Cristiano Ronaldo Net Worth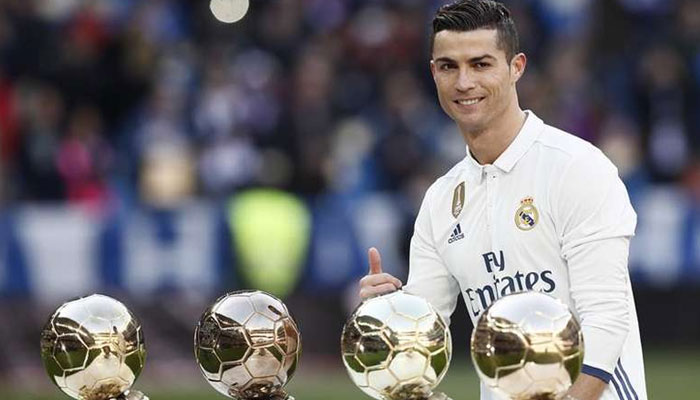 Cristiano Ronaldo was born on February 5, 1985, the youngest of four children in Funchal, Madeira (Portuguese island). Cristiano comes from a humble background, the mother was a cook and father was a gardener. He got his middle name Ronaldo after the then US President Ronald Reagan, who was his father's favorite actor. CR7 discovered his passion for football at the age of 3. In 1997 he completed test training at Sporting Lisbon and convinced with his performance. At Sporting Lisbon, Ronaldo went through all the youth stations to make his debut in the senior team in 2002.
Moved to England to Manchester United
In 2003, Sir Alex Ferguson (former Manchester United coach) became aware of Cristiano Ronaldo in a friendly against Sporting Lisbon and was the first Portuguese player in club history to commit 17.5 million euros. The coach was so convinced of his new signing that he immediately handed him the special number 7. The number 7 previously only had club legends such as Best, Robson, Cantona or Beckham. The nickname CR7 was born. (Cristiano Ronaldo 7)
Cristiano Ronaldo won Manchester United three times the English Championship (2007, 2008, 2009), one time the English Cup (2004), two times the League Cup (2006, 2009), two times the Supercup (2007, 2008) and once the Champions League (2008) with final victory in the FIFA Club World Cup. The 2008 season also earned him the important World Soccer Player of the Year award and the coveted "Ballon d'Or" trophy. The crowd favorite Cristiano Ronaldo earned the equivalent of 7.5 million euros a year at ManU, but that should only remain a small sum.
Christiano Ronaldo earnings at Real Madrid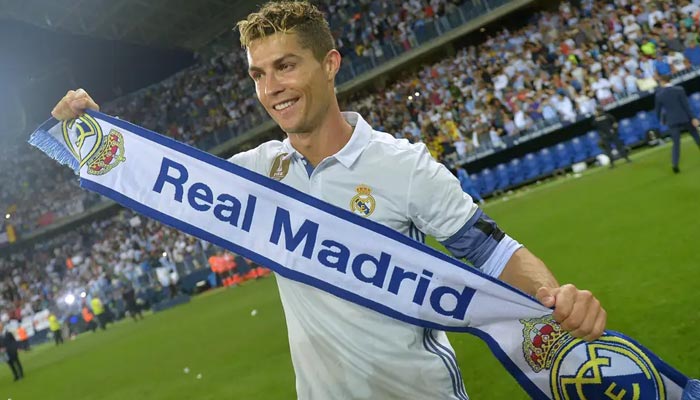 The transfer from Manchester United to Real Madrid became the most expensive in the history of football in 2009 with a transfer fee of 93.9 million euros. It was only in 2013 that Gareth Bale, who plays as a teammate of CR7, was able to achieve a higher value (100 million). The currently most expensive transfer, however, is called Neymar Jr. for 222 million euros from FC Barcelona to Paris Saint-Germain. In 2011 Ronaldo won his first title with Real Madrid as the cup winner. In 2012 he became a Spanish champion and Super Cup winner.
Ronaldo's former Real Madrid salary – Cristiano Ronaldo Net Worth
The contract with Real Madrid was prematurely extended beyond 2015 to 2018 and earned Ronaldo's first earnings of 15 million, then 20 million and then due to another early extension of the contract in 2016, a total of 21 million euros net per season. He is one of the highest-paid footballers in the world and earned more than exceptional players like Zlatan Ibrahimovic or Wayne Rooney. Only Lionel Messi and Neymar earned more than Ronaldo at the time.
Ronaldo's salary at Juventus Turin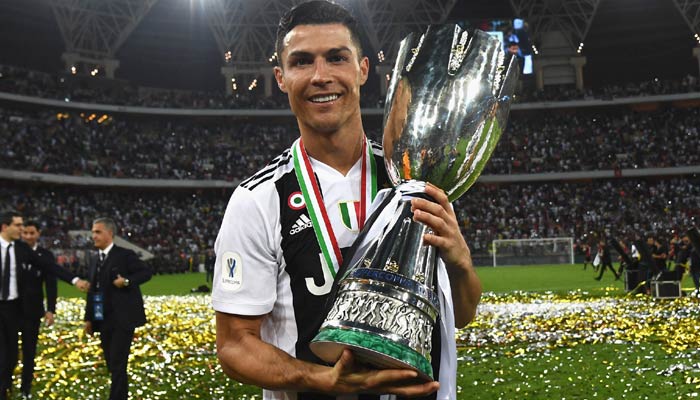 By moving to Juventus in the 2018/2019 season, CR7 was able to make another salary jump. He is expected to earn 31 million euros per season from the Italians by 2022, putting teammates such as Paulo Dybala, Miralem Pjanic and Sami Khedira far in the shade. However, the traditional Italian club is said to have doubled its debts to around 300 million euros due to the mega-transfer. The Juventus share rises through the deal, but whether the club can reduce these debts in the long term is questionable.
European champion 2016 with Portugal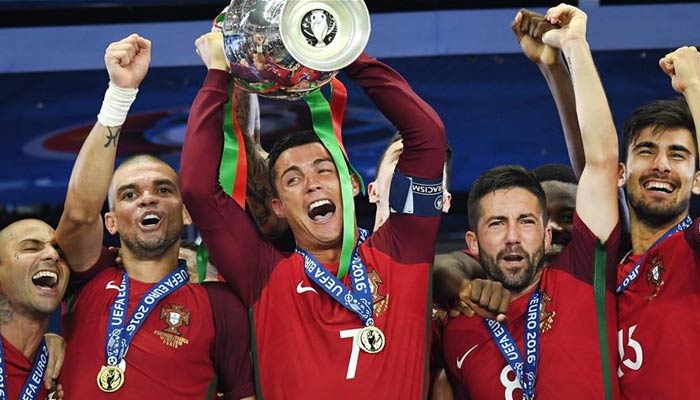 In the Euro 2016 fairy tale in Paris, Cristiano Ronaldo finally got the crown on his head. He was finally able to fulfill his long-standing dream of becoming a European champion with Portugal. Although he had to leave the pitch early in the first half due to injury in the final, his team was able to score the final goal against France. A controversial incident also occurred at the European Championship 2016. Even if Ronaldo is used to having many fans anyway, it was almost a bit too pushy. When Austria versus Portugal in the group stage, a runabout ran onto the field to get a photo with its Superstar CR 7. Casual as he is, the professional footballer even allowed the photo, after which the speedster was taken away by the securities.
Cristiano Ronaldo and his greatest titles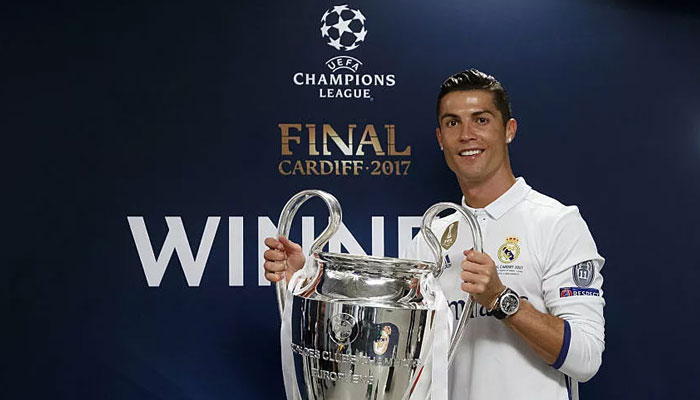 5x Champions League winners 2008, 2014, 2016, 2017, 2018
1x Italian champion 2019
2x Spanish champion 2012, 2017
3x English champion 2007, 2008, 2009
1x English Cup winner 2004
2x Spanish Cup winner 2011, 2014
1x European champion 2016
5-time world footballer in 2008, 2013, 2014, 2016 and 2017
2013 was a very special year for Cristiano Ronaldo. With 69 goals in 2013, he secured the coveted Ballon d'Or for the second time after 2008 and prevailed against his rivals Franck Ribery and Lionel Messi. In 2014, he was able to prevail against his rivals Lionel Messi and Manuel Neuer and was again elected FIFA World Player. In 2015 Messi was once again ahead of the pack before Cristiano Ronaldo was able to secure the Ballon d'Or again in 2016 and 2017.
Cristiano Ronaldo's cars – Cristiano Ronaldo Net Worth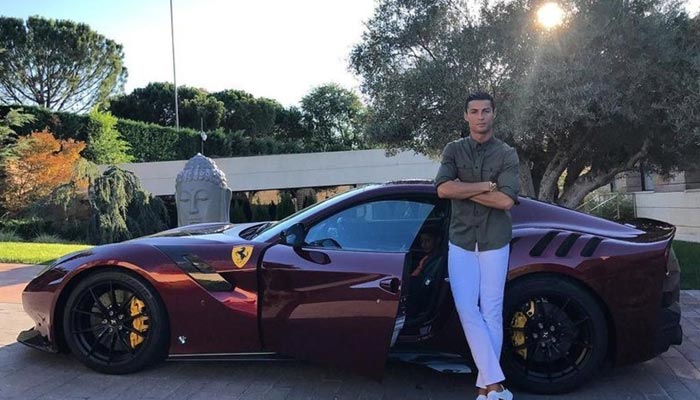 The superstar has a considerable car collection, which he is constantly expanding. He is the long list of cars that he owns:
Ferrari 599 GTB Fiorano
Bentley Continental GT Speed
Audi R8
Porsche Cayenne Turbo
Ferrari 599 GTO
Ferrari F430
Audi Q7
Audi RS6
Maserati GranTurismo
Porsche 911 Carrera S Cabriolet
McLaren Senna
McLaren MP4
Mercedes-Benz C220 CDI
Mercedes-Benz C-Class Sports Coupé
Bugatti Veyron 16.4 Grand Sport
Bugatti Chiron
Bugatti La Voiture Noire
Koenigsegg CCX
Aston Martin DB9
Lamborghini Aventador LP 700-4
Rolls Royce Phantom Drophead Coupe
BMW M6
Where does Ronaldo live?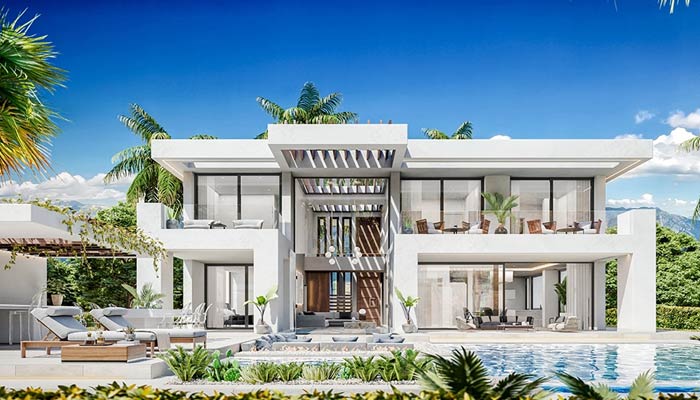 Since arriving in Italy, CR7 has lived in one of the most luxurious villas in the Turin mountains. The footballer lives with his family on the upper floor and the lower floor is set up for his staff.
From his real-time in Madrid, Cristiano Ronaldo still owns an 11 million euro villa in one of the most exclusive residential areas in the Madrid area, La Finca en Pozuelo de Alarcón. The neighbors are also exclusive because, in addition to his mother, this also includes Zinedine Zidane, Gareth Bale, Sergio Ramos or Diego Simeone. It was built by the Spanish star architect Joaquin Torres. The footballer also owns an apartment in the Trump Tower in New York. He bought it in 2015 for the equivalent of 16.4 million euros.
Suggested read- 10 quotes by Cristiano Ronaldo
CR7 – private jet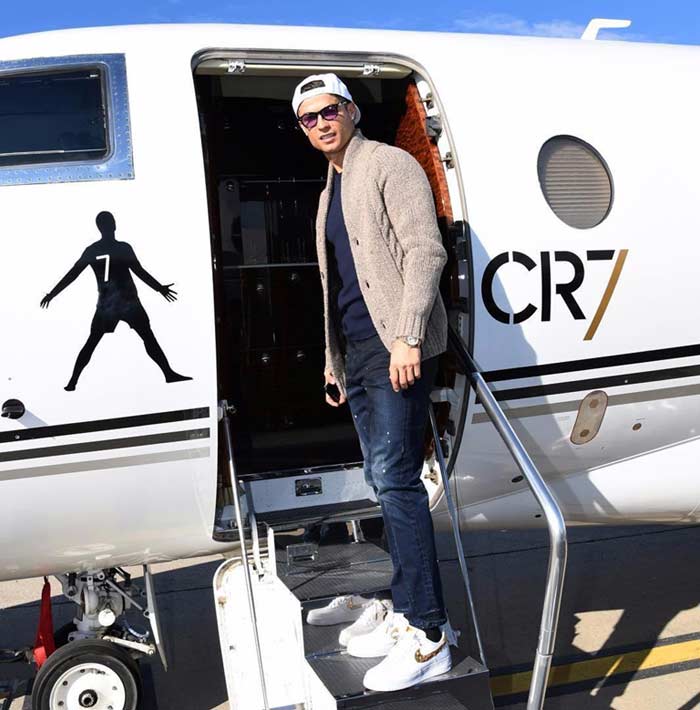 In addition to the luxury properties with the many luxury cars, CR7 also bought a small Gulfstream G200 Business Jet for 19 million euros. So Cristiano Ronaldo can fly anywhere quickly. After all, you have to at least partially invest all that money.