Kimi Raikkonen is one of the most intriguing characters in Formula 1. And yet, he is also one of the simplest.
Not a man of few words, Kimi is the real definition of 'what you see is what you get!'
And in a sport ruled by shenanigans, Kimi neutralizes anxieties and discussions by simply being himself. In fact, here's some food for thought.
If you are a regular on some of the fan pages of Formula 1 on social media, then chances are, you might have run into a picture shot where one is comparing the face (or facial features/appearance) of the Kimi in 2003 to the one at present.
The conclusion is that: some things just don't change all that much.
And ditto in that fashion for the oldest driver on the current grid, a grid that has avid youngsters like Lando Norris, Max Verstappen, George Russell, and Pierre Gasly, there's something peculiar that hasn't really changed at all for Kimi.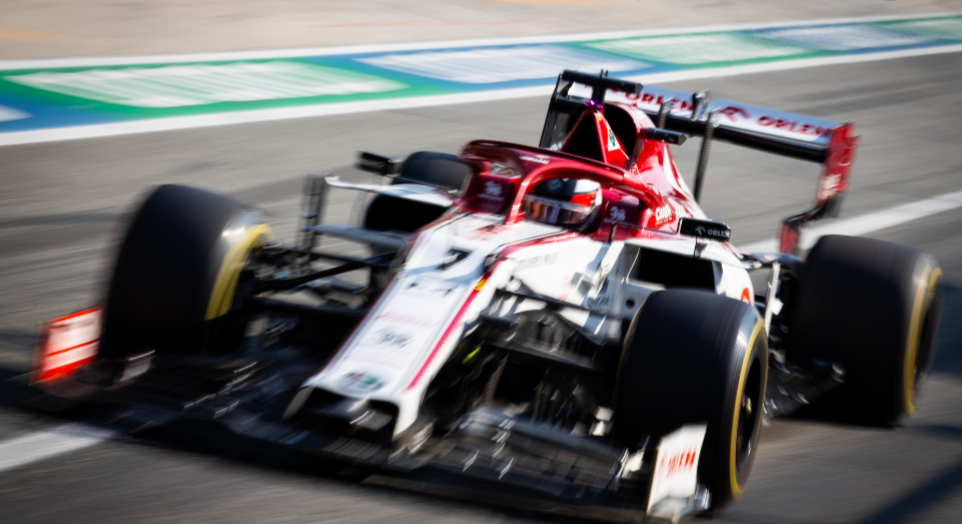 This is something that stands where it has in all seven races held so far in 2020.
The challenge in front of Kimi Raikkonen for the 2020 Italian Grand Prix is pretty much what was in front of him a week ago, at Spa-Francorchamps (a contest where the Finn managed P12).
And it's that Raikkonen is still hunting for that one point with which he could finally open his account in the current championship.
No longer in a car driving which you could mention that Kimi's hopes of winning or even entering top three are reaching a burnout.
But fair to say that as he went fourteenth fastest on Saturday's all-important qualifying battle at Monza, Raikkonen did something better at least. He bagged his personal best race start for this season.
And in so doing, laconic and icy-cool driver found a way to drag his recalcitrant Alfa Romeo car into Q2. This is an act that his teammate, Antonio Giovinazzi has failed to do in eight attempts so far.
While the critics, who, truth be told, seem done with the Espoo-born driver may not make much of this. A racing nerd may just admit, only Kimi, not Giovinazzi is managing to punch above his weight and doing things practically unfathomable in that Alfa Romeo machine.
So slow but sluggish on some circuits, painfully slow on the straights, the best, one can do is to bag a place anywhere between ten and fifteen on a track with that car.
Yet, for the second time in eight races, Kimi has managed to push that car to its maximum.
This also leads us to conjecture whether something rattling and surprising may just be on the cards for Sunday or would Kimi end with the same poor luck that saw collect a fighting P11 at the Steiermark Grand Prix, which was another race won comfortably by Lewis Hamilton.
Having said that, what must worry Kimi Raikkonen (somewhat) is that he's yet to get off the mark with nearly as many races left to go as one's that've been held.
Should 2020 actually end up being his last season in Formula 1, are we going to see a former world champion end minus any points?
What would hurt his die-hard fans a great deal is the realization that the contest where he's once again managed to avoid getting knocked out in Q1 is where he was on pole, just two summers ago.
Also Read: Engine Restriction Mode No Big Deal For Mercedes, Who Are Set To Nail Qualifying For Italian GP
Who can forget that ballsy 1:19:119 – recorded at Monza amid a climate hugely favoring the two Mercedes' and his then-teammate, Sebastian Vettel!
But then, has Kimi ever worried? In a 2014 interview, he confessed of not even remembering his lap record at Suzuka, also the venue of his famous 2005 victory back in the day.
Not the man for self-expression all that much, right?