Three possibilities in Formula 1 leave most thrilled. First is, seeing Lewis Hamilton win. Second is when Ferrari does well, which, honestly, on current form, happens far too infrequently than one would like. And third is, a last-lap lunge, of the kinds that McLaren's Lando Norris unfurled rather unexpectedly at Styria, in the final moments of the race where he passed Sergio Perez corners before the checkered flag.
What an incredible finish that was!
But if there's a sight that most drivers, howsoever experienced or talented they are, would usually dread, weekend after weekend is seeing someone like Max Verstappen in their mirrors. The sort of imagery that could be likened to spotting the deadly shark's finn whilst being stuck mid-ocean.
Never a pleasant occurrence that- right?
So when in the dying moments of what was clearly a fascinating British Grand Prix, Lewis Hamilton spotted Verstappen fast catching up on fresh tires in his Red Bull, for a few seconds, the six-time world champion's heart might have panted aggressively.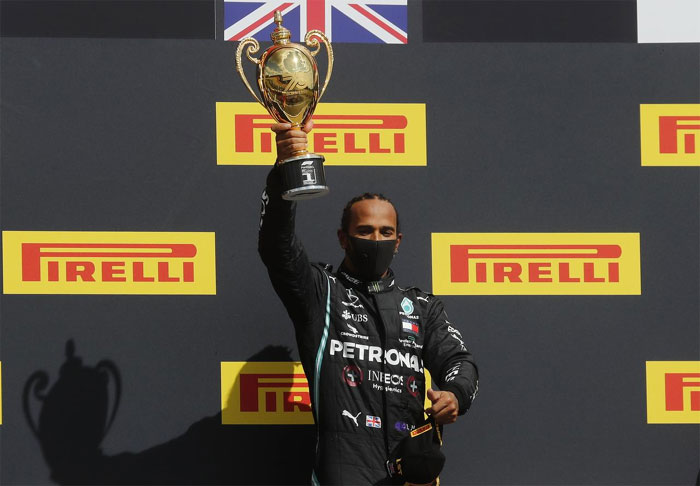 What on earth were he to do; how would he fend off Verstappen if the already punctured front tyre would give up seconds from the checkered flag?
Ultimately, as opposed to what many might have thought, Hamilton managed to limp to a win, uncomfortable that it may have been and one found Max Verstappen cheery and rightly so, at having finished second.
First up, the Dutchman's eventual position was way better than what he was primed for; that's if Bottas (who also endured the tyre degradation and fell out of point's finish) would've made it to second, then the Red Bull would've been stationed in on third.
Secondly, Verstappen, by virtue of pitting at the very moment, where let's face it, he too could've endured the same torrid luck that confronted both Mercedes', and not to mention, McLaren's Carlos Sainz Jr., would've been found limping and competing with only three wheels, effectively.
Instead, where Max Verstappen found himself at the end of a belter of a 52-lap run in the heart of Northamptonshire was with scoring 18 comfortable race points by virtue of P2 + that extra one point by blitzing the fastest lap of the race. So in the end, Verstappen collected 19 points.
Is that really terrible?
Yet, curious and uncontrollably demanding that we often are in an age where discussion is common and rabble-rousing the order of the day, there ensued a widespread discussion: Did by pitting Verstappen, Red Bull denied their main-man the victory?
Read Also: Why Is Paul Di Resta On The Standby For McLaren This Weekend?
To this, let's not say anything, just hear what Max himself has to say and maybe that would offer rich insight?
"I could also pick up a puncture, you know, and I could lose a lot more. That's the thing, it's always so easy to say afterwards that we should have just continued – but who would have said that Lewis would have got a puncture? How often does this happen? Normally, never. So, I don't regret anything. I think we made the right decision. Easy to comment afterwards. You don't know at the time – and we felt that was the right decision, and I still think it is the right decision. It is what it is."
So there you heard it from the horse's mouth. The only question, nonetheless is, if Max Verstappen is glad and not complaining, then why are the fans? For truly speaking, what if by continuing on old rubber, Max might have ended up with a similar fate as Valtteri, who unlike Lewis, just couldn't handle it and had to eventually pit?
Are there any final answers in a sport so mired in uncertainty as Formula 1 anyway? But if Max's not bothered, why are we? On to the next one due for August 9.