Before Germany's Nico Hulkenberg took his seat inside the RP20, he had been away from Formula 1 for 263 days. Fact. Prior to 30-31 July 2020 not in the remotest of possibilities was there any chance of having Nico Hulkenberg return to drive a Formula 1 car. Fact.
But as they say, never say never. A driver who had to forcibly bid adieu to the sport he competed in for ten straight years, upon the completion of the 2019 Abu Dhabi Grand Prix, Nico Hulkenberg was perhaps just as sad last year as were his globetrotting fans who had wanted to see their hero bag a Formula 1 contract for 2020. Alas it wasn't to be.
But as the famous German driver went seventh -fastest on Friday during the Free Practice P2, he was clearly, the most important man on the grid of twenty cars that went around zipping the 5.8 km-long track.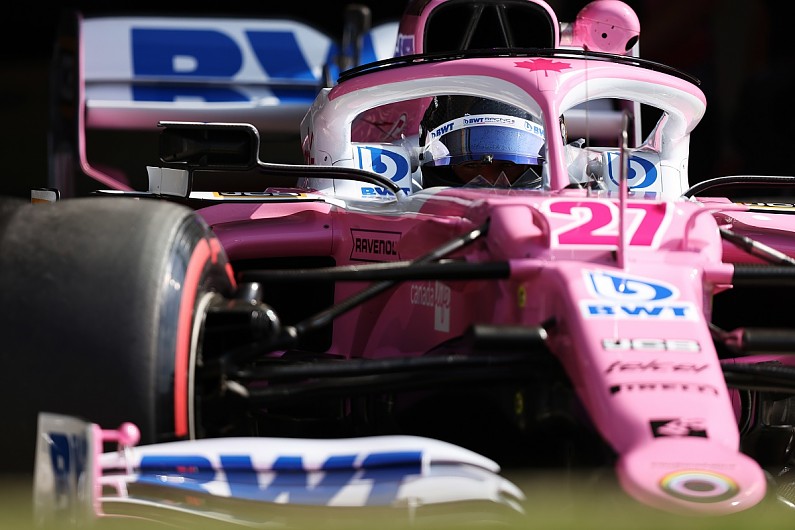 Bad timing for Sergio Perez, who got tested positive for the COVID-19 virus, became a real opportunity for the former Renault driver who is now going to race in the British Grand Prix double-header.
Seemingly fresh and utterly in control as if he had never really left the track in all these days, Hulkenberg was quite the calm and collected driver on Friday's free practice that he was expected to be.
Just that for glorious addition, he had a zipping car at his disposal. And with that, he and Stroll put up some remarkable times, Lance Stroll managing to top the score-sheets during the conclusive stages, going at 1:27:274, an indication of the things to come on Saturday.
But that being said, what did Nico Hulkeneberg himself have to say about his performance; what were his impressions and how does he feel about his chances on the big race-day Sunday?
The last 24 hours have been a bit special – crazy and wild," Hulkenberg explained.
"At 4:30pm yesterday afternoon I got the call, got the plane here, seat fitted until 2am tonight, 8am this morning into the simulator for an hour, bit of prep work.
"So it was a short night, but all worthwhile.
"Great effort by the team, I want to thank the team also, the night shift guys have done a great job to fit me in the car and even quite comfortably, and the FIA for turning it around so fast on the superlicence. It's been very special."
As they say, things often happen on the very last minute in Formula 1. For instance, take the 2018 where the season coming to a close, it was only post the Italian Grand Prix that Kimi Raikkonen's long-expected next career move was announced, where it became finally known that the veteran Finn would move to Sauber, now Alfa Romeo and in turn, Leclerc would get to don the reds.
But you'd feel that Nico Hulkenberg's return if it can be called a short-one at that, is rather bizarre and utterly surprising. Though, he must put together a solid drive on Sunday if in case he has to prove that he's still got the fire in his belly to compete at the highest level with impressive results, just the kind of performance that could stir fresh hopes about a brand new contract in F1. For that, though, a finish inside the top five places would be the key- don't you think?
Suggested Read: The One Big Improvement Antonio Giovinazzi Would Aim At Silverstone
Before that, there's the big qualifying round tomorrow. We wish The Hulk of F1 all the very best for a sparkling Saturday.