As a motorsports fan or someone interested in Formula 1 history, one of the best things to do in the light of the current grid would be to stand amazed at the feats gathered by Lewis Hamilton at various venues. He is, by virtue of his consistency and undaunted spirit, not only one of the greatest drivers there's ever been in the sport, but a stark reminder to the remainder of the grid that no Grand Prix can ever be an easy challenge when one's locking horns against this true titan of the sport.
Surely, there are Sebastian Vettel, Charles Leclerc, Daniel Ricciardo, and Max Verstappen fans and they will only grow in numbers in the future. But the response that Lewis Hamilton has generated by sheer unmatched consistency warrants greater appreciation than usually given.
True, his dominance and Mercedes' downright force in the current narrative of the sport is so enormous that it's nearly made the sport we so love borderline-boring. But then, is it even fair to blame Lewis or his dominant machine for that? Why have the others not stepped up when it's a equal-oppor Take this year for example. Only Red Bull have managed to emerge with a solitary win, that too, coming at the widely-acclaimed 70th Anniversary Grand Prix where thanks to Bottas and Hamilton running on hugely worn out tires, Max came in with a real chance and made most of it.
Other than that, only the two Mercedes drivers have enjoyed the rest of the wins, with Bottas winning the season-opener and Hamilton clinching five wins, one each at Styria, Hungary, Spain, Belgium and Silverstone.
His next stop definitely, as one can see, is Monza, the home of the Italian Grand Prix. And whether you've noted it or not, what's most important is to pay obeisance to Lewis Hamilton's record at Italy. The only adjectives one can run into in a bid to describe Lewis Hamilton's record at Italy happen to be – marvellous, brilliant, and simply outstanding.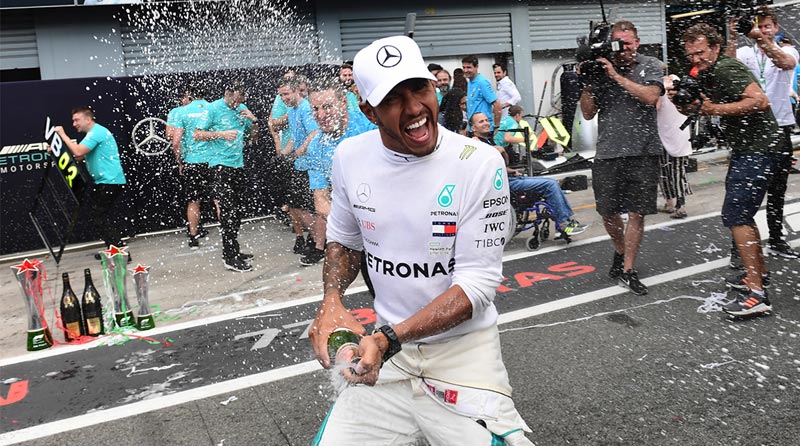 If one statement of truth would sufficiently explain that then one would resort to the term epic!
It helps to know that the great Michael Schumacher- easily the most famous Ferrari driver- raced away to five wins at Italy. And the only other driver to have matched the inimitable Michael Schumacher on this scale is none other than Lewis Hamilton.
Lest it is forgotten that Lewis Hamilton's record at Italy is buoyed by the fact that he won at Monza on two separate consecutive occasions, first in 2014 and 2015, and then, in 2017 and 2018. Previously, he also won the Italian Grand Prix back in 2012.
The only times where he's not finished on the stop step of the podium, Lewis managed to set the fastest laps of the race, during the events in 2011, 2012, and 2013.
As a matter of fact, apart from enjoying great race-pace and consistent performances that paved way to the podium, Lewis' qualifying form at the Italian Grand Prix is also worthy of some mention.
He happens to have been a five-time pole clincher here at Monza, home to the Italian Grand Prix, a venue where thanks to Lewis' recent antics, Mercedes have enjoyed untarnished consistency, that too, in arch rivals, Ferrari's home event.
Lewis' last win came at Monza in 2018, where he was involved in a hotly-contested close tussle with the then-Ferrari driver Kimi Raikkonen. A race where despite losing out the lead, on lap 4, only after he'd grabbed it from Kimi, Lewis had to make a late but memorable overtake with only a handful of laps to go.
Even to this day, one recounts that magnificent battle at the heart of the 'Temple of Speed', a contest which gave Lewis what he often craves but hardly finds: good, hard racing. While Lewis gathered yet another podium, Kimi raced home to his 100th F1 podium.
So as Monza dawns upon us in the next few hours, it's only logical to imagine that Lewis would be keen to induce his 'Hammertime': a display of faultless and determined driving which has afforded the gritty driver 89 race wins, two shy of matching the great Schumacher.
Can Lewis pounce on to his 90th F1 win? Well, given his current form it only seems a matter of time. But for now all eyes will be on Saturday's qualifying battle.