If anyone had any doubts about George Russell's talent or standing in the sport, then merely browsing through the opening lap of the 2019 Hungarian Grand Prix should ease some nerves and soothe some headaches.
While he began his first-ever Hungarian Grand Prix from sixteenth on the grid and also ended up on the same position, it seemed that George Russell was in a bit of a hurry to make places inside the first lap of the contest itself.
By the time the Williams driver approached the tricky Turn 2 of the 70-lap contest, he had already jumped Kevin Magnussen in that Haas and was targeting the two Toro Rosso's of Alex Albon and Daniil Kvyat.
For someone who's out-qualified his more experienced Williams teammate Robert Kubica in every single Grand Prix he's participated in, it's only a matter of time before the talented George Russell gets what he deserves: an ideal racing marquee that can help him channelize his pure racing talent.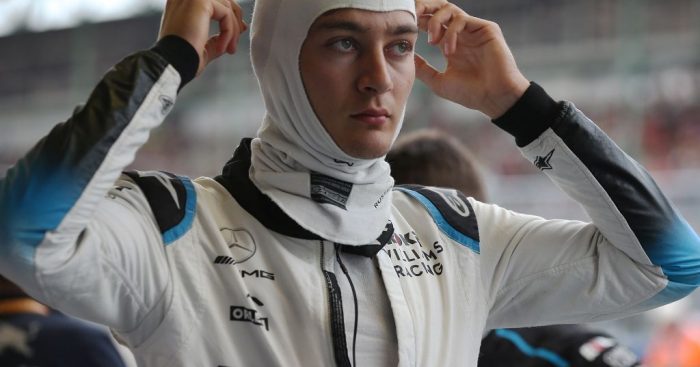 It's something that hasn't really come to the fore thus far, being part of a set-up where car-handling, race-speed are some alarming issues for the bright Briton.
And the above told, for quite some time now, talk had gathered about George Russell's F1 future. Surely, the 21-year-old driver seems better off in a team that can allow him to at least compete for healthy finishes in the midfield, instead of kicking up dirt as a backmarker. To that regard, some rumor mills contributed to fuelling the speculation regarding George Russell joining Mercedes.
It was being rumored that in 2020, Russell could take a seat behind one of the Silver Arrows, with Lewis Hamilton's future already secured. Remember, 'Hammertime' would definitely want to submit a fresh bid to capture yet another world title next year. Truth be told, it did seem plausible that the current Williams driver's move to Mercedes might in fact take place since talks had gathered steam regarding Valtteri Bottas's future being in unsafe waters.
That much of the race wins Mercedes have grabbed this year have been thanks to Hamilton's incredible winning streak and not owing to Bottas' imperious car-control did give an indication that Russell being linked to a future Mercedes seat did make some sense.
But guess what! It seems, all the talk regarding George Russell finding himself a new home at Brackley were just, paddock grapevine, nothing else.
Mercedes have only just confirmed that George Russell will not be promoted to a seat with the team for the next season. In fact, Wolff himself has shared the reason behind the decision. Citing the fact that Russell is fairly young to drive for a team that demands nothing but the very brutal best from its drivers, it may not be the right thing for the English driver at this point in his career.
Toto Wolff shared some insights, "Because you're being put in a car that is able to win races and championships, in a high pressure environment, and I think it can go terribly wrong for a young driver that has the talent to become a World Champion if he's thrown into that environment next to the best driver of his generation, who has been with us for seven years.
"And I wouldn't want to burn George.
"I think it would come too early, and on top of that I try to be respectful to all contracts we sign, and we signed a contract, we knew what we were doing with Williams, and this is where he's going to learn."