Cricket is a bit of a strange game. A few hours back yesterday, the New Zealand men's cricket team toppled Virat Kohli's highly rated Indian side to take the 3-match ODI series by an impressive margin of 3-nil. Not that this was entirely surprising, New Zealand are, after all, a strong limited-overs side. But the utterly one-sided manner in which the hosts upset the Indians- who, only days back had whitewashed Williamson's men in the T20s- was surprising.
A few hours earlier on February 12, the Indian women, who at one point were cruising at 115 for 3 in their pursuit of 156 in the Women's tri-series final (at Australia) were bowled out for 144.
Just last week, Pakistan's 16-year-old pacer Naseem Shah, with hardly any experience under his belt clinched a hat-trick against the touring Bangladesh side. In so doing, he became the youngest Test bowler to ever do so when experienced legends of the game like a Brett Lee, Shoaib Akhtar, Zaheer Khan, Glenn McGrath didn't manage something that exquisite. Such is the nature of the game that the notion of "expecting the unexpected" seems a reality ever-more capable of taking us by a complete surprise.
One such surprise happened earlier today on February 12, 2020, when the usually buzzing and high-octane Tribhuvan University International Cricket ground was home to a scoreboard that read USA 35 all out.
But really? USA 35 all-out? How did this even happen, one might be compelled to ask? Truth be told, there are low scores. There are pitiable low scores and then there are the likes that suggest- USA 35 all out.
For else, one doesn't quite know how else to put it? Apparently, Nepal, hosting the USA for a tri-series, also involving Oman was the epicentre of a contest that was anything but a run-riot for the obvious dearth of runs.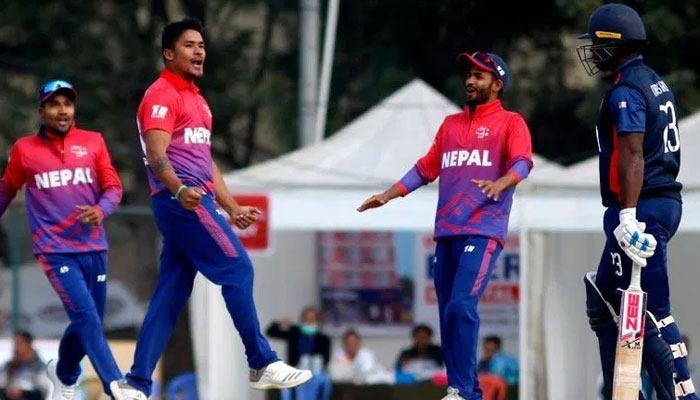 Apparently, top-scoring for the USA side was former West Indian cricketer Xavier Marshall, who was able to make 16. This being a full-fledged 50-over-a-side contest was supposed to have featured some more runs, one would've thought.
Instead, when batting first, Nepal reduced the equation to USA 35 all out, the team bundling out in only 12 overs, one realized that the contest was but a formality for the chasing side, among the fastest rising ICC Associate members out there; a team renowned for its fighting instincts.
Leading the charge and denting a big hole in USA's scoring was the famous Nepalese spinner Sandeep Lamichhane, who took a special, career-best 6 for 16. In reply, while Nepal lost just 2 wickets, they were able to come up trumps inside 6 overs. Former captain Paras Khadka top-scored with a 20 off just 12 balls.
But implicit in the American display- just think for a second about USA 35 all out- was the utter failure of the batsmen to deliver the goods. There were 4 batsmen who were out for a duck while barring Marshall, the other highest-scorer for the side was the wicketkeeping batsman Akshay Homraj (23 years), who was able to make just 4 off 5 balls.
What was rather dismal from the American point of view was that no other batsman barring their opener – Xavier Marshall- was able to register a double-digit score.
Can it get any worse for the USA team?