Back in 2007, a smiling teenager marked her ODI debut against Pakistan. This wasn't Pakistan with the likes of Diana Baig, Nida Dar, and the others. This was girls in green powered by the likes of Asmavia Iqbal, Urooj Mumtaz, Nain Abidi.
The venue was Pretoria.
It was and is an unforgettable destination for world cricket. Not only has it birthed iconic cricketers like Morne Morkel and Faf du Plessis but continues to enthrall hundreds of thousands who come to witness shattering of wickets and raising of the bats in ode to centuries made at the Centurion.
Back then, little did the world know that Pretoria, scene of a famous series win for the Proteas Women over twelve summers ago, was prepared to birth a widely-recognized force in the women's game.
Even as her debut knock lasted for 17 balls, it yielded two graceful boundaries of the Pakistani spin attack featuring none other than Sana Mir and Sajjida Shah.
As South Africa registered a clinical 84-run win over their visitors, this relatively unknown cricketer contributed 13 runs to her side's victory. But, importantly, starred in a developing partnership that saw South Africa not lose any more wickets for almost 6 overs in a crucial phase where Pakistani spinners were all around them.
At one stage, they were 2-96 and then, 3-106. But an inexperienced right-hander who was merely beginning to cut her teeth in international cricket began repairing the Protean inning, with the experienced Cri-Zelda Brits at the other end.
Today, several summers down the road, Mignon du Preez has a distinct honor against her name.
The famous SuperSport Park, her 'home ground' boast of the "Mignon Du Preez" gates. When asked by the ensemble of media on her feelings about her 'big moment,' Mignon, who's as simple and affable today as she was back then, said, " I'm at a loss of words. Never in my wildest dreams did I ever imagine something would be named in my honor and to have it at a stadium like SuperSport Park, that I've seen as my 'home ground' since I fell in love with cricket as a four-year-old, is truly special."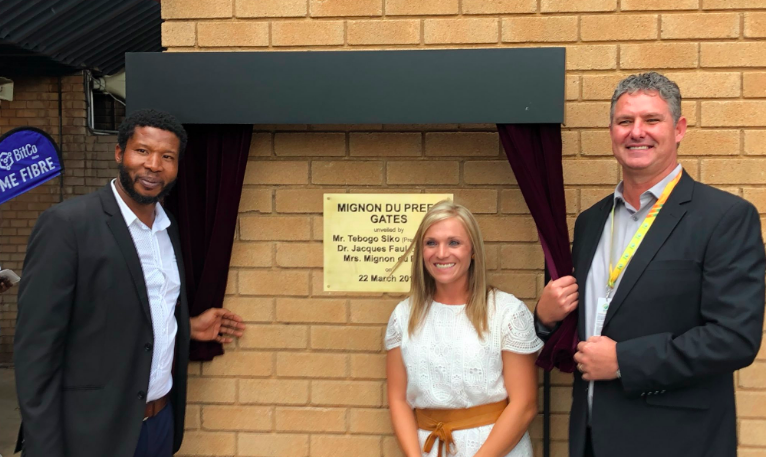 Modern stars such as Lanning, Perry, Stafanie, Harmanpreet and the likes who're all going strong, do not have such a vibrant memento against their names. But one reckons none of Mignon du Preez's contemporaries or past opponents would whine the South African having such an honor.
It's because few manage to keep themselves firmly on the ground whilst attaining sky-reaching success in an utterly competitive sport like cricket. It's because few talents achieve as much as Mignon has, over the years, and still keep their head high- in focus, not sunken in egotistical air.
She wasn't even a teenager when she fired a solid 258 back home in South Africa.
To this day, she's the only serving member of the Proteas Women's team who's struck a hundred against India, in India, and that too, in her maiden tour to the sub-continent.
A former captain for South Africa across all three formats and the first Protean batswoman to reach 3000 runs in ODIs, Mignon, with 2 tons and 14 fifties has come a long way in the game. And what's more? She's not changed one bit.
The runs may dry up at times, the big shots may not come with rich aplomb, and the familiar stitching of partnerships may not occur in cruise-mode. But even today, amid times of sudden South African vulnerability, a phenomenon that teams like Pakistan felt in early-2019 and India sensed in 2018, having a Mignon du Preez in the middle order helps.
Make no mistake.
You may see far bigger sixes, some that reach several rows into the stands from the bat of a Chloe Tryon. You may find cricket speaking in an exhilarating, rambunctious tone thanks to the magic that big-hitters like a Hayley Matthews or Deandra Dottin or Smriti Mandhana lend to white-ball cricket.

But with the pressure back on from the bowlers, amid times of duress, you can be sure that one batswoman would rescue South Africa when nothing's going right for her side. A sturdy middle-order bat and an utterly competitive holder of an inning, Mignon's been taking bullets for South Africa and scoring fluently in a fashion that would make not just the likes of Faf or AB but even Dravid and Chanderpaul proud.
She exhibited some of that in the noted 2017 World Cup, a tournament widely recognized for being a game changer for the women's game.
In the semis contest versus England, when all of her noted compatriots departed meekly, including the famous quartet of Lee, Chetty, Kapp, Niekerk, with South Africa reeling at 126 for 4, thus began the Mignon du Preez show.
What would follow would be an unbeaten knock, one that produced 5 boundaries and 76 solidly amassed runs off 95 balls. She would remain unbeaten, her head held high, having orchestrated a great revival for a team that found something to challenge the English might.
Mignon's inspired knock shone brightly amid a montage of despair that engulfed van Niekerk-led South Africa, her captain down on the ground in the end, with the image of Anya Shrubsole extending a comforting hand of support speaking of just why women's cricket is a lot more than just flexing shoulders alongside men but showcasing chivalry when needed.
It's been well over a decade since one of Pretoria's finest daughters, among the finest ambassadors of the game, has been plying herself with courage, concentration, and quintessential Protean unflappability.
And at 30, she's just reached her peak. It occurs to the avid follower of the women's game that South Africa need her just as much as she needs her constant anchor in life, the Protean Women's side.
The times might have changed and the common template in which to flourish might have thinned down from Tests to T20s, but it's characters like Mignon- simple, grounded, determined, charismatic- that the sport needs much more than it ever did.
South Africans, who are yet to win a major ICC World Cup event may just need someone like Mignon du Preez all the more to play the guide and philosopher to a vibrant outfit further solidified by the presence of rising names like Ayabonga Khaka, Sune Luus, Laura Wolvaardt, and Sinalo Jafta.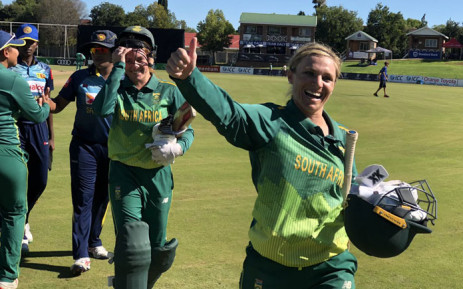 May Mignon du Preez continue to carry the responsibility of a hefty middle-order- Kapp, Luus, Tryon- on her shoulders and continue to guide South Africa to many an inspiring victory ahead.
May the flame of the Protea fire burn bright!