The West Indies open their 2019 world cup campaign against Pakistan in a few hours from now. This, it must be said, is going to be a really interesting game and not merely for the fact that the West Indies have in their ranks a tall order of hitters. So there's Gayle for starters with Evin Russell back in the hunt. Evin Lewis is back. Hetmyer has already given the world a good glimpse of his skills. Moreover, Carlos Brathwaite, who hit those four mega sixes three years back in the day, can still put on a good whack.
The Caribbean men play their maiden game at Trent Bridge. Does that ring a bell? It was here a few months back where hosts England smashed records as their batsmen went berserk in posting 481 runs on the board. And it will be this very ground where the big-hitting West Indies will take the field against a Pakistan loaded with armored warfare, given they've hardly got a dearth of specialist bowlers.
In Shadab Khan and Imad Wasim, they already have a great bunch of spinners. Should Aamir and Wahab play-as they should considering experience will most likely be the key- they'll have a duo of 162 ODI wickets challenging a West Indies that follows the simple principle of batting: attack is the best form of defense.
There's little sense in mentioning that in Hasan Ali they'll have a genuine mover of the white-ball.
The contest may just have over many a million eyeballs than the #EngvRSA contest on May 30 for the simple reason that it'll most likely go down as Pakistan's bowling vs West Indies' batting and that an entire sub-continent, where the West Indians are any day more popular than their May 31 counterparts are will be transfixed.
This is where one man will be vital for Jason Holder's men. That man is Shai Hope.
Shai Hope enters the Cricket World Cup at the back of scores like 101, 74, 87, 109, 170 against New Zealand (Practise game), Bangladesh, and Ireland( record-breaking stand), respectively.
And where the current order stands then there's little doubt about who the actual danger-man for the West Indies could be, considering one cared to peek beyond the term "hitter" and examined the importance of a "sheet-anchor's" role.
Truth be told, the way Shai Hope- 6 ODI centuries from 50 innings, which is 1 in every 8- is going about his batting, puts little doubt about who West Indies' main or frontline batsman is. And maybe, this is where it is all the more vital for their other experienced batsmen to stand up.
It's for the simple reason that, should it happen that Shai Hope falls cheaply, which fundamentally means, their rock-solid number 3, Pakistan may get an early whiff of attacking their middle and the lower-middle order which, given how Darren Bravo has been batting of lately, doesn't inspire much confidence.
This is not to doubt the ability of a man who grew up idolising Brian Lara, his famous cousin, and can do more than just imitate his famous cousin, remember that 103-ball-102 against a South Africa comprising of AB, Faf, Amla, and de Kock on the one hand and Morkel, Rabada, Tahir on the other?
If there was a limited over knock that you'd pick Darren Bravo for in your team, then maybe this was the one, an effort that featured 4 sixes, an effort that was perhaps as classy as the "Lil Bravo's" graceful 73, a top-notch World Cup inning that came in a losing cause back in 2011.
That said, there's a lot of sense in having a Lewis and Gayle set the early tempo of the inning with either among them- although, Gayle despite all that experience may not be the most dependable choice to play a really big knock given his age– hanging on for a while for Shai Hope to settle in well.
Moreover, it could very well be that Hope is asked to open, given he fired that 170 against Ireland from the top order. But let's say if that were to happen, wouldn't West Indies be risking a fair bit?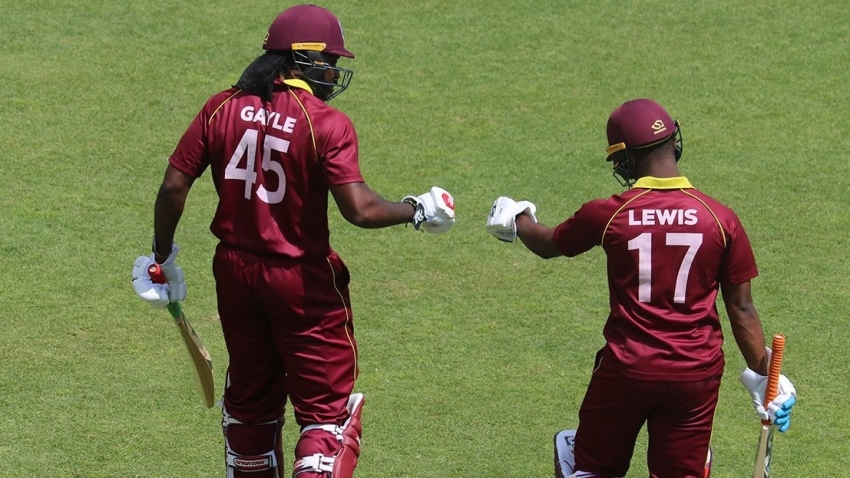 What if Hope departs early? Can Lewis- although, with that remarkable 176, a knock that came in England and one that may well have gone on to touch 200, over a year and a half ago- take down Pakistan, having sat out for nearly half a decade?
Doesn't seem so. Surely, if miracles were to trade places with the usual occurrences, then we may have an out and out Gayle storm.
Because let it not be forgotten, it was Gayle, the six-hitting tyrant against England in the Caribbean, who plundered 12 half a dozens on his way to that 129-ball-135 and yet failed to take his team over the ropes. It was, of course, quite another thing that it took both Root and Roy to fire hundreds to chase down West Indies' stiff ask of 360, a kind of total that a typical Trent Bridge wicket may offer.
This, in itself, shall be a litmus test for the men who do the Calypso with great ease because an early wicket or two and we could be in for a real contest that shall open the floodgates for Pakistan's very well-balanced spin and pace attack- why forget there's going to be Hafeez and Malik in there as well– to challenge their opponents. This, we all know, happens to be a side that often relies on brute power and less on basic cricketing hygiene, such as rotation of the strike. And maybe that's why Shai Hope- who's also begun pounding bowlers with good measure- can factor in.
The 102-meter sixes and the muscular pulls that hit the car in the parking lot don't belong to him. It's the gentle nudges, the fine drives and the rasp cuts in the outfield that measures his character and composure.
And if all goes well for the once mighty Windies, provided they have a back-up plan for this young hero, we shall see a new order of talents taking their righteous place in World Cricket once again. There's little doubt that they can!