Every cricketer who has ever featured in the sport, might have wanted his International debut to be something of a class defining holler but there are only some that have actually managed to make the day their own.
Shahid Afridi, for everything he has achieved in his 21-year old career for Pakistan, is one of the most celebrated cricketers in the world and when it comes to making a historic debut, the former Pakistani cricketer is the inevitable one whose name will always be written in Golden words in every Cricket fan's memory.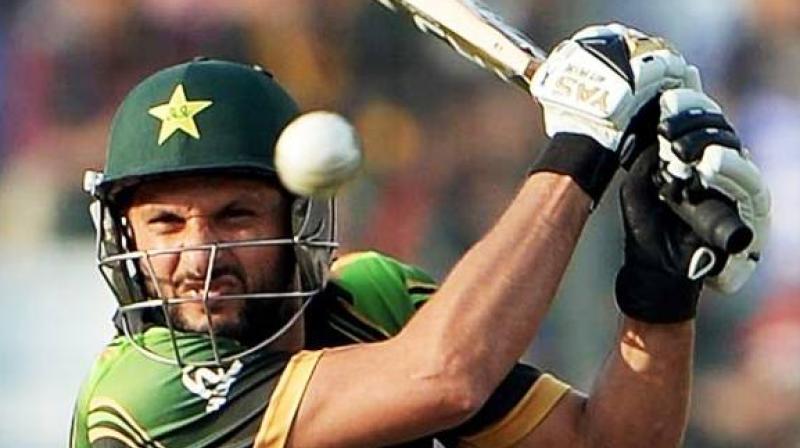 Shahid Afridi is one of those players who has left a legacy behind them in International cricket and despite the all-rounder having announced his retirement, his contribution towards the game will always be cherished and the benchmarks that Shahid Afridi has set will never cease to awe cricket fans as well as the young generation.
Also Read: Shahid Afridi Registers His First Ever T20 Century In NatWest T20 Blast Quarter-Final
'Boom Boom Afridi' is how many of us know him and there is a valid reason to justify his nickname. On October 4, 1996, Shahid Afridi registered the mother of all debuts when he smashed a 37-ball 103* in his first ODI innings at Nairobi's Gymkhana Cricket Ground.
Shahid Afridi, just 16 years and 217 days old, was playing against the 'fireball' bowling attack of Sri Lanka and he did the unexpected by smashing every freaking delivery towards the boundary line and registering a 103-run knock off just 37 balls, which was a world record at that time.
Watch Shahid Afridi Going 'Boom Boom' On His Debut Here
https://www.youtube.com/watch?v=qYuvfhy_l2c
( Video Source: Saad Akram )
Interestingly, it took Shahid Afridi 37 balls to get to a three-figure total, 11 fewer than Sanath Jayasuriya's ODI record set by the Sri Lankan, six months earlier. Afridi's 11 sixes also equaled Jayasuriya's record of most number of maximums in an ODI innings. After Shahid Afridi's blistering knock, Pakistan had 371 runs on the board, which was the second-highest ODI total at that time, while the Lions were defeated by a huge margin of 82 runs.
Over the years, only two batsmen have managed to better Shahid Afridi as AB de Villiers' recorded a 31-ball ODI century in 2015 before which Cory Anderson's 36-ball quick-fire hundred, was the fastest ODI century in the history of cricket.
Everything said and done, AB de Villiers and Cory Anderson had played a lot of international cricket before achieving the feat, which makes Shahid Afridi's performance stand out from the rest while also marking the entry of a 'Beast Of A Batsman', who then evolved to become one of the best finishers in International Cricket, over the time.