For someone who's just 18 years of age and has already featured in two World Cup competitions, one each in the T20I and the ODI format, you cannot be possibly wrong to think that Shafali Verma is doing quite a fair bit at a very young age. In cricketing lexicon, she's a newborn. A kid even. Well, given she's still very much in her teens, she's actually one, albeit being a brave one.
Though what's interesting about this avid youngster is that not only do her best days remain in the future but some of the best moments of her career are happening as we speak.
So how's that?
A few hours back, news pertaining to Shafali Verma struck chords with the avid fan of the Women's game. Apparently, India's big-hitting top order bat has just been awarded the Emerging Player award by the respected BBC.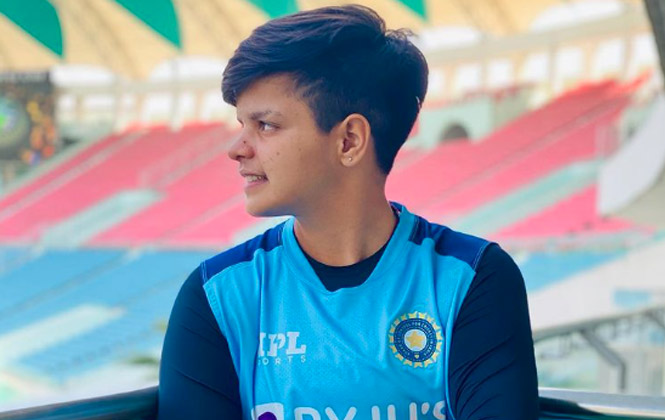 This is a truly special achievement and no mean feat.
Well no cliche in saying this that it's one thing to be successful within your own country or place of origin but something quite spectacular when you are recognized (then whether for your feats or your talent) by a different region altogether- isn't it?
That Shafali Verma has picked up an honour in the very land that birthed the sport she plays says a thing or two about her prowess and the excitement she brings to the middle.
The ceremony that recognized the explosive right handed bat, i.e., the BBC Indian Sportswoman of the Year Awards, recently took place in India's national capital New Delhi.
In some ways, it won't be incorrect to suggest that while her team lost in the group stage, having failed to proceed to the key semi final stage of the recent Women's ODI World Cup, the BBC award acts as a vital consolation to the free hitting bat.
Moreover, there's little surprise as to how or why Shafali Verma is a name that is constantly breaking boundaries and pushing the lengths of possibilities in the realm of the game.
For someone who grew up admiring Sachin Tendulkar, it's quite emphatic that Verma herself broke into the top flight of international cricket earlier than her own idol did; Shafali's debut year was 2019, when she was barely 15.
But having said that, just where do we see the fine cricketer three years after she broke through?
It helps to know that Verma has belted – since free hitting features in her game plan, not accumulation of runs – three half centuries in each of the three formats she's played.
With a highest score of 96 in Tests, Verma has already scored a 56 in ODI cricket, a personal best that she came quite close to overtaking very recently, when against the Proteas women, the Indian opener fired a quickfire 53.
All of that being said, what's incredible is to note that despite being so young, Verma means business whenever asked about her intention to play for India. She's repeatedly pointed out that her true aim is to make her team win as much as possible. She hopes to represent Team India for, at least, 20 to 25 years.
This only means that given the way she's gone about scoring her runs, 1,300 plus runs already, she may end up accumulating some high class numbers. But consistency, one reckons, would be the key to get far ahead.
Enjoy this special moment in your growing journey, Shafali!