There are honestly those days where you wished to simply slap yourself on the face early in the morning. One of those days in the not-so-distant past was running into David Warner dressing up in sadomasochistic costumes and gyrating cringingly to dance numbers. What was achieved out of it, we don't know. To see one human dance disturbingly is still bearable but to see his entire family coming up with outlandish notoriety. Nonetheless.
If you thought stupid days were over then there came 'viral cricket pictures' of Hardik Pandya, who probably owning around, at least, 1,500 T-shirts (torn in the name of being stylish or cool that they may be) if not less, was found practicing bare-chested at the Wankhede recently.
As if Yuzvendra Chahal's not so seductive dance moves on social media- provided you could call those that- weren't enough.
Having said that, now Pakistan cricket seems to have joined the run to be equally dull-headed.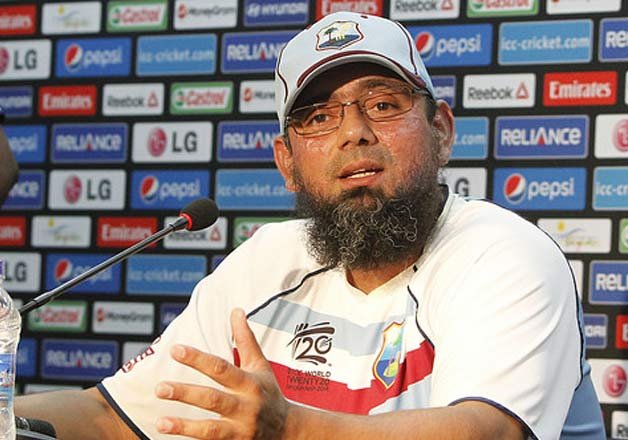 It appears that the Pakistan Cricket Board has recently reprimanded Saqlain Mushtaq for a very stupid reason that might make the cricket purists' skin crawl honestly. A justified reason, understandably, would've been if Saqlain Mushtaq would've said very unpleasant things about the very country that made him into an international talent and a high-level performer for Pakistan.
Though, on the contrary, former off spinner Saqlain Mushtaq was reprimanded for praising MS Dhoni. And if that wasn't stupid enough, the video for which Saqlain was called out by his own cricket board was on the off-spinner's own YouTube channel.
What does the avid fan make of this?
You cannot even have the freedom to praise any cricketer you'd like on your own YouTube channel? Since when has Pakistan come to own one of the world's favourite hobbies, something without which one cannot imagine the existence of social media?
The issue made out of this ruckus is that Saqlain Mushtaq, in his current capacity, happens to be the head of international development at the High Performance Centre. And that as a board employee, he cannot post videos on YouTube.
Well, thankfully, he is allowed to wear other colors or costumes other than green. Or will that too lead to a reprimand. Well, thankfully, he's allowed to eat a Pasta or gorge on Lobster, since none of these were invented in Pakistan and might convey his patronising other nations and their cultures.
Nonetheless, the matter reads rather absurdly when you get to hear what the PCB had to say according to a close source connected to a cricket board that's often in the news for strange antics, such as this one:
"The PCB was not impressed by Saqlain for over the board praise of Dhoni and his obvious interference in Indian cricket affairs when he criticised the BCCI for not giving Dhoni a proper farewell match."
The said source also added further, "Many of these coaches were managing their channels on YouTube but have now been told clearly that since they are employees of the board they can't work on YouTube and secondly even while giving interviews in the media they have to first seek clear permission from the board."
But does the above man that Inzimam Ul Haq, a great legend of the game, will have to take down his video of Brian Lara on his YouTube channel, simply because he praised one of the finest scorers in the white-ball and red-ball formats?
To his credit, Inzimam's YouTube channel has not only some amazing content but also very vivid analysis on some of the leading newsmakers on the sport.
Also Read: What Mistake Did Team India Commit That Led To Missing Out On 2019 World Cup Title? Sir Sunny Explains!
But what PCB achieved by reprimanding Saqlain Mushtaq for doing something genuinely harmless is a mystery stranger than Lady Gaga's outfits and even more bizarre than the unsolved case of John F. Kennedy's shooting!
All one can say is- seriously, grow up Pakistan!