Sanju Samson is approaching 100 IPL games. You read that right. Surprised? Perhaps most are. Actually reaching a century of contests that are a part of the most famous T20 league on the face of the earth is an achievement in itself. From these many contests, Samson has belted, not collected 2368 runs, the reason for using that adjective is indicated by a strike rate that's in the mid-130s.
Not too bad for a batsman who happens to be arguably one of the better strikers of the white-ball in the game's briefest format- right?
But while surely Sanju Samson would love to achieve his great big goal of becoming a mainstay in the Men-in-Blue's ODI circuit (if it so happens that a Test call-up is difficult), it appears that he's bagged something precious recently. So what is that and does it tantamount to some cricketing feat?
Well, not exactly, yet it is something most fans would love to be wary of.
According to the famous Kerala batsman, a recent conversation with none other than King Kohli helped change or reform his approach to the game. As we often know, great things happen every day, well almost on the cricketing turf; for that is where records are made and broken. But often, even greater things happen off the pitch.
For that's where the real conversations happen between people that often go a long way in bettering or improving someone's individual perspective about this dear game of ours.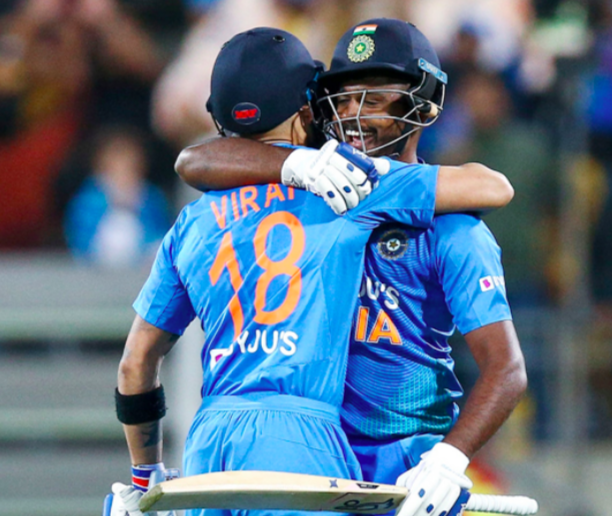 And a recent poignant interaction between Virat Kohli and Sanju Samson, helped the latter, in that it gave the Rajasthan Royals batsman a great approach to life.
But how exactly?
Well, why not hear it from the horse's mouth itself?
Samson recited a close conversation on Cricket that transpired inside the dressing room with the Indian cricket captain and happened to share, " I was in the gym training with Virat bhai. I keep asking him why he puts so much energy into fitness, I keep asking him a lot of different questions. Then he asked me, 'Sanju how many years you are going to be playing?' And I said, 'I'm 25 now so for ten years or so.' He told me, 'Then give everything to these ten years and you can have your favourite food from Kerala after that, but you won't be able to play cricket after these ten years so why don't you give whatever you have in these ten years?'
"That changed the perspective of my dedication to cricket. I was really happy to hear that from him."
While the above did help Samson, as someone who's followed the right-hander's game, it would be really nice to see the famous batter become a regular in the Indian colors.
While he was picked in 2015, he would fall out of the selectors' favor thereafter.
And with all due respect to the talent emerging from all corners of the country, it is no longer easy to become a mainstay in the Indian national cricket team. Never before has one seen the enormity in competition. It's simply immense.
While he sure does have his backers, Sanju Samson would also be aware of the kind of grind there exists to fill up the batsman-keeper slot, which currently seems to be favoring Rishabh Pant, with there also being Ishan Kishan for more competition.