MS Dhoni, after facing a huge criticism over his form, finally got on the right note during the recently concluded India vs Sri Lanka series where, while his glove work, as usual, was nothing but excellent, he also played a couple of match winning innings to once again emerge as the best finisher of Cricket.
During the whole series, MS Dhoni was not dismissed even a single time and registered a fifty as well as two forty plus scores to help the Virat Kohli-led Indian Cricket team, whitewash the hosts by 5-0, which came after the visitors registered a clean sweep in the Test leg by 3-0.
Having said that, team India's head coach Ravi Shastri, during the Test series against Sri Lanka compared the captaincy of Virat Kohli and MS Dhoni and said that Virat Kohli is on the right path of becoming the best ever Indian skipper.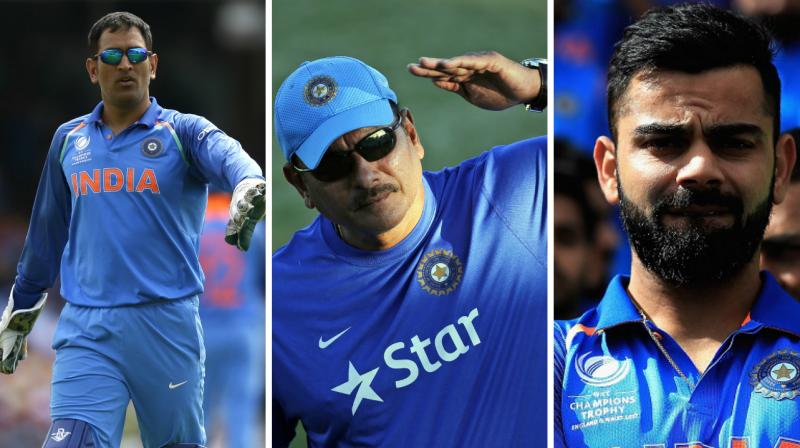 However, during the same interview, Ravi Shastri also added that MS Dhoni has been a benchmark in the Indian dressing room and while his statistics have no comparison, his importance in the current ODI squad can't be ignored, as well.
Moreover, while Virat Kohli has always supported his predecessor and has, on many occasions, highlighted his importance in the squad, Ravi Shastri has too been leaving no chance of heaping praises for the former skipper.
After returning home from the Sri Lankan tour, Ravi Shastri has once again come out to speak highly of MS Dhoni.
"Dhoni is still the best, as well as the quickest wicketkeeper in the world. The break from Test cricket has been great for MS Dhoni. He is an asset to the Indian Cricket team and an elder statesman in the dressing room".
Earlier, Ravi Shastri has dismissed all doubts about MS Dhoni's future and his position on the 2019 World Cup, saying that 'he is not half finished yet'.
"Dhoni is a massive influence on this team. While he is a living legend in the dressing room, to the game, he is an ornament. By no means and by any stretch of imagination MS Dhoni is finished or even half finished yet and if anyone thinks so, they are mistaken as they have another one coming. The old dog has plenty to offer and they are in for some surprises."
MS Dhoni suffered a slight downfall in his form last year but has so far enjoyed a good run since giving up the limited-overs captaincy, back in January. In 18 ODIs MS Dhoni has played in 2017, he has scored 548 runs at an average of 91.33. His composure in tricky situations is still a gem for India and his eye for a DRS call can also be not challenged.
Everything said and done, one might still think that before the 2019 World Cup, team India will play a lot of cricket and if, we hope not, MS Dhoni faces a downfall in his form, will these phrases and support continue or the questions on his future will again get fired up?
As for the Virat Kohli-led Indian team, they are going to face Australia in home conditions for a 5-Match ODI and 3-Match T20I series, followed by the India vs New Zealand 2017 series consisting of 3 ODIs and 3 T20Is.