Kapil Dev and MS Dhoni, two of the most celebrated Indian captains who took the nation towards two World Cup glories were seen in the same frame and what's, even more, eye-catchy is the fact that they were seen playing against each other at the Eden Gardens.
The two former skippers were in Kolkata for an ad shoot and Saurav Ganguly, another legendary Indian captain played the perfect host to Kapil Dev and MS Dhoni. As per the requirement, both players were seen bowling and batting against each other for the whole day and there was one particular moment where Kapil Dev surprised MS Dhoni with a bouncer that wasn't anticipating.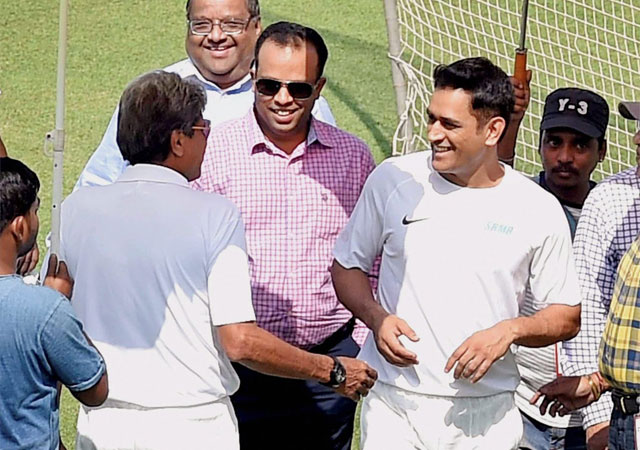 Whether the bouncer, as well as MS Dhoni's reaction, was part of the shoot or not, only the final advertisement will tell but for now, all we can see is it indeed was a monet for Indian cricket's fans to cherish for their lives.
Watch the video here
First, it was Kapil Dev who was seen bowling to MS Dhoni and then as the film rolled, we saw a role reversal with India's greatest wicket-keeper trying his hands in bowling against the 1983 World Cup winning skipper in the ad sequence of 33 seconds, which was directed by noted Bengali producer and director Arindam Sil.
As the day made its way for the evening, Kapil Dev and MS Dhoni took a break and were joined by another legend Sourav Ganguly who is now Cricket Association of Bengal's (CAB) President and has led the Indian squad to the 2003 World Cup final.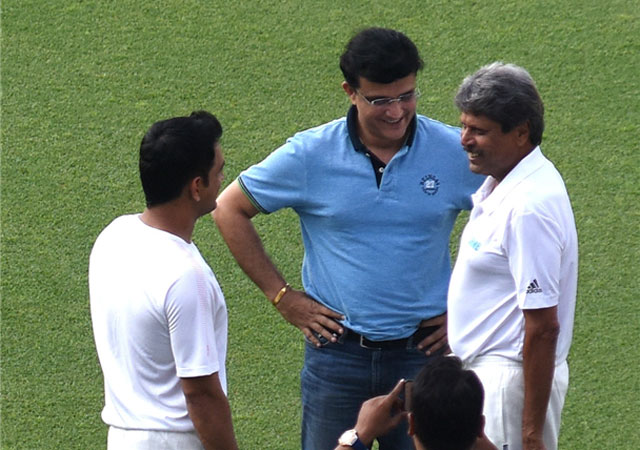 As for the director Arindam Sil, he was left impressed by both the legends as while Kapil Dev, despite his age, showed no sign of wear and tear, MS Dhoni's acting skills left the whole team in awe.
On the other hand, MS Dhoni, despite having retired from Test Cricket, he still went on analyzing the pitch on which India and Sri Lanka will kick-start the 3-Match test series on 16th November. Whatever was going in his mind, one thing is for sure, he would have given some great insights to Virat Kohli as to what waits for him and his team at the Eden Gardens.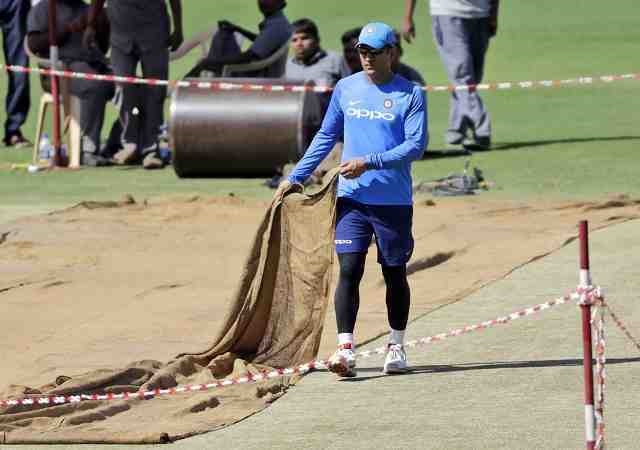 That said, it's not a hidden fact that MS Dhoni has been criticized for his slow starts in the shortest format against New Zealand as legends like VVS Laxman and Ajit Agarkar have advised him to retire from the T20 format, however, the likes of Sunil Gavaskar, Virender Sehwag, and Virat Kohli have come forward to support the two-time world cup winning captain.
Also Read: Virat Kohli Backs MS Dhoni After The India vs New Zealand T20I Series Win
And now, team India's current head coach, Ravi Shastri has also voiced his opinion on MS Dhoni's presence in the squad. In an interview, he said,
"It looks like there are a lot of jealous people, who just want MS Dhoni to have a couple of bad days and there are just a few people who are eagerly waiting to see the end of Dhoni. But a great player like him decides his own future."
"The criticism doesn't make a difference to me. In my as well as the administration's mind, we know where MS Dhoni stands within the team and he is an ultimate team man. While he was a great leader, now he is an ultimate team man."
With so much support coming from both his peers and fans alike, all that remains to be seen is MS Dhoni finally speaking with his bat in the middle order and the limited overs leg against Sri Lanka is the best opportunity for the former skipper to do do.