Will Brian Lara's record ever be broken? Not a question that Mr. Amitabh Bachchan has asked in any installment of KBC or a subject of intellectual mentation touched upon by the great Niall Ferguson.
Rather, a key question in the annals of the game, in a format that reserves little for wearing yellow boots under bright lights. Moreover, in the form where success and fame aren't measured by mighty sixes, but rather by time spent in the middle in saving a Test.
This has been a question that's confronted the fan ever since the 'Prince of Trinidad' scaled arguably the most important peak of his Test career (in 2004).
It's a record that exemplified, if not determined, Lara's might ever since the unbeaten 153 against Australia (Bridgetown Barbados, in 1998) and the stately 277 (also against Australia) in 1993-94, his first-ever Test century.
In the context of the game itself, Lara's 400 not out (versus England, in 2004, final Test, at Antigua) has emerged as Cricket's version of the Himalayan ranges; grand in its presence, unchallenged sixteen years since its conception.
But it also serves a testimony to the following:
The Prince's ability to bat for long hours, explained aptly by Mr. Ian Bishop (then, commentating in the Test) "look at the magnitude of concentration!" (Lara's)
And not just that; his hitting back at oppressors (read Windies' opponents) especially with his back against the wall.
Let's face a fact. Lara's played innings that were more liked than April 2004's unbeaten 400. To many, the 116 in South Africa, during Windies' world cup-opening game in 2003 was better. To many, his 111, also against South Africa in a quarter final in the Wills 1996 World Cup exuded more power and flair.
The 400 not out- not so much!
His critics remark, it was 'selfish' knock in that the man decided to bat on to reclaim his record from Matt Hayden (380 vs Zimbabwe, 6 months ago) when he could've declared earlier and gone for the 'win.'
To that end, a question has gone unanswered- did the West Indies bowling- Fidel Edwards, Corey Collymore, Adam Sanford, Tino Best- have it in them to bowl England out, a team comprising of- Flintoff, Thorpe, Hussain, Vaughan, and Trescothick?
What's also gone unduly unexplored, if one might add, is that did the West Indies batting during the series have the consistency, if not the capability, to bat for long, to even salvage a draw, let alone secure a win?
That at Jamaica's First Test, the team were 47 all-out (England won by 10 wickets), before bundling out for 94 at Barbados-bound Third Test offers insight into the kind of form they were in. Have Lara's haters who bemoan his 'selfish' act where he went on and on to score runs, checked on that and offered their piece of mind?
Also, has it occurred to 'all' critics, who dubbed cricket's first (and thus far, only) quadruple century 'selfish' what Lara's strike rate was 16 years ago as he completed his inning?
At 68.7, Lara wasn't batting to 'draw' a Test, it would seem. De Villiers' blockathon against India, at Delhi, in 2015- 43 off 297- was an inning intended for a 'draw.'
Was Lara's in that direction? And while little is reserved for the fact that Sachin Tendulkar's only real and worthy challenger to the 'best batsman throne' hit 196 of his 400 runs in boundaries and sixes (43 fours, 4 sixes; which is 50% of runs coming through hits to the fence) what's also given very little weightage is that Lara batted with a broken finger in his 400.
Yet, many won't care and it's fine.
Doesn't increase the price of fish, whether around the Wankhede or a few streets away from the Queen's Park Oval.
Yet, what's interesting about Brian Lara's feat is that many, despite coming close to breaking it, have failed. Wondered why?
Remember to match Lara's genius, you don't only need that magic but a combination of technique, concentration, and importantly, mental strength to break the record.
That in sixteen years it's stood unmoved alone explains the worth of the feat. But anyways.
So while many players- prolific run-scorers- might have lacked the 'flair' one saw in Brian Charles Lara of Port of Spain, it's not that they lagged in other departments like concentration or the ability to bat for long hours.
Take Rahul Dravid. Take Virat Kohli: two famous Indian batsmen, one of whom, holds the record for facing the most deliveries in Test match cricket ever- 31,258.
But even the Wall couldn't scale mount 400, having played much of his cricket alongside the author of a heavyduty cricketing score.
Virat Kohli, India's finest Test batsman at the moment, and inarguably speaking, the world's best batsman, has against his name 7 double centuries. But thus far, (Lara has 9) hasn't quite been able to score a triple hundred, whilst scoring many of his runs with pure class.
But there were a few who came close- David Warner and Michael Clarke.
Both Australians registered personal best figures in triple centuries– 335 (vs Pakistan, 2nd Test, 2019) and 329 (2nd Test, 2012), respectively.
Yet, despite their fine centuries, they haven't been able to come close up enough to overtake Lara, Clarke, on his part, deciding to voluntarily retire in his noble bid to not overtake the great Sir Donald Bradman.
Was this arguably, the greatest instance in Australian Test cricket, where one lead by an example in showing solid character beckons a separate decade.
Warner, on his part, cracked a mega triple ton (Down Under), coming back strongly to form after he himself let his team and the game down all thanks to the infamous ball-tampering incident.
Talk of comebacks, ha!
There've also been other sensational triple centuries, following Lara's dogged 400 not- including- Mahela Jayawardene's 374 (just 1 shy of Lara's previous Test best, 375, also against England).
As a matter of fact, and perhaps what might have only added to Lara's allure is the fact that there were two triple centuries hit with remarkable class and foresight in Sanath Jayasuriya's 340 and Inzimam ul Haq's 329.
Both of these mega tons were struck long before Lara scored cricket's only quadruple century; the Sri Lankan reaching his towering score in 1997 itself (7 years before the Prince scaled the mountain) and Inzamam striking the second Test triple by a Pakistani batsman (since the great Hanif Mohammad's 337 in 1958) in 2002.
But what would you put down Lara's unbroken record to?
A sign of genius well-rewarded or that it's too big a peak to challenge- the latter of which seems unfounded since Test cricket features more free-scoring now than it ever did back then-don't you think?
Nonetheless, not all will hail Lara and shouldn't.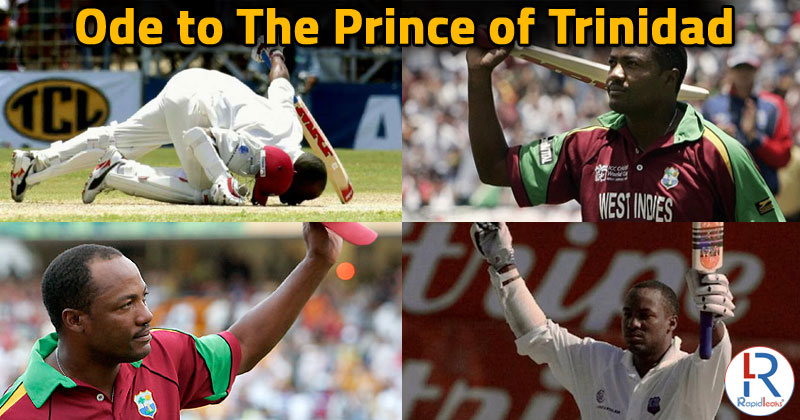 For there still are some who'll regard the fact that Lara held the fort somehow, just somehow. Here was a man whose captaincy was at the centre of the storm throughout that series, at a time where another 'near-certain' loss was on the cards, at Antigua, which would've led to a dreadful white-wash.
Just a few months ago, he had led the Windies to a disaster tour of South Africa, where his team lost every single Test match it played.
Another series-defeat would've made him the world's most berated man.
Then, that at the end of a monster knock- how else would you define that statistical output- some held placards that read, "our wounds are now healed," offered comfort.
Must not have been a very bad feeling, one ought to think.
Moreover, that prior to coming into bat, Lara hadn't even scored a 40-odd in the series offered glimpse into his own form rather the lack of it. Then hitting all those runs against Simon Jones, Mathew Hoggard, Andrew Flintoff, Steve Harmison- the quartet then at its peak- was no child's play, was it?
Also Read: Brian Lara Bats For Rishabh Pant Over Sanju Samson As India's 'No.1' Choice For Wicketkeeper
Even then, it's remarkable that where Lara, then the captain, led by an example- not that Mr. Ricky Ponting would agree- many hold him to ransom for 'drawing' a Test when none of the games before even came close to one.
Also, critics must be so mad at the fluent left-hander that he kept batting for 582 deliveries for a sum of 778 minutes. Surely, things that happen every other day, in an age of virtual gaming, wham bam-T20 overload and instant gratification. Right?