The Indian squads for the limited overs series against the West Indies was announced last evening. The India vs WI series will begin with a 3-match T20I series on the 6th of December, followed by a 3-match ODI series beginning from the 15th December.
Firstly, let's take a look at the Indian squads for both the T20I and ODIs series.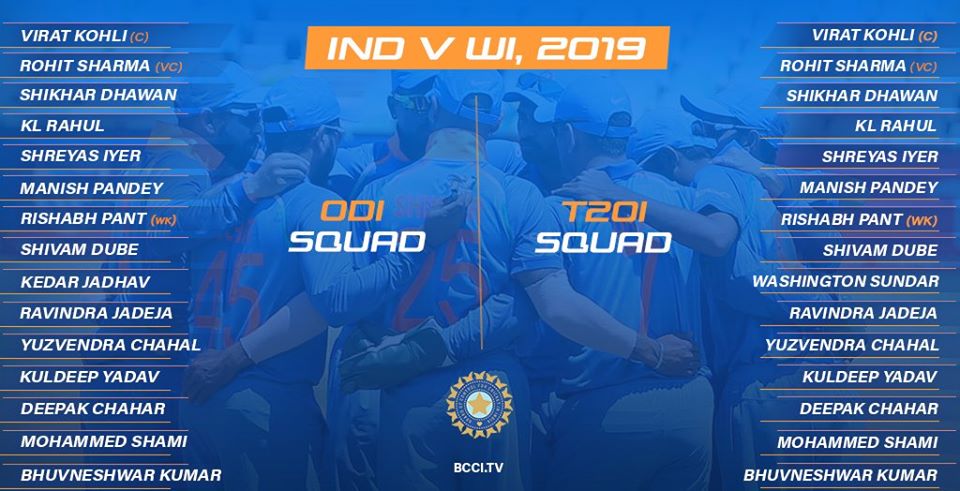 T20I Squad: Virat Kohli (C), Rohit Sharma (VC), Shikhar Dhawan, KL Rahul, Shreyas Iyer, Manish Pandey, Rishabh Pant (WK), Shivam Dube, Washington Sundar, Ravindra Jadeja, Yuzvendra Chahal, Kuldeep Yadav, Deepak Chahar, Mohammed Shami, Bhuvneshwar Kumar
ODI Squad: Virat Kohli (C), Rohit Sharma (VC), Shikhar Dhawan, KL Rahul, Shreyas Iyer, Manish Pandey, Rishabh Pant (WK), Shivam Dube, Kedar Jadhav, Ravindra Jadeja, Yuzvendra Chahal, Kuldeep Yadav, Deepak Chahar, Mohammed Shami, Bhuvneshwar Kumar
Understandably, there is a lot to talk about from both these squads. Here, then, is a look at some of the key takeaways from India's squads for the T20I and ODI series against the West Indies.
India vs WI series – King Kohli is back: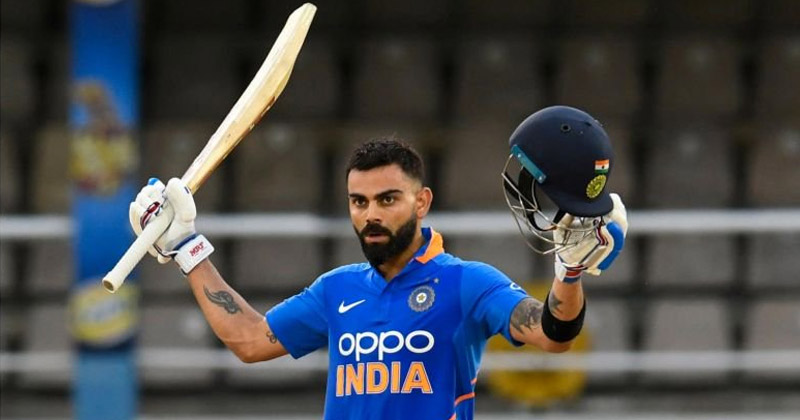 After taking a break in the T20I series against Bangladesh, Virat Kohli is back at the helm for the entire limited overs series against the West Indies. The superstar Indian batsman has been playing plenty of Test cricket this year and produced a below par performance in the ICC World Cup 2019 in England. He would be itching to get back in the groove in his favourite format in the India vs WI series.
India vs WI series – The return of Bhuvi: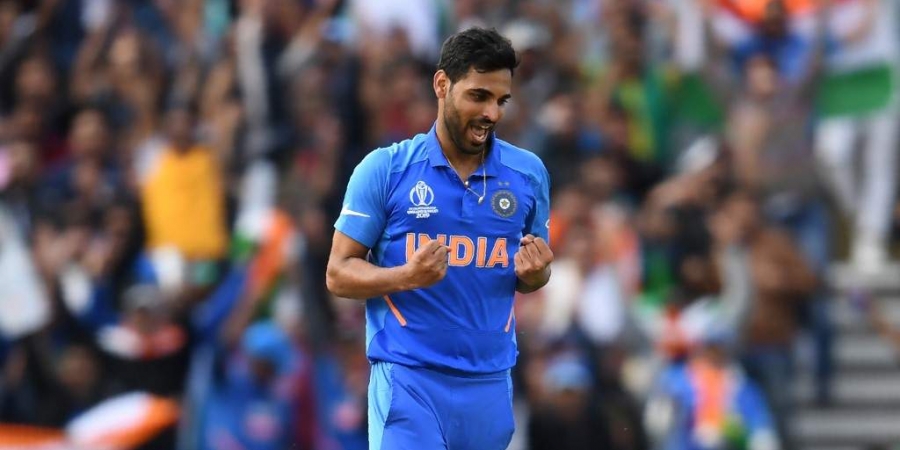 One of the best things from the Indian squads for the India vs WI series is to see Bhuvneshwar Kumar back. Bhuvi was last seen playing for India in the ICC World Cup 2019 in England had injured himself in the game against Pakistan. Since then, it has been a difficult road for the swing bowler who has seen other Indian seamers make headway in the squad. It will be interesting to see how he performs because a good show here will keep him good stead for the T20I World Cup next year.
It will also be fascinating to see Bhuvi bowl in tandem with Deepak Chahar – who has been selected in the ODI squad too. Both the seam bowlers are similar in nature and can be a real handful at the top for the West Indies with their swing bowling.
India vs WI series – Jadeja and Kuldeep's return is a good sign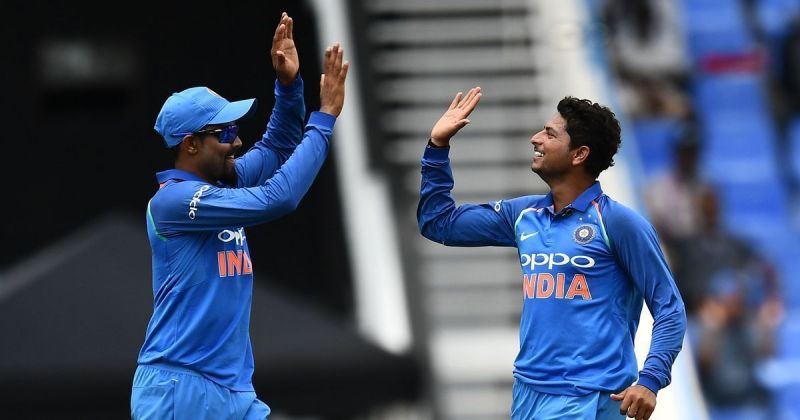 The selection of Ravindra Jadeja and Kuldeep Yadav in both the ODI and T20I squads is a very good. Both the spin bowlers have not been regular for the team in limited overs cricket for a few months now. Jadeja, has been in terrific all-round form in Test cricket and is amongst the best fielders in the world right now. He would certainly be an asset and should be a bankable all-rounder for the team heading into the T20I World Cup.
Chinaman bowler Kuldeep Yadav has been in and out of form and has struggled with confidence of late. But the selectors have shown faith in him and if there is one team that Kuldeep can strike gold with his leg-spin and googlies, it is the West Indies.
Shami makes it back to the T20I squad after two years: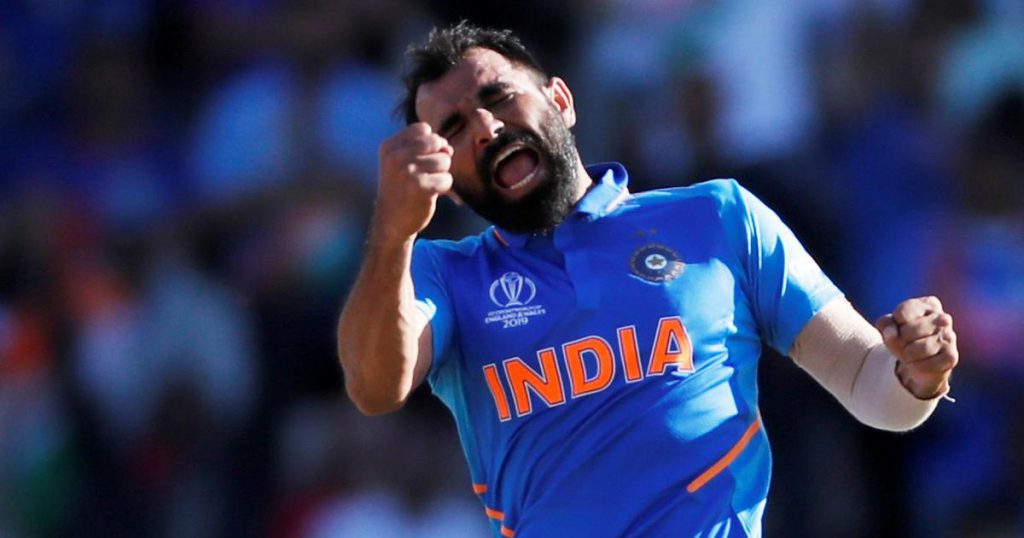 Mohammed Shami last played a T20I for India back in August 2017. The fast bowler has struggled with a few injuries since then and has been primarily focusing on Tests and ODIs. However, Shami has been absolutely exceptional this year – he did well in the World Cup in England and has been phenomenal in Test cricket. It is hence great to see Shami being selected for the T20I squad too, along with the ODI team, for the India vs WI series. In Jasprit Bumrah's absence, the Indian bowling unit was struggling in the last couple of T20I series at home. Shami's return to the T20I squad for the India vs WI series will give a much-needed boost to the T20I team.
The persistence with Shikhar Dhawan is baffling:
Shikhar Dhawan being persisted with in both the T20I and ODI squads is rather baffling. The left-handed opener has been under performing in T20Is for a while now and needs to be given a break from the T20I side. He's simply not good enough as an opener in this format and has been given way too many chances. Dhawan's strike-rate this year in T20Is is 110.56 which is simply not good enough for an opener. What's even more frustrating is that most of the times, he plays at this strike-rate till about the 10th over. This works in ODIs from time to time, as he can convert it into a big score later but it really puts pressure on the middle-order in T20Is. Time after time we have seen Dhawan scratching his way to a 35-ball 36 after 11 overs and then leaving things in a mess for the middle-order.
At least against the West Indies the selectors could have given someone like Shubhnam Gill a chance. It's difficult to understand why is this talented young opening batsman being ignored. And if not now, then when?
India vs WI series – Rishabh Pant again?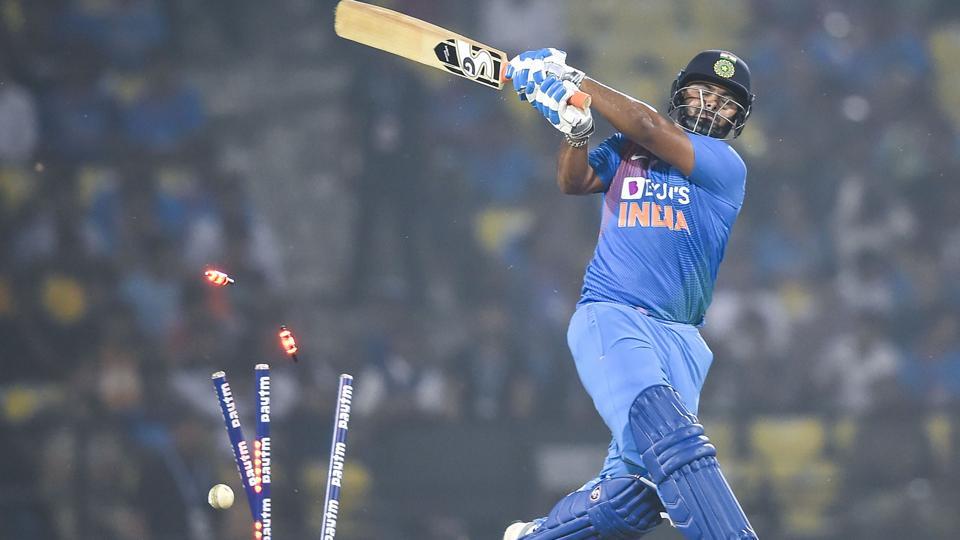 Rishabh Pant, despite his recent struggles, has been given another chance to prove himself. In his last 10 innings, Pant's highest score has been 33. He has been poor with the bat and behind the stumps.
The ideal thing would have been to give him a break, mentor him properly and let him come back after playing in domestic cricket for a while. What is beyond frustrating is that he has simply not learned anything from his mistakes. The shot he played in the last T20I against Bangladesh – an ugly 'sweep-cum-swipe' – to a fast bowler should have earned him a dressing down from the team management. His wicket-keeping remains poor. His DRS calls are appalling. But it seems the selectors and the team management are too obsessed with Pant at the moment. Let's hope he repays that faith in the India vs WI series.
Selection of Kedar Jadhav is step backward: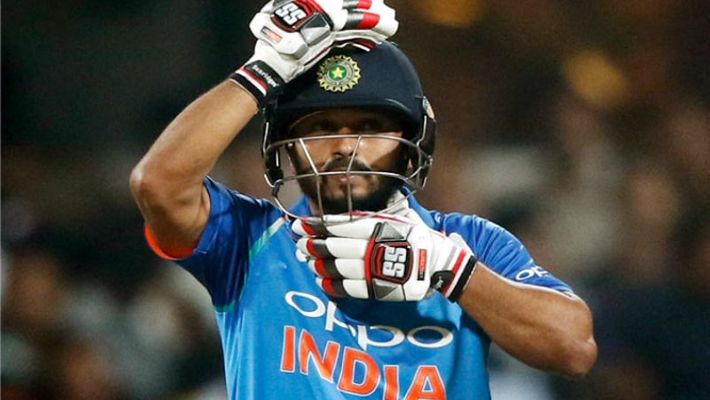 Plenty of Indian fans must be frustrated to see Kedar Jadhav back in the ODI squad and for right reason. This is, quite frankly, a real step backward and not one taken for the future. Jadhav really hasn't done anything of note for a while – he has only 3 fifties and 492 runs in his last 31 ODIs at a strike-rate of way below 100. This is certainly not what one would expect from a team's finisher. Furthermore, Jadhav is 34 years of age and really unfit. He breaks down from time to time and is a liability on the field. It is hence really absurd that the selectors and the team management keep going back for an underperforming and unfit player when they have plenty of other younger options to invest in.
Sanju Samson has been given a raw deal:
One of the biggest disappointments of the home team's squad for the India vs WI series was the dropping of Sanju Samson. The young and talented wicket-keeper batsman was selected for the 3-match T20I series against Bangladesh but was not given a single opportunity despite Rishabh Pant's failures. Samson has been in terrific form this season in domestic cricket and even scored a double hundred in a 50-over match.
Exactly why was Samson discarded after not being given even a single opportunity to prove his mettle? One feels that this is rather unfair on the poor guy. This It's as if the selectors or the team management don't want him to be a regular member of the eleven. There couldn't have been a better opportunity for Samson to play than the India vs WI series at home. Hope the selectors have their eyes on him for the future.
End of the road for Dinesh Karthik?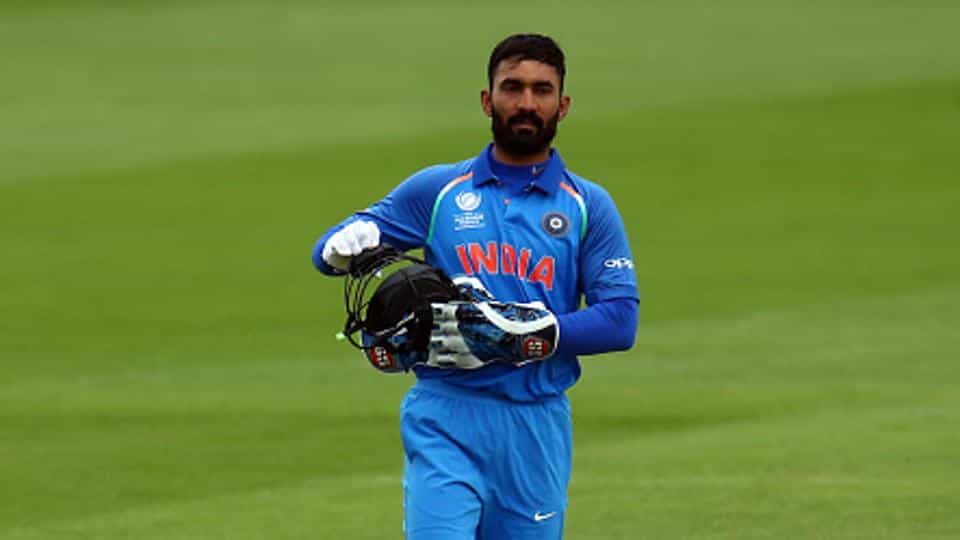 Lastly. No Dinesh Karthik. Why? He has had a terrific run in domestic cricket recently and scored well in the Vijay Hazare Trophy and in the Syed Mushtaq Ali T20 Trophy. He could certainly have been preferred over someone like Jadhav. Karthik should have been in the T20I squad at least. He's been a very good finisher and is in good touch. His agile fielding only makes him a great asset to the team. But it appears the selectors have already made up their mind to not go for him anymore. Perhaps this is the end of the road for Dinesh Karthik.
What did you make of the Indian squads for the India vs WI series? Comment your views below.