India vs Australia 2017 series has been one of the most talked about fixtures of the year and after the hosts registered a dominating 4-1 win in the ODI leg, all the focus has been shifted to the 3-match T20I series between the two teams, which is expected to pose an even bigger challenge for the Virat Kohli led-squad.
That said, the ODIs were enough of a proof for selectors to realize their bench strengths and more importantly, find the right combinations in both the batting as well as the bowling attack. However, there is one thing that everyone is talking about these days and that is the substandard performances of the Indian skipper Virat Kohli.
In the five-match ODI series, Virat Kohli went for a duck in Chennai, scored 92 in Kolkata, 28 runs in Indore, 21 in Bengaluru and then 39 in Nagpur in the final match. While these figures will never justify the tag of one of the best batsmen in the world which the 28-year-old holds, team India still managed to give Aussies a run for their money with a well-rounded as well as matured performance.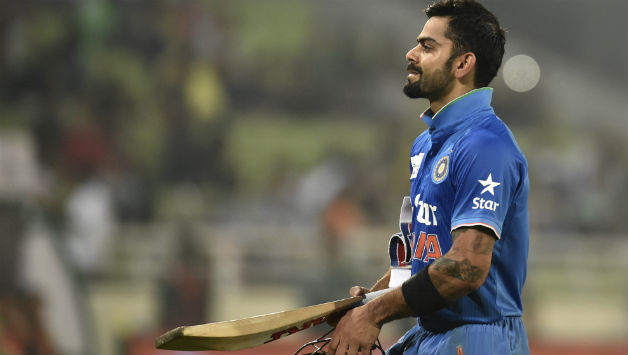 Moreover, since Virat Kohli was named the full-time Indian captain, his ODI batting prowess has suffered a huge hit and critics can't help but highlight the fact that Indian cricket has always witnessed a drop in performance levels of the player who is given the captain's cap.
But Virat Kohli is not just any other player and he has been setting new benchmarks of fitness levels as well as matured cricket, however, being a skipper, he needs to lead the young squad with example and there is no better way to do that other than scoring runs.
Virender Sehwag, the former Indian opener, however, thinks otherwise and during an interview with India TV said that there is nothing wrong in Virat Kohli's approach and the player has done nothing but improve himself.
Here is what Virender Sehwag Said
"I personally think Virat Kohli's intensity has increased since becoming captain of India. While commentating, we have seen the stats of Kohli which speaks in itself about his caliber, the player's numbers have been phenomenal after taking over the role of Indian team's skipper,"
"We all should now look forward to the upcoming series against New Zealand as well as Sri Lanka where we expect Virat Kohli to score big runs again for India. He has been a champion player and knowing his capabilities, Kohli will soon score a big hundred for his team."
Virender Sehwag further added that there is nothing wrong with Kohli's form or batting and it's just a matter of few games.
"If we take into consideration the factor of the 'law of averages' than these type of things tend to happen in cricket. So it's just a matter of few games and as for Virat Kohli, there is nothing wrong with his form."
Interestingly, the India vs Australia series saw Virat Kohli playing several shots towards the third-man region as well as attempting the outside-the-off-stump deliveries, on which the player has struggled a number of times. Virender Sehwag felt that these shots have never been Virat Kohli's strengths.
"Earlier, Virat showed no urgency to play towards third-man, but in this series, he has tried such shots on a number of occasions which have not been his strengths in the past. Virat Kohli should have converted his 92-run knock at Edens into a big score as he was set on the crease and was playing brilliantly."
Wrong shot selection and the urge to steal a single haven't been the best decisions taken by the Indian squad in the ODI series against Australia and Virender Sehwag, who has had multiple wonderful runs with Master Blaster Sachin Tendulkar on the crease, revealed that Tendulkar once told him to not risk his wicket in search of a single.
"Sachin Tendulkar always used to tell us that we should never throw away our wicket for a single. If we threw our wicket away through a run-out, it means we are not putting up any price on our scalp. It's better to play a dot ball and wait for the loose delivery, we should learn to value our wicket."
Now, all we can think of is that Sehwag wants Virat Kohli to know his worth on the pitch and never risk his or the non-striker's wicket in search of a single if you can settle on the ground and then cover it up with some big shots.
Lesson Learned!!