India tour of New Zealand 2020 – Who'll emerge the better competitor and who'll subdue the opponent in another brand new series – India's tour of New Zealand 2020!
Few teams in world cricket are packing a punch quite like India at the moment. They are a consistent side. They are dominant. And heck, they are feared.
A promising powerhouse of a team, under Virat Kohli's able leadership and the showmanship of a Rohit Sharma and KL Rahul- talismanic batsmen in their own right- India have been delivering a knockout punch of sorts to just about any team nowadays.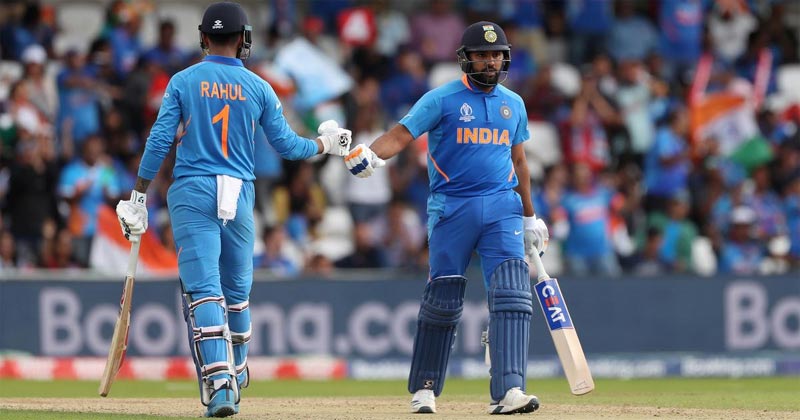 But to suggest that the world-beating side are merely packing a punch at the behest of its in-form batsmen alone would be the story half told.
There haven't been too many occasions in the past where the bowling spearheads were in such menacing form as evidenced at the moment.
Today, India are functioning on all-round brilliance, powering excellence in all three formats of the game. Never before have the fitness standards been so acutely determining of the team's success. Chiseled physiques and lean frames flexing their muscle in white ball and red ball versions have made India the shark of international cricket and its collective of inspiring talents- giant killers!
Ask the South Africans who came calling in October 2019 and went back humbled. Ask Pollard's West Indians who were defeated in both T20s and ODIs. Then there were more successes to come. After assaulting Sri Lanka in the T20s and most recently, the Australians powered by Warner, Smith, Labuschagne and Starc whilst being led by Finch, India bettered Australia in the ODIs.
Now, they'll be expected to carry their fine form in their first overseas assignment of the brand new year and lest if it is forgotten, a comprehensive one at that.
Only a few hours remain before India can set the ball rolling in New Zealand in what promises to be an exciting, hopefully, closely-contested all-formatt series beginning with 5 T20 internationals, 3 ODIs and 2 Tests.
The first impressions upon India's tour of New Zealand 2020 are the set of talents that haven't made it to the famous Kiwi-land from India's stable.
While a list of freak injuries have thwarted the smooth recovery of familiar batting talent Shikhar Dhawan, among the mainstays in the limited-overs format, it suffices to say India's concerns aren't restricted to the batting department alone.
While on the one hand, Dhawan- who, it may not be wrong to call an in and out player nursed another injury whilst hurting his shoulder during the 2nd ODI against Australia- Ishant Sharma is also currently tackling a foot injury.
The lanky fast bowler, in spectacular rhythm against the West Indies on India's 2019 tour and against South Africa and Bangladesh Tests, is not close to being half as fit as he was earlier thus putting his NZ outing under pressure.
This would effectively mean that the familiar figure behind a flurry of wickets Mohammad Shami- in prime form for most of 2019- would miss his new-ball partner in India's major series. However, the timely recovery of Jasprit Bumrah is a fantastic news for India, an evidence of which detracted Australia in the recent limited international contests where spurred by economical bowling spells of the returning Bumrah- India succeeded in putting brakes on Australia's free-scoring ways.
But surely Shami's ability to swing and generate movement with both the new and old ball will definitely – India will hope- prove to be New Zealand's nemesis in the upcoming series. Moreover, having been in great form in both versions- amplified by his picking of 42 ODI wickets and 33 Test scalps in 2019 ( while he's picked 7 ODI wickets already this year) will threaten the hosts in New Zealand.
Surely, while there were other more successful bowlers in the recent Australian tour to India, Bumrah's economical spells fancied by the ability to bowl within the stumps with aggravating pace held the team in good stead. Just the kind of performance the Kohli-led unit would expect from one of the most menacing forces in white-ball cricket in the contemporary fold of the game today in New Zealand.
Moreover, a key factor in India's tour of New Zealand 2020 would be the potency of its spin attack powered by Kuldeep Yadav- a rising force in world cricket- and the ever- ready Ravindra Jadeja.
Fresh from a successful Aussie outing in the games at Rajkot and Bangalore that produced wickets for both Yadav and Jadeja, the former, in particular, would be buoyed by the fact that it were he who removed an in-form Steve Smith for 98, when the dominant Australian looked all set to slam his first century at Rajkot.
That Yadav also clinched a memorable white ball hat trick versus the Windies just last year- only days back in time- would further up his confidence to take on Kiwi batsmen in the fast-approaching tour.
But all that said, should Virat's army take Williamson's soldiers lightly in the upcoming India tour of New Zealand 2020?
After all nothing could be further from the truth as it's New Zealand who we are talking about, a line composed on belligerent hitters in both forms such as Ross Taylor (who only recently crossed 7000 Test runs playing Australia in Australia), the newfound all-round mainstay in Colin deGrandhomme and experienced batters like Martin Guptill.
But surely the onus to deliver the goods will rest in familiar stoic leader Kane Williamson especially in the absence of two key injured men in his side in Tom Latham and Henry Nicholls.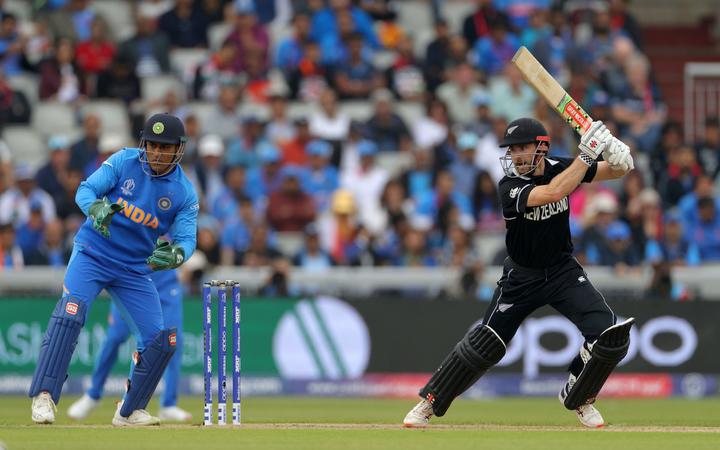 Williamson, who has against his name over 630 Test runs, including 2 hundreds and 3 fifties at a healthy average of 37 and 962 ODI runs (1 hundred, 8 fifties) against India will be the key man to lead New Zealand's batting assault against a lineup that has not one but four bowlers in red hot form- including Shami, Yadav, Jadeja, and Saini who came to life against Australia.
That as of last year, Williamson struck nearly 950 ODI runs- the most by a Kiwi batter- indicates his fluent white-ball form, an aspect of the game that given home advantage should weigh in heavy on India.
Along with Guptill who endured a lackluster 2019 and in form Ross Taylor who brings such reliability the top three in the Kiwi line up could flex their muscle in a bit to exercise control over their daunting opponents.
The moment you place Jimmy Neesham's all-round exuberance in the unit you are up against a competitive ODI side that it mustn't be forgotten was the only one among the top ten ODI teams in world cricket to nearly outrun England in their own backyard in last year's World Cup.
Can New Zealand- who'll also be spurred by the return of Boult post an onerous period of injury and Neil Wagner- in dazzling white-ball form- pack a punch or two against India? Only time can reveal but what one does know is that in front of the charisma of a competitive side and the firepower of the visitors India's tour of New Zealand 2020 would be one heck of a tussle.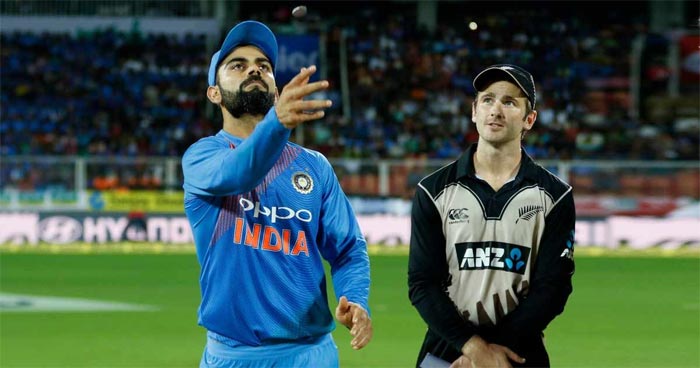 To sum it up, it's not every day that two of the world's best batting forces in Kohli and Williamson lock horns in an all-format series- right?
Are you geared up for the palpable fun?
Well here's the India tour of New Zealand 2020 full schedule:
| | | | |
| --- | --- | --- | --- |
| Date | Match | Venue | Time |
| Jan 24, Fri | 1st T20I | Eden Park, Auckland | 12:20 pm IST / 08:00 pm LOCAL |
| Jan 26, Sun | 2nd T20I | Eden Park, Auckland | 12:20 pm IST / 08:00 pm LOCAL |
| Jan 29, Wed | 3rd T20I | Seddon Park, Hamilton | 12:30 pm IST / 08:00 pm LOCAL |
| Jan 31, Fri | 4th T20I | Westpac Stadium, Wellington | 12:30 pm IST / 08:00 pm LOCAL |
| Feb 02, Sun | 5th T20I | Bay Oval, Mount Maunganui | 12:30 pm IST / 08:00 pm LOCAL |
| Feb 05, Wed | 1st ODI | Seddon Park, Hamilton | 7:30 am IST / 03:00 pm LOCAL |
| Feb 08, Sat | 2nd ODI | Eden Park, Auckland | 7:30 am IST / 03:00 pm LOCAL |
| Feb 11, Tue | 3rd ODI | Bay Oval, Mount Maunganui | 7:30 am IST/ 03:00 pm LOCAL |
| Feb 14, Fri – Feb 16, Sun | 3-day Practice Match | Seddon Park, Hamilton | 3:30 AM IST/11:00 am LOCAL |
| Feb 21, Fri – Feb 25, Tue | 1st Test | Basin Reserve, Wellington | 4:00 am IST/ 11:30 am LOCAL |
| Feb 29, Sat – Mar 04, Wed | 2nd Test | Hagley Oval, Christchurch | 4:00 AM IST/ 11:30 am LOCAL |
India tour of New Zealand 2020 Squad:
The ODI squad: Virat Kohli (C), Rohit Sharma (vc), Prithvi Shaw, KL Rahul, Shreyas Iyer, Manish Pandey, Rishabh Pant (wk), Shivam Dube, Kuldeep Yadav, Yuzvendra Chahal, Ravindra Jadeja, Jasprit Bumrah, Mohammed Shami, Navdeep Saini, Shardul Thakur, Kedar Jadhav.
The absence of the injured Shikhar Dhawan allows one of the most widely regarded young cricketers in recent times- Prithvi Shaw- to be included in the squad.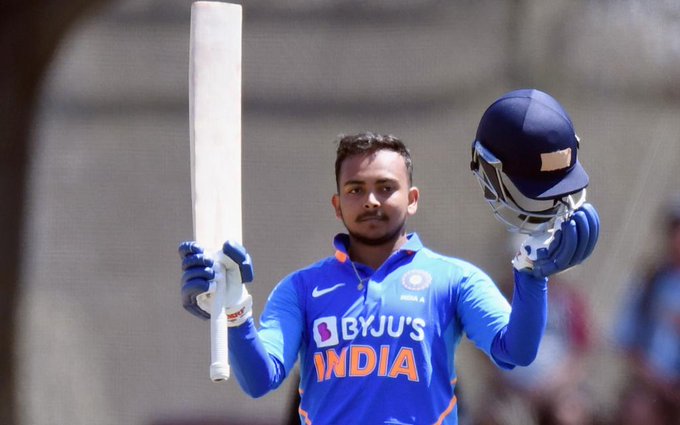 Coming at the back of an impressive red-ball form in the domestic season, Shaw, a fluent striker of the ball will be vouching to make his first-ever international senior outing in NZ count. Moreover, in Manish Pandey, who found himself as a key batsman in the Bangalore ODI, having also hit the winning runs in the contest would want to make most of the opportunities provided. 
The T20I squad: Virat Kohli (C), Rohit Sharma (VC), Sanju Samson, KL Rahul, Shreyas Iyer, Manish Pandey, Rishabh Pant (wk), Shivam Dube, Kuldeep Yadav, Yuzvendra Chahal, Washington Sundar, Jasprit Bumrah, Mohammed Shami, Navdeep Saini, Ravindra Jadeja, Shardul Thakur.
There's boundless white ball talent available to India. So in Saini and Thakur who haven't played against New Zealand at all, there'll be lots of options at India's disposal along with Yadav and Shami being in fine touch. The absence of Pant who's nursing an injury allows the much important chance to Sanju Samson, who'll consider this a do or die in a career where he's not been afforded too many opportunities. That he'll play the T20s and will most likely keep and bat should give him a comfortable opportunity to exhibit his tight keeping technique.
Also Read: Team India Schedule for 2019-23