Before India nosedived to a rather unflattering score of 187 for 5, having been 167 without a wicket lost at one stage, it was all about a sterling show by Shafali Verma and Smriti Mandhana in the one-off Test against England women's. In bringing back Test cricket from the dead, especially where India women's national cricket team is concerned, a solid, record-making 167-run stand between Shafali Verma and Smriti Mandhana became easily the talking point of the second day's play in England's Bristol cricket ground.
A partnership that was laced with boundaries, most of which were glorious hits to the fence, India women's team evaded an early possibly damaging spell from the great Katherine Brunt, among the all-time greatest pacers in women's cricket to rock on to a solid opening run stand. In the process of building a glorious 150+ first-wicket stand, the women's team broke the previous record set by Sandhya Agarwal and Gargi Banerji, whose 137 run opening wicket stand had, thus far, been India women's highest-ever opening run partnership.
But the star of Day 2, by a fair margin, was the unflustered and very brave, almost Virender Sehwag-like Shafali Verma, who opened her Test cricket chapter in fine style though falling painfully shot of a century on debut by just 4 runs as she skied an easy catch to mid-off.
But it wasn't before hammering the best of English bowlers on a day where the bat did the talking, which was before the hosts bravely fought back, taking crucial wickets, including that of captain Mithali Raj who fell for an uncharacteristic 2.
Though, that being said, it's great to note that the white-ball captain (who leads in both one day internationals as well as T20Is) Harmanpreet Kaur is unbeaten and at the crease at the end of the day's play and will be in charge of resuscitating a scoreboard, which courtesy the fine opening stand between Shafali Verma and Smriti Mandhana looked promising and destructive without much ado.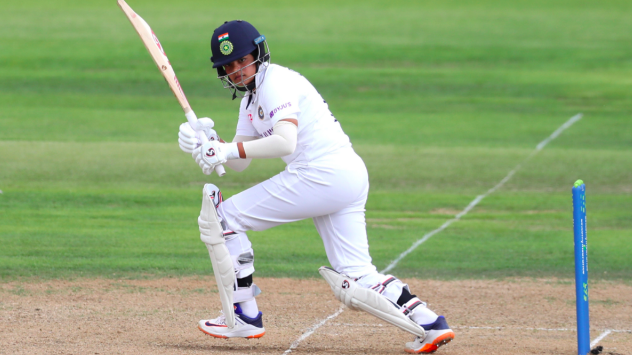 It must be noted, however, that the famous left-hander Smriti Mandhana too, recorded yet another fifty in her international career, a 78 that came in a 215-minute stay at the crease. But that being said, while Kate Cross, usually a white-ball feature removed the dangerous Shafali Verma, the top scorer for India, thus far, it was Nat Sciver who dismissed the fluent yet cautious willow of Smriti Mandhana. A flurry of wickets in the middle order, both of which fell to the English captain Heather Knight saw Punam Raut and Mithali Raj contribute only 2 between themselves.
And where it stands, India women's side still trail England's first inning score of 396 by another 209 runs. Although, Deepti Sharma, yet to open her account, will be hoping to give fine company to Harmanpreet Kaur in the middle in order to ensure that Day 3 belongs to India getting back on their track in their hunt of England's daunting first inning total.
Also Read: Mithali Raj On The Importance Of The Pink Ball Test For Indian Cricket!
But for now, the headlines must truly belong to the fierce daughter of Haryana and India's pride Shafali Verma who's gotten off to a cracker of a start, having hardly played much of first-class cricket.
It can be seen, given her attacking and confident way of expressing herself with the bat that team India have gotten among their ranks a very fearless star in the making, someone who much like Rohit Sharma and Sehwag can blaze away to huge scores without taking much time at all. And may the future belong to the avid teenager, who'd once again, like to contribute handily with the bat in the second inning.