Not hard to note the kind of praises and tributes that become cricketing normality when Virat Kohli comes out to bat. Once, yet another promising batsman who emerged from the heart of the country, in New Delhi, today, the name of Virat Kohli has become synonymous with massive runs and whirlwind victories. A dangerous batsman with an attractive technique- what more could he have given the sport that today cannot imagine itself in his absence. What do you think?
Scoring lots of runs and raising the graph of batsmanship even higher, nearly each time he emerges on the pitch with that famous bat, victories and lots of landmarks become the order of the day when Virat is behind them. The belligerent right hander is already 7,000 plus runs in Tests, 11,800 plus runs in ODIs, and where the game's briefest format stands, then he's already approaching 3,000 runs.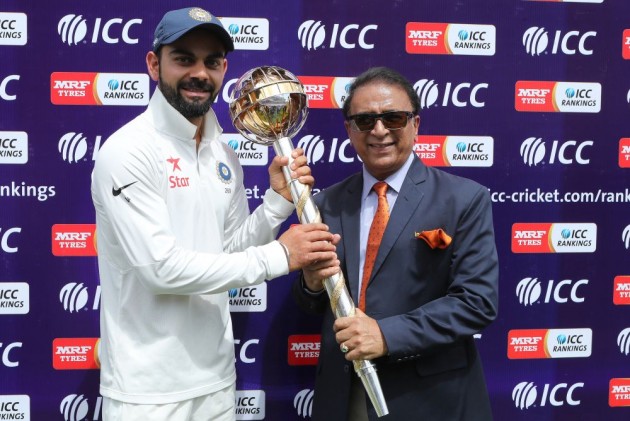 All of that, in the next few months, could really change, knowing the batsman's penchant to score freely. But is that the only glowing achievement surrounding one of the world's famous batsmen at the moment? It's not hard to see, truth be told, the kind of astonishing consistency with which his team has been playing a sport that's birthed several heroes in the recent past, including Sachin Tendulkar, Anil Kumble, Saurav Ganguly, Rahul Dravid, and MS Dhoni.
But that told, if one were to rewind a bit further back to Indian Cricket's days of the yore then the name of Sir Sunil Gavaskar would be found. It's a name that still commands massive respect. Long before there was no Sachin or Dravid, there was a certain Sunil Gavaskar, today's considered among the game's most erudite talkers and presenters.
Isn't it? So it's certain, beyond doubt that when Sir Sunil Gavaskar speaks on the game and shares his insights about the Indian cricket team under Kohli's leadership, you know that comes straight from the heart.
Having said that, very recently, Sir Gavaskar lauded rich praise on the skill and caliber of the Indian Cricket team, one led with much grit by the belligerent Indian batsman.
So what exactly did Sir Gavaskar share about this team; did he speak about its consistency, it's strong record back at home among familiar playing conditions or was it entirely something else that Sir Sunny- with 10,000 plus Test runs against his name- offered as an insight.
Here's what the little master had to offer:
"I believe this team is the best ever Indian Test team in terms of balance, in terms of ability, in terms of skills, in terms of temperament. Can't think of a better Indian Test team.
This team has the attack to win on any surface. It doesn't need any help in conditions…they can win on any surface. Batting-wise there were teams in 1980s that were pretty similar. But they didn't have the bowlers that Virat has."
Having said that, when quizzed about whether the current Indian Test line-up has the talent to pick up 20 wickets, he would add without a measure of doubt, "Definitely without a question, India has got such a varied bowling attack today and that is so essential. There is a saying that 'if you don't take 20 wickets you won't win a match."
All of that said, the only question the true Cricket loyalist might have in his mind is whether, the team formerly under Saurav Ganguly was a slouch outfit? Do you remember, the very outfit that taught India, in all fair manners, what it meant to win overseas; that very team comprising a few popular cricketers- kindly pardon the tone of sarcasm- such as Sachin Tendulkar, Rahul Dravid, Virender Sehwag, Zaheer Khan, Anil Kumble!
Also Read: Virat Kohli- Among The Greatest Batsmen Of All Time- Completes 12 Years Of Cricket
Credit must be given to how Virat's young brigade has shown great consistency, but then what about its record playing in England, if you were to truly understand how the outfit conducted itself in the trickiest challenge for an A-list international cricketer? Not to mention, the outcome of the recent tour to New Zealand, does one remember what happened there in the five dayers?