Good batsmen might need an introduction, but the greats do not. Yet, every time, when one hears the nickname "Mr. Dependable", the eyes of the cricket fan light up. And if those are of a Test match lover then they may even drizzle, a bit.
Is Rahul Dravid another good batsman? Or is his standing beyond the feats of run-scoring and much rather concern the zone of being one of cricket's ambassadors?
The fans have their answers ready. Those who mocked Dravid's slow batting may much rather want to focus on the celebration of deities in cricket, quite like they put T20s ahead of Tests. We are no one to judge them for the simple reason being, Dravid the man himself wouldn't pass judgments on his critics.
Doing his part for the team was his duty; questioning others who didn't admire his patient batting style that cared little for quick dispatches to boundaries and fanciful expressions from the bat wasn't him, well, not in the least.
Rumor has it that when he struggled initially to find his footing in the ODIs, upon hearing openly a strand of criticism regarding his inability to score and score quickly, he stopped a dear friend from taking on a fight with a vocal disparager. Wonder who would do such a thing today? In the end, the man who struck 36 Test centuries also ended up scoring well over 10,000 ODI runs.
If there was ever this Rahul Dravid guide-book for cricketing consistency written by fans, it may see him compared to either a tough soldier who stood for chivalry- signifying the ethos that a soldier never quits till he's dead- or attempt to compare him to a Zen monk: one who was calm under pressure and one who upheld the dignity of the game, opting for silence in an age no stranger to theatrics.
Interestingly, no other batsman has been as admired for his batting technique as he's been chided for it. Rahul Dravid himself, in a rare exhibition of humor, but off the field, admitted his batting did put others to sleep. Well, at 1.80 meters, you know what's the height of modesty like- now don't you?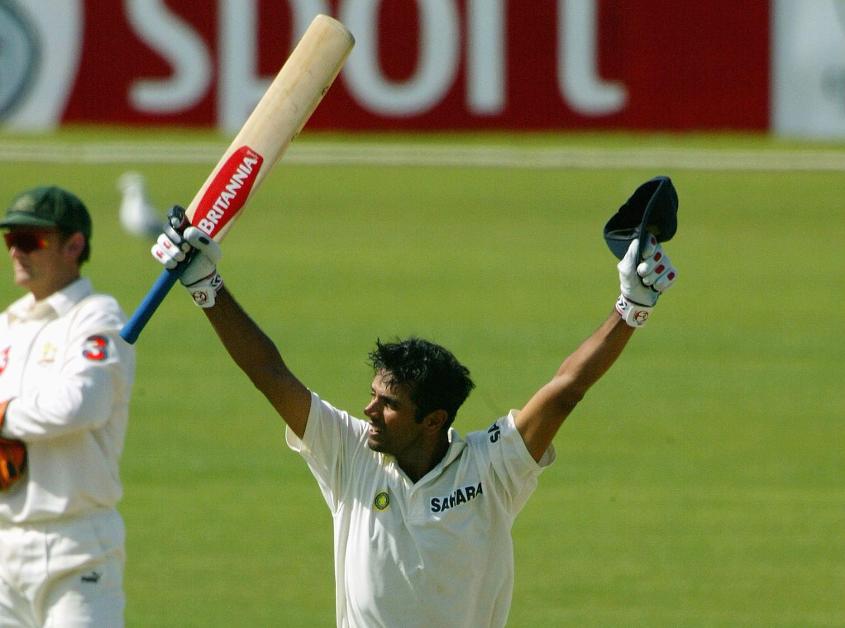 After all, he was a man who put his team before himself or his records and ended up with 48 centuries and approximately 25000 international runs.
That Rahul Dravid saved India many a time from the jaws of defeat and his batting celebrated the simplicity and nuances of the craft- both at the same time- was perhaps his greatest achievement.
Yet, nothing could be more rewarding for his supporters- a species, with all due respect that watches, rewatches, binge-watches epics such as his 270 versus Pakistan, his 217 against England, that brilliant 68 at Jamaica or that quintessentially gritty 180 at Kolkata in an age obsessing with T20s- other than remembering his outing at Australia in 2002-03.
After all, this was a team that Dravid perhaps saw as a scrumptious foreign assignment. How else, otherwise, are you to describe the fact that of his 13000 plus Test runs, 2166 alone came against the Aussies?
For a batsman who Ian Chappell described aptly through his famous quote- "Team in trouble, who would you turn to other than Dravid- it's hardly a surprise that one of Dravid's finest knocks came against a behemoth of an Aussie side that too, at Down Under.
This was a time where India hadn't exactly been mega-successful to win on many Test turfs outside of its own domicile. And having said that, the 2002-03 series was only the second time in his career where he'd traveled to Australia.
Who knew what was to come?
There was a bit of a concern, especially because the last that Rahul visited Australia he'd only manage 93 Test runs from 3 Tests. His highest score had been 35. These weren't numbers you'd expect from a man admired for possessing that watertight technique.
Previously, however, Rahul Dravid, who'd only played Australia at home, had managed a 40 odd in his first series encounter in Delhi. That was in 1997. A year later, however, the calm batsman improved his numbers against a side that had McGrath and Gillespie in collecting 223 from 5 Tests. He'd never scored a century versus the Aussies at their own backyard until then.
So if one were to take a minute's pause to notice something amiss in Dravid's graph against Australia, it wouldn't be entirely impossible to note a big absence. Despite having toured Australia before, he hadn't fired a mighty hundred, anything close to his 180 at Kolkata.
All of that, however, was going to change in the 2002 series. In the Second Test played at Adelaide, it wasn't just the eclectic taste of Australian coffee that'd keep the home fans awake in wide-eyed wonder, it was, Rahul Dravid's sensational Test double that'd dazzle both his countrymen and draw admiration from the opponents.
In a series where there was no dearth of new bowling challenges to stand up to- perhaps at the back of being luck-assisted in the form of Warne and McGrath's absence- Dravid found himself up against Brad Williams, Jason Gillespie, Stuart MacGill, and Andy Bichel.
After the First Test ended in a draw, both teams were looking for a breakthrough. The Second Test played under much sun and breeze had to offer something special. 6 Tests before Dravid entered the series against Australia, he'd compiled, for the first time in his batting career, 600 plus runs. His knocks against England, in England, finally gave India a sense of reassurance that someone special was in the middle, someone who'd not give up without a fight especially under tough situations. Cork had sledged him back then, had attempted to rattle him with the shorter ball but only found the meat of the patient batsman's blade carving the red ball to the mid-on boundary on one occasion too many.
However, that was England. This was Australia.
And nothing could've been worse other than the likes of Kumble, Agarkar, Nehra conceding 556 Australian runs in their first batting outing. Later, when India turned out with none of the openers going past a fifty- a dainty attempt when compared to Ricky Ponting's solo contribution of 242 to Australia's 556- one man stood tall for India.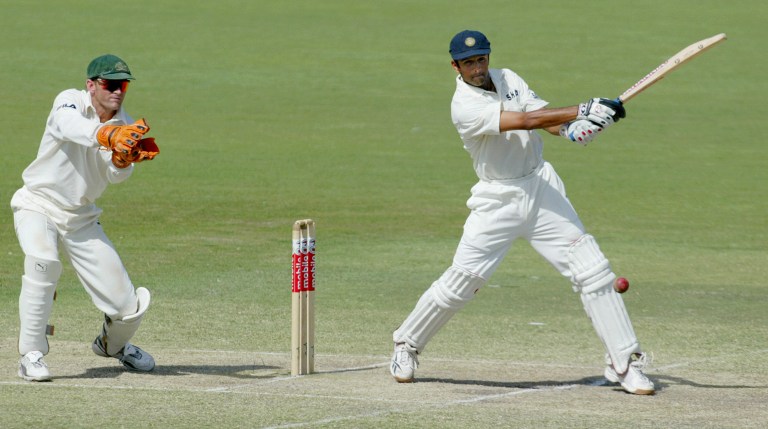 Rahul Dravid was back at doing what he did best: focusing for long periods of time and going from strength to strength in leading India's reply. Eventually, as India produced 523 runs in their first inning, Dravid contributed 233 alone. In doing so, he hung out in the middle for as long as he possibly could as others became frequent departures, including Tendulkar, the 'God' managing 1, the 'Maharaja' Saurav contributing 2.
During this time, the number 3. bat stood tall at the crease for nearly 600 minutes.
In batting with his head held high, Dravid not only baked the Aussie bowlers but also enabled India to elbow Australia just as well as their batsmen had in the first inning. Displaying a grace under pressure and exhibiting the typical cautiousness with which his batting saved India during the 2001 Kolkata masterstroke, Dravid constructed a wall of patience.
He struck, if not fired, 23 boundaries, abstained from going wild outside the off and never seemed interested in flirting with the idea to throw his wicket away needlessly.
In a series where Rahul Dravid's 619 runs at an average of 123 responded brilliantly to Ponting's 700 plus tally, for a change, the Indian fan got to embrace the spectacle where the concrete fortification of brick and mortar served India well above the godly spectacle of Tendulkar.
The straight drive on Brad Williams, the square cut on Bichel, the cover boundary on Gillespie and the magnetic charm in pulling the trio towards deep square leg with pearl white seagulls floating in the background- Dravid was as immovable from the crease as he was tenacious in dispatching the Aussies from the middle.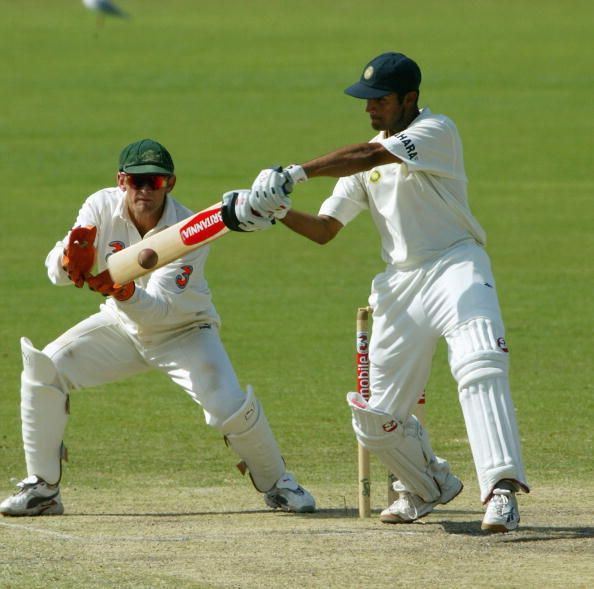 But whose victory was it really at Adelaide? Comparisons be damned, we've got to ask something. Wasn't the win, actually of the fan as much as that of a team, that despite understating Rahul Dravid's presence among a tall order of greats- Sachin, Sehwag, Laxman, Saurav- actually rode high on the services of 'The Wall?'