Yuvraj Singh, the cricketer, the defining sportsman and a fighter, has been a match winner in limited overs cricket and one of his most praised contributions has been towards the World Cup 2011 trophy. Yuvraj Singh was named the Man Of The Tournament and he became the first all-rounder to score 300+ runs as well as take 15 wickets in a single World Cup. However, as the India vs West Indies series comes to an end, people are saying that this is the last time that Yuvraj Singh will be seen as in Indian colors.
Debuting in 2000, Yuvraj Singh quickly became a sensation in Indian cricket with his unorthodox hitting, a powerful swing, and quickness on the field, while becoming one of the flag bearers of a young squad in the year 2007. The same year Yuvraj Singh smashed the fastest T20 fifty (12 balls) against England in the 2007 ICC World Twenty20.
Watch those 6 Sixes Here:
https://www.youtube.com/watch?v=fXCxMWOdkBM
( Video Source: sports lover )
However, Yuvraj Singh's career has been a one with ups and downs despite him have scored 84 runs on his international debut against Australia.
One of the biggest upsets in Yuvraj Singh, as well as his fans', came after the ICC World Cup 2011 when the player was diagnosed with Cancer. Yuvraj Singh was vomiting blood out of his mouth during the tournament itself but he wanted to play for India and materialize the fans' years-long dream of lifting the World Cup once again, and he did it with class.
Yuvraj Singh bravely fought Cancer and made a comeback in Indian squad but he has not been the same as before. The Southpaw has been a shadow of his past and has found it hard to cope up with the demands of Cricket.
However, earlier this year, we witnessed a glimpse of Yuvraj Singh prowess during his 150-runs stand against England which helped him in selection for the ICC Champions Trophy as well as the West Indies tour. While he scored a match-winning half-century against Pakistan in the ICC event, he failed to carry on the momentum in the tournament as well as the West Indies tour.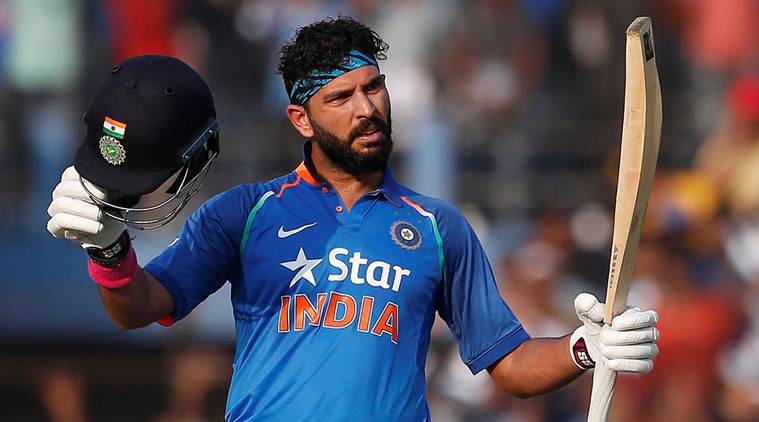 Reports suggest that this was Yuvraj Singh's last chance to make the team feel his importance but as the rise of youth is what we have seen in the recent past, Yuvraj Singh's place in the squad is everything but certain.
When we talk about emotions, Yuvraj Singh will always have a special place in our hearts and his contributions towards Indian cricket will always be cherished, but practicality is what we believe in and it might be the time of his retirement, however, we would like Yuvraj Singh to emerge once again, along with the likes of MS Dhoni, and make India's middle order, Dominating Again.
Yuvraj has suffered a lot, he needs a comeback and a comeback is what he is expected to do. One should never forget that the present Indian skipper Virat Kohli is seeing right now, Yuvi has played that part for India already for his side in the past.
On this note, here is a video that every Yuvraj Singh fan should watch
https://www.youtube.com/watch?time_continue=120&v=f1OwmpN9BRo
( Video Source: Sree Harsha Cricket )
While Yuvraj Singh's batting powers have declined and he hardly rolls over his arms, he has been poor on the field. To be fair, he is 35 at the moment and we cannot expect him to throw himself on the field and it is safe to say that age-factor has caught up with him but the question still remains, What Will Be The Right Time For Yuvraj Singh's Retirement?