Breaking into the national team at 15, becoming a regular shortly thereafter and, going onto captain the limited overs side until eventually becoming a leader across formats- life's come a full circle for Bismah Maroof.
From a distance, if you place a gaze on the gentle, softly-speaking passionate Pakistani cricketer, she'd resemble a 'David.' But the closer you get to her, and thus, in turn, to her craft, you realise, she's the David that can beat the 'Goliath.'
For any young cricketer to assume captaincy of a side in the aftermath of a torrential loss in a series such as the World Cup- the challenge can be overwhelming. However, not everyone is as sorted as Pakistan's current limited overs and T20 captain, who was anointed with the leadership role in the months following the disaster at 2017 World Cup. For Bismah Maroof, wasn't just any random date with history. Leading Pakistan was a moment of epic proportions, representing a fiery pack of talents with someone legendary like Sana Mir in the ranks.
From thereon, you could say, Bismah Maroof has stuck to her job akin to a kite flying in the skies.
Within a few months of taking over as the leader, things would begin to change.
Among the most memorable periods as Pakistan captain would result in the doggedly determined batswoman to taste mega triumph whilst contesting away from the home soil.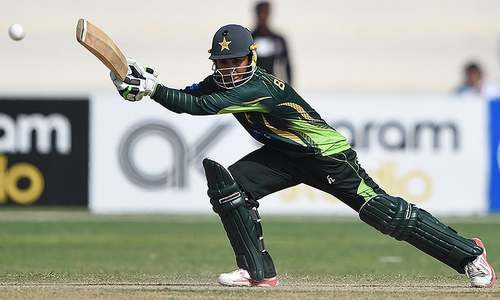 Come March of 2018 and Pakistan would march onto gather among their finest clean sweeps in international cricketing history. They would tour Sri Lanka for a comprehensive ODI and T20 series and beginning from March 20 until the very last day of the month- there was one team and one team alone that reigned at the Island nation.
Surprisingly, it wasn't the hosts. '
It was Pakistan. It was that familiar smile again, glowing in green, having overpowered the blue.
Under Bismah Maroof's captaincy, Pakistan clinched a historic 3-0 ODI triumph and went on to win nearly every T20 that followed. But implicit in the heart of both ODI and T20 wins was Pakistan's inspirational leader. Curiously, for fans and number-crunchers, this would only be the second time that Pakistan would win 3-0, dominating an ODI series so utterly.
Perhaps it could be said for the sheer value and impact that a special knock in the 2nd ODI carried, Bismah Maroof's flamboyant 89 off 90 at Dambulla (featuring 9 fours and 1 six) was just as important as say, Smriti Mandhana's fastest-ever T20 fifty against England.
This was a knock that would come, interestingly a couple of days later than the Pakistani's ferocious assault against an Atapattu-powered Lanka.
Of the 250 that Pakistan scored during the 2nd ODI, the lion's share went to captain Bismah Maroof. Strong pulls, powerful straight drives, finding gaps with the same ease with which the bee gets to the honey sack- the left-hander was undaunted.
But Bismah, whose side went as far as winning the 3rd ODI by 108 runs, a 14-run improvement of their previous bashing of Sri Lanka (who'd they squashed under a 94-run margin of defeat in 2nd ODI), was in fiery form even in the T20s.
The only 20-over contest that Pakistan somehow managed to lose, scoring no more than a modest 72- Bismah was at it again; she'd strike 20 of those runs. Not much but invaluable to take Pakistan ahead in what was a dismal day with the bat.
If you followed the series closely- you wondered was this the same Pakistan that had endured a horror 2017 World Cup run? It wasn't their best tournament. No team likes to lose back-to-back games. Pakistan lost seven games. It was forgettable.
But upon as Bismah Maroof took over as the limited overs captain, Pakistan would end up winning their first-ever ODI against the Kiwis, another big-up for the sub-continental side.
Renowned for being an agile fielder, someone who runs after the ball in the outfield with the same passion as she does between the wickets, converting the 1s into the 2s, life for Bismah- it seems- is an uncomplicated construct. It's a journey where happiness means scoring runs and applying herself diligently to construct something meaningful for her side.
While it's impossible to debate which of her ODI special was the most exquisite- was it the 92 against Bangladesh- that earned Pakistan a much-wanted win in 2015 or the unbeaten 91 versus the Kiwis, an act of valiance that all but earned Pakistan a win (the team losing by 4 runs) what can be said with certainty is that Bismah's 99 against South Africa is an apostle of concentration.
Perhaps, it's this knock, constructed three years back in time that earned Abidi the wider recognition both amidst her side and from the opposite numbers, marking her as a prolific scorer, not someone who was only just good.
That Bismah's patient defiance of South Africa came against an attack that included forces like van Niekerk, Kapp, Ismail made it all the more special. Amongst the few batswomen who can combine attacking instincts to her penchant for building an inning- Bismah's real key is the ability to shift gears.
If Pakistan's current limited overs unit dearly misses Asmavia Iqbal then rest assured the famous trinity of Sana Mir-Bismah Maroof- Nain Abidi, make it a quartet when you include Diana Baig to the list- can be a truly world-beating side. Add Javeria Khan to that list and you've got an unputdownable force.
The key, however, for the team is to transform the playing eleven into a killer-elite, that they are so capable of becoming. Each time Bismah plays and misses outside the off, she knows where she can lift the national cricket side. Every time Sana Mir bowls the one short and each time Diana Baig bowls a peach of a delivery, that barely misses the outside edge landing into the hands of the keeper- Pakistan's heart cringes.
It's that extra special that's yet to be tamed that keeps them in their fans' hearts and also, in the hunt in the game. Can Maroof transform this unit, there's no better future-teller than time?
But that told, even in recent times, Bismah's bat's been oozing fire. Isn't that where the glory lies?
2 of her 12 ODI fifties came in the recently-concluded Asia Cup, where Pakistan should've made it to the finals against India but were sadly left jarred by ordinariness in both batting and bowling departments during the deciding stages.
But what's lost is in the ebb of yesterday. What lies ahead speaks of a bright hope. After all, the fluent leftie- a Saeed Anwar for Pakistan Women's side- is all but 27. She's got a long way to go and a lot many dreams to conquer. To score heavily against India remains a key target that's yet to be realised. But what'll please the fan, both in Pakistan and in rest of the world is to see amongst the finest timers of the cricket ball in the women's game, reach her maiden ODI hundred!
That's a first world cricket anticipates with a keenness of a kid running after a candy!