She has got way more than what she bargained for.While the world is on the brink of boycotting Pakistan for its global policies, it seems that, other than that, the country knows how to remain in the headlines for all the good reasons, as well. While Cricket returned to the Pakistani soil after 12 years on 12th September, thanks to the World XI visit for a T20I tournament, now a female anchor has caught the attention of the world with her looks.
Before dwelling into the details, it's worth mentioning that the World XI tournament has given Pakistan cricket all the attention of fans, media, and cricketers, as well, which, after taking the ICC Champions Trophy 2017 victory into consideration, could result in a big turnaround for the Pakistani Cricket team.
That being said, when it comes to Pakistani female anchor, there is no denying the fact that their beauty can invariably match to that of their Indian counterparts and since Cricket has become a huge source of entertainment all over the globe, apart from high voltage matches as well as big hits, a man cannot also resist following the sport due to these hot anchors, even if he is not at all interested in the game.
You might remember the Blue-eyed 'Chai Wala' from Pakistan who became an instant internet sensation, followed by a couple of modeling assignments and a rumored role in a movie as well.
Now since the World XI has been touring Pakistan and cricketer from around the world has been invited to cover the event, it comes as no surprise when these cricketers emerge in selfies clicked by fans or even media persons. However, when a particular PTV anchor posted a selfie with Darren Sammy, she, in turn, got way more than what she bargained for.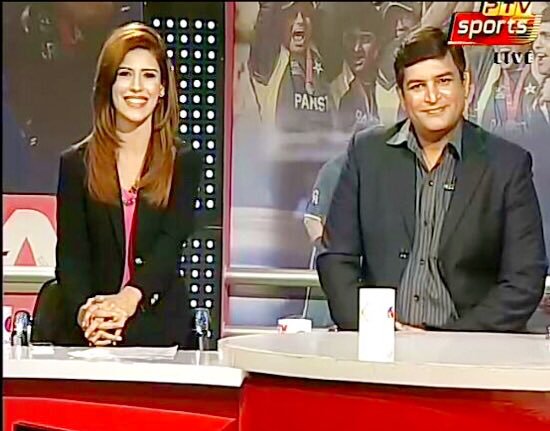 Fazeela Saba, an anchor for Pakistan channel PTV Sports, shared a selfie with the former the West Indies captain via her Twitter account on Thursday but what was expected to be a fan moment for her, made her an internet superstar instead.
Another Darren Sammy interview coming soon on PTV World pic.twitter.com/ipAP1y82Lt

— Fazeela Saba (@FazeelaSaba1) September 14, 2017
There is no doubt that Fazeela Saba can even give some of the most successful celebrities in the show business, a run for their money, when it comes to her looks but when the picture emerged on the internet, Twitter even forgot that there is an International Cricket great standing next to her.
Waisey kn sa App use krte ho, Sammy b bht white dekai day Raha hain, lol?

— Waseem Shahzad (@iamwaseem21) September 14, 2017
I really like u u r so cute Mashallah Trust me i really mean it fazeela ?????????????????????????????????????????????????????????❤❤❤❤❤❤❤❤❤❤❤

— zunaira (@zunaira_zuni16) September 14, 2017
So gr8 2 c u,looking gorgeous as always.Luking forward fr da interview

— ZUHAIR (@ZUHAIRmehdi) September 14, 2017
Darren Sammy Teri qismat kitna khush naseeb hy

— Boss (@starqureshi75) September 14, 2017
Awesome pic lovely lady

— Naqeeb Khan (@NaqeebK40888869) September 14, 2017
Hw cute lady…?? @FazeelaSaba1 ?

— Ali Kashmiri ?? (@AliGhazali10) September 14, 2017
You should try your luck in #Movies !

— Gulail Wala (@khurram786khan1) September 14, 2017
??

— Mohammad Hassan (@Realhassantariq) September 14, 2017
Ya Allah khair WX11 Next match har jayenge paka .. ??

— Meer Mohammad Baloch (@Meer_MHassni) September 14, 2017
Fazeela dear u such a cute lady…i really like u r so mpre cute plz share ur beauty tips??? plzz Mashallah u r pretty ?????????❤❤❤❤???????

— zunaira (@zunaira_zuni16) September 14, 2017
Fazeela Saba has more than 32,000 followers on Twitter and one can easily deduce that she knows more than a thing or two about Cricket, now this a rare combination to find.
As for the World XI vs Pakistan T20I series, the hosts outplayed the visitors in the first match while Faf du Plessis' men registered a storming comeback in the second T20I to level the series.
The third and final T20I will be played on Friday and all the home fans will be hoping for a positive result.