Every serious situation in cricket, a sport with lots of drama and heartache, needn't be scrutinised with fire or knife-wielding. Isn't it? At least, on certain occasions, we can spare someone the invisible sword hanging over one's head. Therefore, in lighter vein, it's essential to note that there are, among the many, two prominent Justin's in the world, at this moment in time.
One belongs to Canada, the world of pop culture and acting exports to Hollywood (think Jim Carey, think Keanu Reeves) and frazzled politics and the other, to Australia, the land of Kangaroos, where more humans die of falling from a horse than to natural calamities, and above all, the land of Marlon Samuel's soulmate- Shane Warne, who's not, by the way, a man with plastic face as alleged by the West Indian!
And the commonality between these two Justin's is a bit too much to deny or overlook. Both aren't that tall in built- note! Secondly, both are excelling in music. How? While the one Justin, Bieber that is, is excelling in creating music, the other- Justin Langer is facing music!
If that didn't sound funny, then you may excuse me for having a gaseous attack that's attacked the brain!
But nonetheless, truth is while Justin Bieber can get away with one horrible and cringe-worthy pop songs, which to a fan of hardcore metal would sound the next best thing to consuming one's puke, Justin Langer cannot get away with horrible performances of his Australian team.
Of late, they were thrashed by Bangladesh, in Bangladesh, in a fashion a mixed martial artist goes about plonking a toddler having just come out of the gymnasium.
Prior to that, his T20I team were routed by the West Indies: 4-1 in the Caribbean, an experience only as pleasing as seeing Rahkeem Cornwall face sitting on Yuzvendra Chahal to record a new TikTok video.
And while the above can well get a few million likes, for all one cares, no one is liking the way Justin Langer, the coach is going about mentoring a team that today lacks Maxwell, Warner and Smith- three of their finest batsmen around.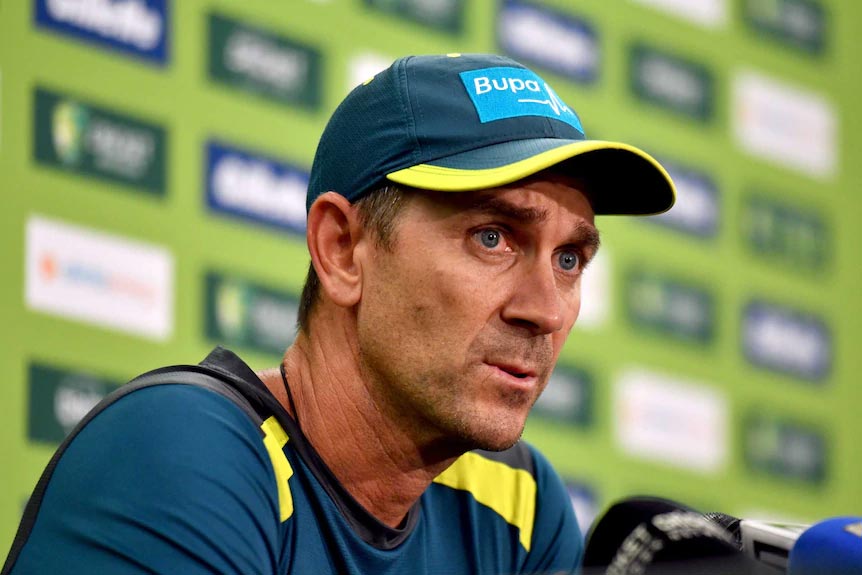 Yet what must come as a moment of reprieve to Australia is that there's support from Cricket Australia to the former opening batsman who stood up to Shoaib Akhtar of all people, at his pomp.
So what does the Cricket Australia have to say about Justin Langer's current predicament:
Here is what the Hindustan Times highlighted:
Australia's team manager Gavin Dovey and Langer took turns to admonish the journalist for posting a video of Bangladesh singing their team song on the Cricket.com.au website after securing the series win, the Sydney Morning Herald reported.
The confrontations played out at the team hotel in full view of players, some of whom were taken aback by them, it said.
"In hindsight, it was one of those instances which should have taken place in private. I take full ownership of that," Dovey told the paper.
Appointed in the wake of the Newlands ball-tampering scandal in 2018, Langer was hailed for his success in helping captain Tim Paine heal a fractured team and win the Ashes in England the following year.
The above said, before it's too late and Langer fails in excelling in forthcoming coaching endeavours, the biggest of them being the preparation of the T20 World Cup 2020, here are some parallel career choices for the respected Australian who loves Brian Lara:
Talk to Netlfix and replace Jean Claude Van Damme in Jean Claude Van Johnson- reason? He's a black belt martial artist, much like Ajinkya Rahane, though the Indian hardly look like one.
Next, join former opening batsman and close friend Matt Hayden in running online barbecuing videos, the likes of which featuring proper Australian cuisine could land the famous Test batsman a chance in Master Chef
Join the IPL, the famous destination of most ex Australian cricketers. But do what? Let Mr. Mukesh Ambani decide!
Disclaimer: do not take this article seriously, except the bit that Mr. Langer does need to work up something miraculous to save his fledgeling coaching career. We love you Justin…. Bieber!