In 2016, he struck four consecutive sixes, brought home the world cup for the West Indies, made a world record for being the only batsman to hit four back to back sixes in a T20 world cup and got celebrated as being the man who inspired the line, "Remember The Name!"
After that, he'd make news for only two reasons in the half a decade period that followed. First would be to be appointed temporarily captain of the West Indies T20I team and next, for his belligerent heartening century against New Zealand in the 2019 world cup.
In between this period, he did nothing substantial or superlative, and yet, the fanfare surrounding Carlos Brathwaite, one of Barbados' great sons hasn't subsided a bit. Part of it could be down to the fact that he's no ordinary talent; he's a specialist white-ball cricketer who can do both, bat and ball. Moreover, he can fill stadia wherever he goes to play.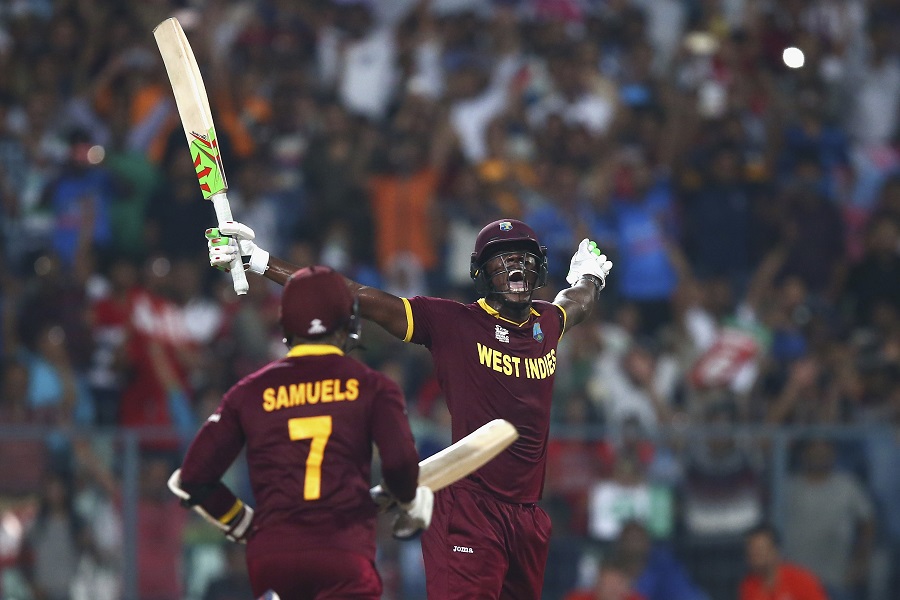 Carlos Brathwaite has been to India and became synonymous with the IPL, where he represented Sunrisers Hyderabad as well as the Delhi Daredevils, now known as Delhi Capitals.
Moreover, he went to England for a smashing T20 stint where he attracted large swarms of crowds.
And now, he's come up with an interesting quote in the wake of the Hundred and how some rules of the famous England-based tournament could well make their way into T20 international cricket.
So the key question is, what did Carlos Brathwaite say in the context of the rules of The Hundred and how some of those rules could define the new contours of T20 international cricket.
"The rules that I think will probably come into play into mainstream T20 would be the extra fielder comes into the circle if you are past the cut-off time. I think that would give more of a team effort to get the overs in. I think T20 has got really, really slow. It was supposed to initially last less than three hours. Sometimes we've got T20s going on to four hours plus. So I think that will help quicken the game.
I think two overs from the same end is probably something that could catch on as well. Again, just for speed of play. It now means that you [switch ends] 10 times instead of 20. And the idea of not crossing if the batter gets out caught – the new batter comes into bat. I think those three are ones that could potentially be implemented or phased into T20 cricket in the future."
Now, that said, about Carlos Brathwaite's future for his West Indies national cricket team, the question that must bother him and might concern tens of thousands of Barbadians is this-
Is there a future for the tall right-handed big-hitting six-smacking machine now? He was part of the last world cup campaign but will one get to see Brathwaite, who's close friends with Rihanna, in the fast-approaching T20 cricket world cup?
The current West Indies line up that's sure to make it to the playing eleven will surely include all rounders like Andre Russell and Dwayne Bravo, the latter who'll be keen to leave behind an indelible impression in the world cup.
But will the Windies selectors be keen to pick Carlos Brathwaite for the UAE-based series over Jason Holder or will both be selected and used rotationally?