Well over three years back, miles away from Queen's England and thousands of kilometres away from the Kensington Oval, in the land of The Prince of Calcutta- one young man took Ben Stokes to the cleaners and put Eoin Morgan's side to the plane back to Her Majesty's kingdom.
But the man and his team drenched in sweat, moving in nervousness, their maroon- clad bodies holding up with some inexplicable blood pressure reading, stayed on.
It was celebration time.
In hitting four sixes in as many balls, whilst playing the first World T20 final for his West Indies, this relatively unknown commodity in World Cricket left behind a lasting impression.
Never before had Ian Bishop sounded so emotional and not since a Brian Lara special had India displayed such fervent enthusiasm for the West Indies.
Eden Gardens was at its feet, dancing to the euphoria of the Caribbean beats; its lovely green corners embraced by towering hits in perhaps all parts.
That unforgettable evening, even if you were hanging out in Mars- you could hear DJ Bravo's "Champion!"
Since then, it's emerged as an iconic number that now makes perfect sense (that it) was composed by a West indian, for they really play like one, with a sense of restless abandon, with a carefreeness that no coaching manual in the world prescribes or can claim to teach.
Fast forward to June 21, 2019.
The young hitter was at it again.
The West Indies were capitulating, as they were on that pleasant Calcutta evening when the Barbadian gave unsuspecting fans a whiff of the 'unforgettable!'
Not an awful lot seemed different from the final of the 2016 World T20.
The task was as onerous as it was back then.
Lots of runs were needed. Well above 6 an over.
All major batsmen had dispersed. Gayle? Gone. Lewis? Gone.
Worse! There was no Darren Bravo. No Marlon. No Russell either.
This wasn't some T20. Though it was a World Cup game.
The opponents were miserly and cunning and very determined to win.
It was up to the belligerent right-hander to do something special.
Funny as it may sound, on a fateful evening where Shai departed cheaply, plotting his own downfall, needlessly contacting a widish one from Boult that pitched outside off, Carlos Brathwaite was West Indies' only Hope.
With a barrage of sixes and boundaries stuck with great power, 25 came of the previous 6.
Yet, it was down to 6 off 6, in the end. It seemed gettable.
The only problem was- the non striker's end didn't have a McCullum, Jayasuriya, , Afridi or Lara-esque talent.
Oshane Thomas was at the other end, someone whose last promising inning was as familiar to one and all as is Kane Williamson's ability in pace bowling.
It was up to Carlos Brathwaite, once again.
In came Jimmy Neesham, in the 48th, fresh from his fifer in an earlier duel.
He'd pitch one deliberately short.
Carlos Brathwaite went deep inside his crease, lifting the ball toward the outfield.
At that precise moment where the ball left Carlos Brathwaite- most West Indians froze wherever they were, needless to say, including those who saw live proceedings from the nail-biting comfort of their homes.
No stethoscope anywhere in the world was designed to fathom the Caribbean heart's reading.
Stupid exercise, that.
The journey between the ball leaving Carlos Brathwaite to landing safely in the hands of Trent Boult brought multiple reactions to multiple beings.
To the New Zealanders- it brought the unimagined comfort of a closely-fought victory. It meant the great release amid massive tension. Picture the feeling of having finally found your passport having lost it the world's largest terminal.
To the West Indians- it signified nothing more than pure shock and awe. That's what it was; pure disbelief yet this heartening feeling.
You derided the fact that they had lost. You couldn't believe it.
A bloody lie.
Some cuss words that you'd much rather hide in public.
A horrible fate.
With just 6 needed, how could they lose it?
Yet, something about that effort, that grand effort by Carlos Brathwaite- 101 off 82- made you smile in some remote corner of your heart that was seething in despair and agony for which the West Indies were responsible.
As a die hard fan, you'd much rather have tolerated an insulting E-mail by your senior, the childish tantrums of your girl, even bore with your elders telling you, for the hundredth time in a week, about how anti-social you've become, despite your best behaviour.
But you couldn't take the West Indian defeat.
Yet, at that moment of colossal sadness what served a soothing balm was Carlos Brathwaite's effort.
At times, in a do-or-die, one simply dies. But without a fight.
But doing something is important.
Trying is important. And in these desperate matters, it could be said, doing is trying.
And that's what the 6"6 giant did for his West Indies.
Amid the tyranny of defeats- first against Australia, then versus England, later against Bangladesh, and now, facing New Zealand- it was Carlos Brathwaite- who helped reduce what might've been a huge margin of defeat.
Akin to a swordsman who was constantly losing out on weapons, Carlos Brathwaite seemed to be hitting sixes and boundaries with barehands.
Yet another loss for Holder's team might have been at Old Trafford. But with Carlos Brathwaite in midst of it all- it was Old Trafford decorates with a new zeal.
And that zeal was the lone West Indian trying.
His muscular, sculpted body dragging the match almost into its final over.
It's not that others before him collapsed like pack of cards. Gayle struck a robust fifty, laced with 6 sixes but departed 13 short of what might've been the big differentiator.
Hetmyer batted bravely like a hunter squaring up his prey. He was the Ostrich. Matt Henry, James Neesham, Ferguson were all Kiwis.
But none applied themselves with such focus as Carlos Brathwaite, whose batting average before taking guard on a rosy Saturday was 14.4.
It's sad that Jason Holder, who should've batted with caution, having lost Hetmyer barely a few minutes ago, flirted wildly with a straightened one just on top of off to depart for a first ball duck.
At the brazen laziness with which a captain of a team so desperate for crucial points attempted a nothing shot would've pushed even the most patient fan to utter a four letter word that is stripped of grace.
Interestingly, Brathwaite arrived with the scoreboard reading 142-4. This was the 23rd over.
And absurdly enough, this big hitting man would depart in the 49th, the score read 286.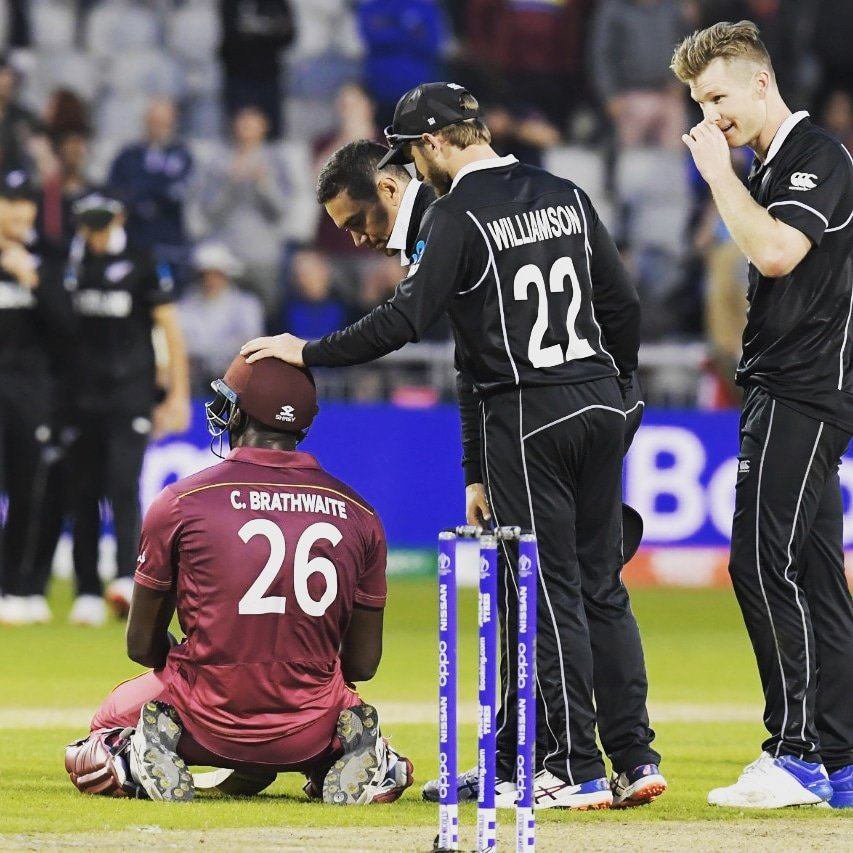 His own contribution was a 101. He'd faced 5 fewer balls than the universe boss.
Yet, his strike rate vis-a-vis Gayle's 103 was 123.
But above all- at a time where West Indians had compelled legions of upset fans to take it to social media banter, Carlos Brathwaite reminded us of the importance of a life without the smartphone and one with
a remote control in it.
You felt surprised and sorry and even cheated wondering whether anyone in this line up believed in that thing called gameplan. About the need to rotate the strike. About the importance of holding on to an end.
So you felt relieved that when it seemed all major batsmen had showed their true colours – pressing the pressure button for an instant, almost spineless release from the circumstances- one man soldiered on.
And maybe it's this exceptional effort from Carlos that the entire team should be learning from.
Maybe, it's this very inning and the rarity of its occurrence (of such vital knocks) that indicate all that's lacking in a West Indies we've become comfortable calling big hitters, as if ODI cricket had no other purpose.
So, time to give it a think Jason and come back stronger, right?