As of yesterday, i.e., May 12, Kieron Pollard- as much a West Indian as he is a Mumbai Indian turned 34. In the thirteen years that he's been around at the international level, he's turned heads in white-ball cricket, playing his brand of fireball cricket at both national and franchise level. He's also been a participant in as many as 23 T20 franchise teams. He's entertained cricket-obsessed globe-trotting audiences, been a match-winner, hit six consecutive sixes for his West Indies, rubbed shoulders with true greats of the Caribbean cricket- including Gayle, Sammy, Bravo, Russell, to quote a few, and moreover, today features among the leading names to play the game.
He's also, as a matter of fact, the West Indies white-ball captain. And in 2020, a year where much of the cricketing action was sidelines owning to the ghastly pandemic- which still continues to trouble the world- Pollard became the only man in flesh and blood to play 500 T20s.
But once, he was just a newcomer in the now incredibly-famous Indian Premier League, having been a part of it for ten back-to-back editions. Moreover, he also has against his name well over 200 IPL sixes and became the first man to represent the famous Mukesh Ambani-owned team to feature in 150 games.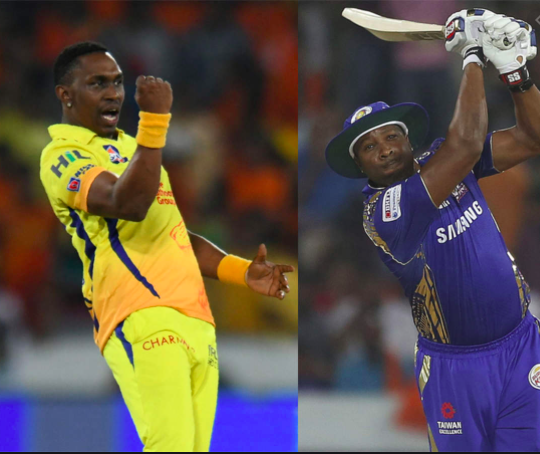 But once nervous and perhaps somewhat confused, Kieron Pollard just couldn't believe the fact that the Mumbai Indians had offered him a terrific contract, as revealed by his compatriot and another T20 icon of the sport- Dwayne Bravo.
So the question is- what did Dwayne Bravo exactly say in reference to Kieron Pollard?
Speaking in no uncertain terms, Bravo revealed the very fact that Pollard was stunned when Mumbai Indians had offered him his first contract. It was 2010 and the man who debuted in the ICC 2007 ODI world cup (hosted then by the West Indies) was still very much a cricketing neophyte trying to find his bearings in the game.
As a matter of fact and perhaps many may not recollect this, but Dwayne Bravo played for the Mumbai Indians, in 2008, 2009 and the 2010 editions. And when they asked him for a replacement with Bravo moving on, he suggested them Kieron Pollard's name. The rest is history.
And the following is what Bravo shared in his own words on the great Trinidadian all-rounder, a talent you simply can't imagine the Mumbai franchise without.
"Pollard, he's here. Come and sign him now before the tournament starts. Rahul and Robin Singh left Mumbai and came to Hyderabad. I'll never forget they came with a contact, which at that time was 200,000 USD. I called Pollard. He came downstairs and met them in the lobby. He was 19. Now for someone coming from Trinidad, as a 19-year-old, that was wow. He said 'Dwayne, are you serious?" 
Also Read: Sourav Ganguly Responds On How COVID Entered The Safe IPL Bio-Bubble!
To this date, Pollard, who recently fired a match winning 87 to take the Mumbai Indians over the line against the CSK at Kotla, has gone on to score no fewer than 3,191 runs, having struck them at a strike rate in excess of 150. And what's more? He's also claimed 63 IPL wickets for Mumbai.
It must be share that what Bravo did was brilliant, which was suggesting Pollard's name to MI and look how long have the two come for their respective IPL outfits. Just like one can't imagine the Mumbai Indians unit without Pollard you simply cannot fathom the Chennai Super Kings in the absence of a certain Dwayne Bravo!