The likes of Adam Gilchrist and MS Dhoni, both unquestionable greats of the game have retired. In some ways, it still isn't possible to talk about Dhoni without touching upon the subject of the great Australian competitor. That's simply down to the fact that while growing up, Dhoni dreamt of emulating his role model: Adam Gilchrist.
Who'd have thought that Dhoni would not only go on to represent his country but lead his team across formats whilst doing both: affecting key dismissals from behind the stumps and scoring many a memorable inning.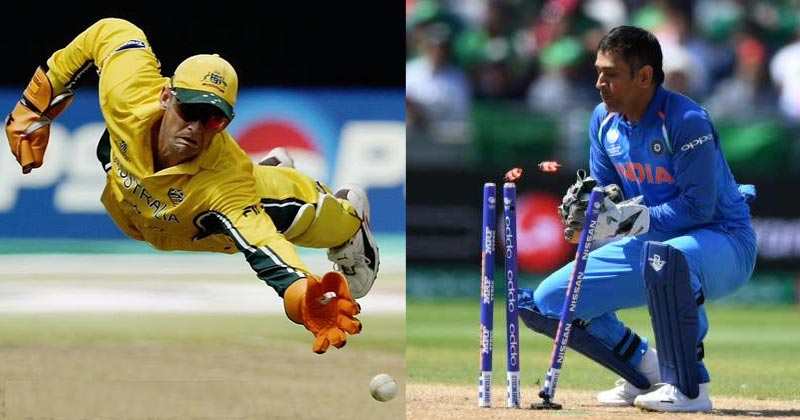 It was likewise for Adam Gilchrist, the batsman and keeper. In fact, in some ways their careers make for an interesting observation. Both Gilchrist and MSD were not only agile behind the stumps, but where it came to scoring crucial and often, big runs for their side, they never shied away from making magic with the bat.
Both were attacking batters, both lofted some of the noted bowlers in the world for towering sixes without much ado. While Gilchrist was responsible for a staggering 813 catches, besides 92 stumpings, MS Dhoni, on the other hand, made worldwide headlines for being the keeper responsible for affecting 829 dismissals(634 catches and 195 stumpings) in his career, topping the all-time list for an Indian.
But now that Gilly and MS are back in the dugout for good, it makes sense to question just who is the best wicketkeeper in the world?
As a matter of fact, it makes more sense to gather whether there is more than one candidate when it comes to ascertaining the best wicketkeeper in the world.
But before we jump into the sea to extract the pearl of wisdom, it's probably wise to take cognisance of the forces guiding wickets for their respective sides.
At the moment, Sri Lankan's Niroshan Dickwella, 28 years of age with 100 appearances (barring T20Is) is still maturing into his role, having affected 190 dismissals so far. He seems one who could go the long way for his country. Mushfiqur Rahim of Bangladesh, who's no spring chicken at 34, is a proven wicket-keeping batter with many many runs for his country. Approaching 11,500 runs in international cricket, Rahim has also affected 372 dismissals for his team- but is he regarded as the best wicketkeeper in the world? One wouldn't think so!
Ireland's Lorcan Tucker, who's just 25, is no more than 56 games old in the international arena with an entire career ahead of him, so it makes sense to not pass much judgement there. Then we have Rishabh Pant and KL Rahul, both outstanding batsmen, one among them fiery (and fearless) and the other, aggressive and in the mold of a technically correct bat. But they aren't outstanding keepers yet, despite noted international experience.
What's also a bit complicated in their part is that given the natural fondness of fans, particularly belonging to their region, Rahul and Pant shall always be compared to Dhoni and all that the Ranchi-born accomplished.
Then we have a dangerous bat in Pakistan's Mohammad Rizwan, who's quickly gone on to become a force to reckon with, owning the game's briefest format in 2021, where he also played a magnificent hand in Pakistan's inning against India. He doesn't, however, attract a lot of talk about his keeping skills as such.
There's Shai Hope of the West Indies, who made heads turn with his dogged and enterprising batting in the 2017 Headingley Test, wherein he hit famous centuries in both innings and forged headlines around the world. From the onset of 2019, he's really solidified his ODI game and is a force to be reckoned with in the current national side. But much like Rizwan, is Hope an exemplary figure?
We don't really hear all that much about Alex Carey and Matthew Wade of Australia, presumably the latter a better presence behind the stumps with his keeping technique. Wade's compact built allows him to jump and hop and do that with a degree of persistence for his team.
All said and done, we are left with three obvious choices for the best wicketkeeper in the world where the game stands at the moment.
While their individual batting talents may appreciably vary from one other, but where wicketkeeping skills, including alertness on the wicket stands, then they are pretty much at par with one other.
Jos Buttler of England (373 int. catches+ 43 stumpings)
Inarguably, one of the most dangerous batsmen in the world at the moment, if you are not into Buttler's game, then are you even focusing on Cricket?
An experienced campaigner, Buttler's finest achievement as a wicketkeeper for England is the fact that his glovework has allowed England to feature Jonny Bairstow, previously the keeper, to play purely as a batsman.
How often does one see another colleague's additional (and thorough) skill help you conserve your energies and focus on another craft?
Tom Latham of New Zealand (172 int. catches + 12 stumpings)
With there being no Grant Elliott in the side anymore and Henry Nicholls available in a temporary glovework role, the onus of the Kiwi wicketkeeping now fully rests on the capable shoulders of Tom Latham.
A dogged and studious character, Latham brings quintessential Kiwi unflappability to the game and is known for his stoicism behind the stumps.
While he is yet to become a great wicketkeeping batsman, the fact that he works hard on his game, spending copious hours developing his technique as a reliable gloveman is bound to take him to a ground of ascendency.
The graceful left-handed bat has already scored 3028 of his 7497 international runs (excluding T20s) through just boundaries giving an idea of his fluency with the bat.
Moreover, that he has the inborn ability to focus for long hours offers hope that over time, Tom Latham can become a mainstay in New Zealand cricket who will bring much glory to the happy country.
Quinton de Kock of South Africa (444 int. catches + 37 stumpings)
There was much surprise- and rightly so- when as on December, 2021 Quinton de Kock announced a shock retirement from Test cricket. You got the feeling that at a time where Faf too had called time on his career, there being no Philander, Steyn, Morkel and AB anymore, South Africa needed their brilliant young keeping batsman.
Probably that is where you expected someone responsible to act responsibly.
But even as De Kock's hung the gloves in five-day cricket, his brilliant presence in the white day game assures that the Proteas are in good stead. He was quick to impress soon as he marked his international debut, displaying great all round athleticism and agility back then as a 19-year-old. Not that much has changed in what is (nearly) a decade since 2013.
De Kock hardly drops catches, is great with his foot movement behind the stumps and readily dives at every possible opportunity. It makes little-or no-sense to even debate his batting credentials.
Did you note that he's only 215 runs away- as on April 23, 2022- from reaching 11,000 international runs?