For someone who was introduced into the highest-annal of the game, Test Cricket, not as a main or first choice, but as a concussion substitute, replacing no ordinary batsman but Steve Smith, Marnus Labuschagne after playing only 31 Test innings boasts of an average of 60.
Quickly proving the fact that he's no flash in the pan talent in one of the game's highest bastions of excellence- Australian cricket- Marnus Labuschange began his ODI journey, which began only recently on a promising note. His current strike rate in the game's limited overs format is already north of 90.
Having already scored 1 century and 3 fifties from just 12 innings, the young South Africa-born Australian cricketer looks like he belongs to the game, one where his promising beginnings are bound to leave a glorious impact on the followers of the sport and its close observers.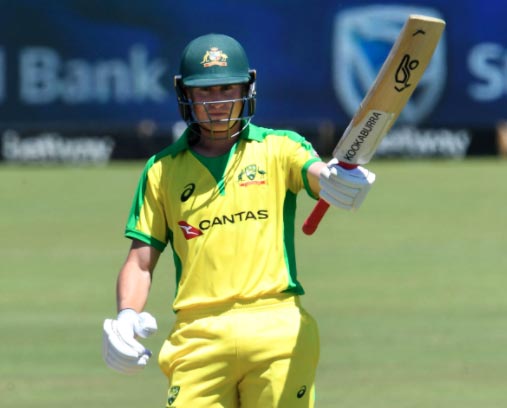 In an age which is fuelled by social media vitriol where cricketers themselves engage in mind-games, it can never be any easy for a young promising talent to not be affected by what's going around him. Though truth be told, Marnus Labuschagne comes out to bat and begins to score, it seems that he creates an invisible wall all around him that wields him from playing on his concentration and affecting his game.
Moreover, given the very fact that Marnus Labuschagne aspires to improve himself all the time and work on all three formats of the game goes on to prove that it's not just runs and averages that the 27-year-old is after; it's building a crafty game that can stand on long legs that forms his fervent cricketing habit.
At the moment, the right-handed batsman is enjoying a nice T20 stint, his first, with Glamorgan and makes no bones about the fact that it would be delightful should he get a chance to play for the upcoming T20 World Cup side.
In the recent past, Australia have looked benign and unimaginative where it comes to their T20 cricket, with two recent stints whether in West Indies or in Bangladesh, both yielding spineless defeats.
Though it's easy to assume that the main reason behind that would be the big absence of match-winners whether one talks about a David Warner, Steven Smith, Pat Cummins or Glenn Maxwell, truth certainly is that a team despite having the likes of Finch (not in Bangladesh, but in WI), Starc, Zampa, Hazlewood and Mitchell Marsh was found wanting.
Also Read: Marnus Labuschagne Reminds Me Of Myself: Sachin Tendulkar
The fact that of their last 10 T20 internationals, Australia went on to lose 8 of those games is something that births doubts about the capability of the team. What can this unit do if, say for an instance, each of its big players are found missing in action instead of deliberately sitting out of a tour?
Would the selectors then not think of someone like Marnus Labuschagne?
That being said, the following is what the determined batsman happened to state in the context of his T20 game:
I certainly think the games I played in England have helped me a lot with just learning my own game in T20 cricket," he said, "and it's shown that if there's that sort of role that (selectors) need (to be filled), then I'm available.
"Pretty much everything I could've done (for T20 World Cup selection), I did in England. I played eight games in the Blast and that was really fun, just to play that role at three and four and bowling a lot of overs."