The Ashes 2019 ended on the 15th of September at The Oval as England beat Australia by 135 runs to level the series 2-2. However, Australia still managed to retain the Ashes because of the drawn scoreline. This was a truly exhilarating series and there were many Ashes 2019 highlights that will be remembered for a long time to come.
As we close the chapter on this fascinating Test series, it would be a good time to look back on some of the most significant Ashes 2019 highlights.
Ashes 2019 highlights – Steve Smith's Ashes:
774 runs from seven innings – those were Steve Smith's returns from Ashes 2019. This was the fifth-highest individual tally by a batsman in Ashes history. In fact, no other batsman in recent memory has dominated a Test series so overwhelmingly like Steve Smith did. It can be safely said that one of the biggest Ashes 2019 highlights was Steven Smith's domination with the bat. Smith's scores in the series were as follows – 144, 142, 92, 211, 82, 80 and 23. Smith ended the series at a Bradmanesque average of 110.57 with 3 hundreds and 3 fifties. He failed to score 50-plus only once – in the final innings of the series. The English bowlers tired everything. However, Smith was like a fort that could not be breached. One wonders what he would have achieved had he not missed the 3rd Test due to injury.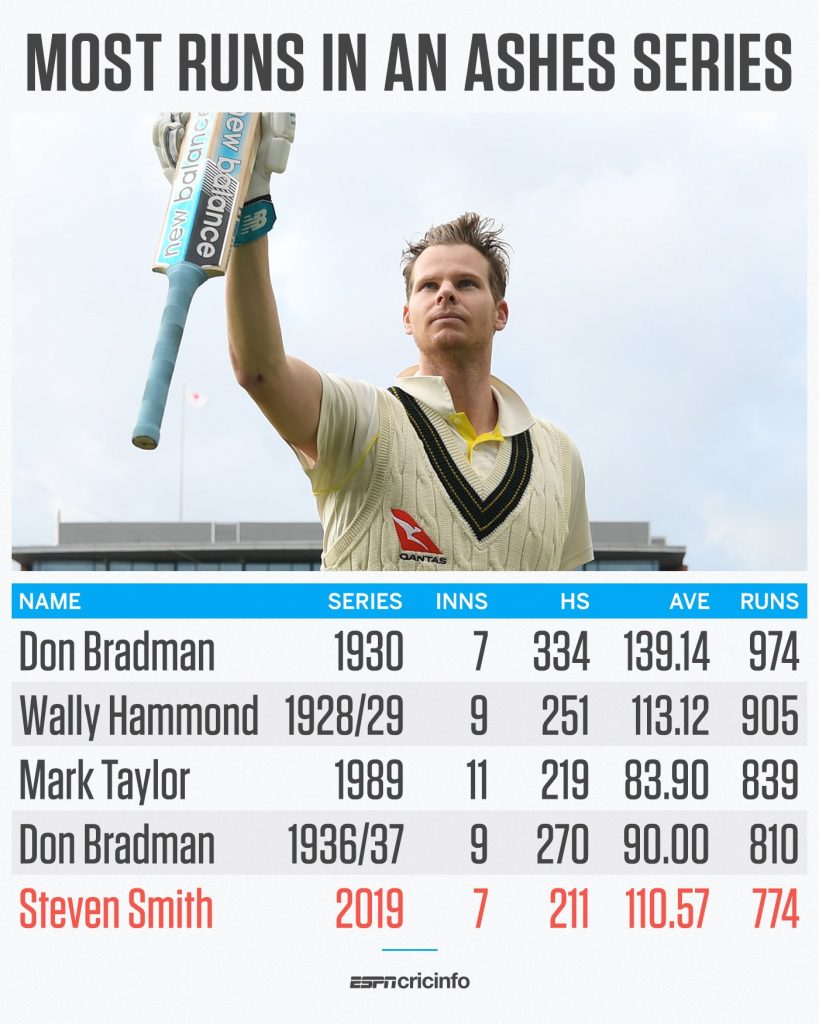 In his own unique style, Smith just kept on accumulating runs and frustrated the English bowlers. In fact, had it not been for Smith, Australia might have well lost the Ashes. Years from now, Ashes 2019 would be fondly recalled as 'Steve Smith's Ashes'. At the end of the Ashes, Smith averaged 64.56 from 68 Tests. He has now firmly established himself as one the greats of the game already.
David Warner's horror series:
Before the start of Ashes 2019, it was expected that Australian opener David Warner would have a distinct impact on the series with his aggressive batting. However, it turned out to be a torturous one for the left-handed opener as he struggled to get going throughout the 5 Tests. Warner ended Ashes 2019 with a paltry 95 runs in 10 innings at a horrible average of 9.50 with a solitary fifty. With these numbers, Warner also obtained some unwanted Test records to his name. This is now the lowest returns for a Test opener to have played at least 10 innings in one test series.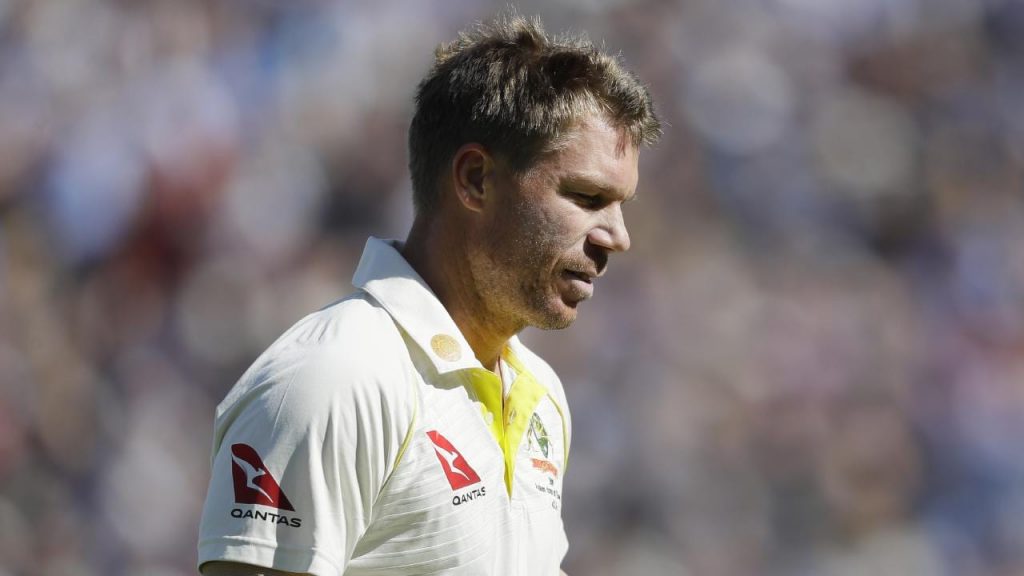 Warner was consistently tormented by England seamer Stuart Broad who dismissed him a record 7 times out of the ten. Only five other bowlers in Test history have achieved this unique feat so far. Warner failed to reach double figures eight times in the series; thus becoming the first player in history to be dismissed for eight single-digit scores in a Test series.
David Warner's horror show will now always be featured in any Ashes 2019 highlights. It will be a nightmare that the batsman would like to forget in a hurry.
Ashes 2019 highlights – Pat Cummins, the Ironman of Australia:
Pat Cummins is not considered as the best bowler of the current era. He is mostly seen as a good fast bowler. But his name is not taken in the same breath as Jasprit Bumrah, Kasigo Rabada or even Mitchell Starc. However, Cummins proved to be one of the biggest Ashes 2019 highlights. He bowled with great heart and ended the series as the leading wicket-taker with 29 wickets in 5 Tests at a terrific average of 19.62. It must be noted that Cummins did not take a single five-for in the series. As a result of this, Cummins hence became the highest wicket-taker in any Ashes series in history without a single five-wicket haul to his name.
Not many would know this, but since the start of January 1, 2018, Pat Cummins has taken a whopping 87 Test wickets in just 16 Tests – the most by any bowler in the same period. After his Ashes performance, Cummins has deservedly secured his position as the world's No.1 Test bowler.
Ben Stokes' sensational match-winning 135*: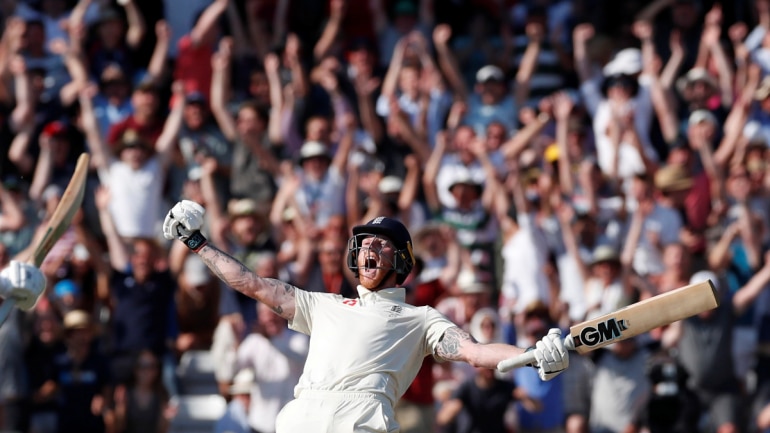 If there has to be one big moment that must feature in the Ashes 2019 highlights, it has to be this one. On the 4th day of the 3rd Test at Headingley, England were looking down the barrel at 286-9 while chasing a target of 359 runs. At the crease was Ben Stokes and giving him company was the tenacious No.11 Jack Reach. But just as things looked all but over for England, Ben Stokes' phenomenal counter-attack brought them back and earned England one of the most famous Test victories of all time.
Stokes played brilliantly; picking and choosing his moments to attack and stealing singles towards the end of the over. It was a breathtaking performance where he smacked 11 fours and 8 sixes. The Australian camp was stunned as the game drifted away from them by the Stokes onslaught.
For this reason, Ben Stokes' 135 in Ashes 2019 will now be registered as one of the greatest fourth innings knocks in Test history.
Jofra Archer – the new pace sensation in Test cricket:
Jofra Archer had already stamped his name in the World Cup 2019 with an exceptional performance. However, Ashes 2019 has elevated his status as one of the new pace sensations in Test cricket. Playing his maiden Test series, Archer made his debut in the 2nd Test at Lord's and was one of the key Ashes 2019 highlights. Even though he played only 8 innings, Archer ended up as the third-highest wicket-taker in the series with 22 wickets at an average of 20.27.
Archer bowled with great pace and venom. He extracted prodigious bounce and constantly troubled the Australian batsmen. His vicious bouncer that hit Steve Smith on the neck and forced him into a concussion must have struck fear into the hearts of batsmen all over the world. There is no denying that Jofra Archer has now established himself well and truly as a menacing fast bowler. His impressive range of skills and searing pace makes him a bowler who must be feared.
Ashes 2019 highlights – Test cricket at its very best:
One of the most significant Ashes 2019 highlights was that it brought Test cricket into the limelight in the best way possible. Throughout the 5 Tests, fans got to witness pulsating, exciting, thrilling and mouth-watering Test cricket at its very best. There was drama, there was action, there were heated moments and there were breathtaking instances. The series was also followed by neutral fans all over the world actively and it was after a long time that the Ashes lived up to its hype.
Hence, the start of the ICC World Test Championship couldn't have commenced on a better note. There was some extraordinary batting, some sensational catches and some incredible bowling. It was Test cricket at its premium and as a result brought the crowds in hordes to the stadiums. In other words, Ashes 2019 has ensured that Test cricket has now got a great boost. And it bodes well for the format in the seasons to come.
As has been noted above, these were some of the best Ashes 2019 highlights. What was your favourite from this list? Comment below.