Anil Kumble has finally resigned from the position of Indian Cricket team's head coach and now the squad will tour West Indies for a five ODI series and a T20 clash, without a coach. However, after all those rumors about a rift being triggered between the new Captain Virat Kohli and Anil Kumble came to an end and this is not what we wanted to hear despite being expecting the same.
In his resignation letter, Anil Kumble clearly outlined the fact that Virat Kohli had some reservations about the head coach and wanted to end his services with the Board of Control for Cricket in India. Kumble stated that "I was surprised with the revelation since I had always respected the role boundaries between a captain and a coach. It was apparent that the partnership was untenable and I, therefore, believe it is best for me to move on".
Here is Anil Kumble's Resignation letter
Thank you! pic.twitter.com/eF5qVzdBRj

— Anil Kumble (@anilkumble1074) June 20, 2017
Before going down to what people have said about Anil Kumble's resignation we would like to enlighten you with a long-standing debate, Coach or Players?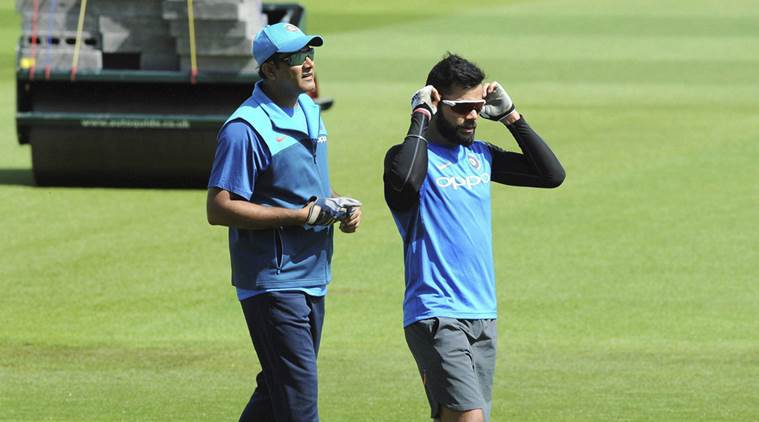 Take football, for example, the players usually seem more dispensable than coaches, irrespective of how big a superstar the player is. Alex Ferguson, in 2003, literally throwing David Beckham out of Manchester United remains the biggest example.
Cricket, on the other hand, is a different ball game altogether, especially Indian Cricket. The biggest example was the Greg Chappell- Sourav Ganguly controversy in 2007 where the coach had to leave as he was placed below the players and certainly under the captain.
After that Gary Kirsten, the man who took the Indian side World Cup glory stayed in the background, just like the then-captain MS Dhoni. Then came the tenure of Duncan Fletcher (2011-2015), who largely confined himself to the players' techniques, before Ravi Shastri (2014-2016) came in with an approach of behaving as one of the boys. And, to be true, the players, as well as the fans, loved them all.
After that India got another high-profile cricketer, the one who completely dominated during his era, a certified legend and a bonafide team player, Anil Kumble. Since he was an Indian, we thought that the outcome would be different, which certainly was in the results as India won 15 out of the 18 Tests played during the home season as well as 5 out 8 ODI's during the same period, however, there was again a personality clash, and maybe it was due to different approaches, and Anil Kumble had to leave the house.
This lays down another unspoken rule. It doesn't matter if you are a legend, as a coach, you will have to bow down to the captain and players when it comes to Indian Cricket.
The story from Anil Kumble's side seemed so hard on the coach himself that despite VVS Laxman, Sourav Ganguly and Sachin Tendulkar wanting to extend his tenure for the West Indies tour which could have further extended to the ICC World Cup 2019, Anil Kumble just couldn't stand it and thought of resignation being the only option left.
However, Cricket being a religion in India and being followed by almost everyone in the country, the controversy has divided the nation into two parts, one being outraged by the treatment of a former legend and an exceptional coach, the other being the ones who are still eager to listen to Virat Kohli's side of story.
We will also tell you what Sunil Gavaskar and other former players had to say on this but before that here are the tweets that flooded the internet in support of Anil Kumble.
#Anilkumble Anil Kumble DID NOT deserve this mistreatment and arrogance shown by Virat Kohli.

— Souvik Roy (@yorkivuos) June 20, 2017
https://twitter.com/SirJadeja/status/877245484888346624
Antigua 2002: This man bowled with a broken jaw, never giving up. Remember tearing up watching his grit. What a champion. #Anilkumble pic.twitter.com/o54rgJjwRQ

— ishaan prakash (@ishaan_ANI) June 20, 2017
Sad to see Anil Kumble has to QUIT..It would be pathetic if @imVkohli is behind this and specially his ego.#Anilkumble

— Riya (@Riya5558) June 20, 2017
Just remove all players who are unhappy with #AnilKumble. Indian cricket team will go places.

— AKSHAY (@akshay14793) June 20, 2017
Unfortunately Indians don't like frank, no nonsense, on your face men. @imVkohli is no different. Good bye Jumbo.India's loss #Anilkumble

— venugopal (@rvgpl71) June 21, 2017
And here are the tweets from fans who are waiting to hear Virat Kohli's side the of story and him being already on his way to West Indies with MV Sridhar supervising the Indian team's management, means that we will have to wait a little for this to happen.
In a coach-captain conflict, cricket is the real loser. Fortunately, that wasn't the case with Anil-Virat. Shows maturity from both sides.

— Aakash Chopra (@cricketaakash) June 21, 2017
Totally with @imVkohli on this..Just cuz Kumble resigned doesn't make him a martyr..Cricket is captain's game..Fully back him or replace him

— Al-Sanghi (@AlSanghi) June 20, 2017
I stand with Captain Kohli. He is the man I trust. No one else. And the buck stops with him. No one else. https://t.co/cSGjRLvKQY

— Anand Ranganathan (@ARanganathan72) June 20, 2017
https://twitter.com/indianalltheway/status/877390578136211456
https://twitter.com/DanishSait/status/877230403861581825
So people are trolling Virat Kohli mercilessly without even hearing his side of story and then they call themselves ICT fans. Shame on you.

— Dharav (@dharav_18) June 21, 2017
The Anil Kumble letter/post is only one side of the story so far. I hope Kohli doesn't bear the brunt for it. Both need to be heard.

— Bradley D'souza (@BradleyDsouza) June 21, 2017
One of the all-time greats, Sunil Gavaskar also came out to share his thoughts and by what we read, it seems like he has lost hope in the approach of current Indian Team players. This is what he said.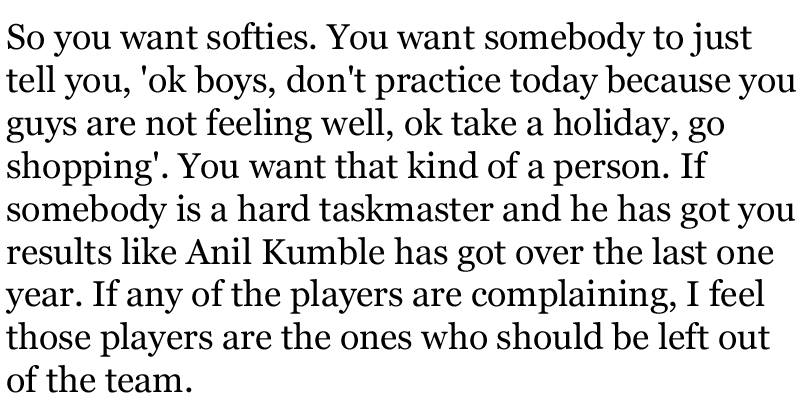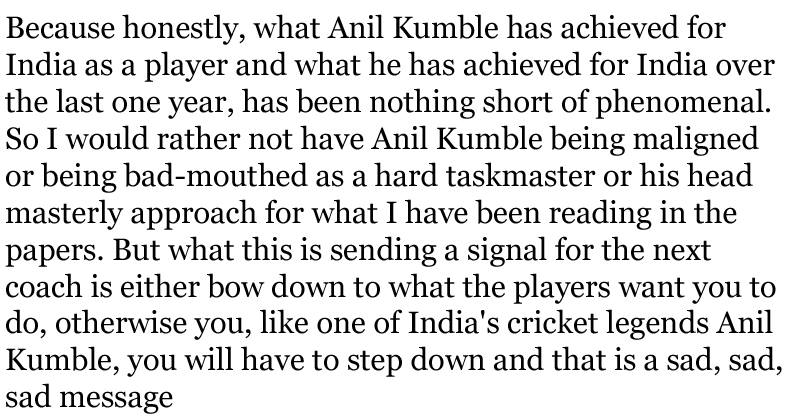 Even Michael Vaughan and Bishan Singh Bedi and Srikkanth took to Twitter to share their thoughts.
India are losing a Great man in @anilkumble1074 … realty hope he stays in some role …. far too good a bloke to lose … #India

— Michael Vaughan (@MichaelVaughan) June 20, 2017
Gratitude has obviously been thrown out o window by whoever raising 'revolt' against Ind's giant @anilkumble1074!Loser's Indn Crkt o course!

— Bishan Bedi (@BishanBedi) June 20, 2017
Sad to hear @anilkumble1074 that you have stepped down! Best wishes to you and your family on your future endeavours champ!

— Kris Srikkanth (@KrisSrikkanth) June 20, 2017
As for the Indian team, this fiasco has left us with many questions.
If there were issues between Virat Kohli and Anil Kumble, then why weren't they sorted out after the India-Australia Test series?
And if the issue was reported to the BCCI, why was it brought to the Committee of Administrators' (COA) notice only on the eve of the Champions Trophy 2017?
Who will be made the new Indian head coach and after this controversy will big names still want to take on this position? Well for the answer, we eagerly wait for BCCI's special general meeting on June 26, where the issue will be hopefully resolved.
21 June 2017
Rohan Jaitly