Anil Kumble has been an inspiration for budding spinners around the world and the former Indian cricketer who had the audacity to play with a broken jaw, bowl 14 overs and take the prized wicket of another all-time great Brian Lara, is arguably the greatest leg-spinner that India has ever produced.
And this is after Anil Kumble started his career as a medium pacer!!
When we talk about the biggest match-winners from India in the last 2 decades or so, the first name that comes to our mind is Sachin Tendulkar, but Anil Kumble, for all the breakthroughs he has given during his career, comes to a close second, ahead of other batting greats like VVS Laxman and Rahul Dravid.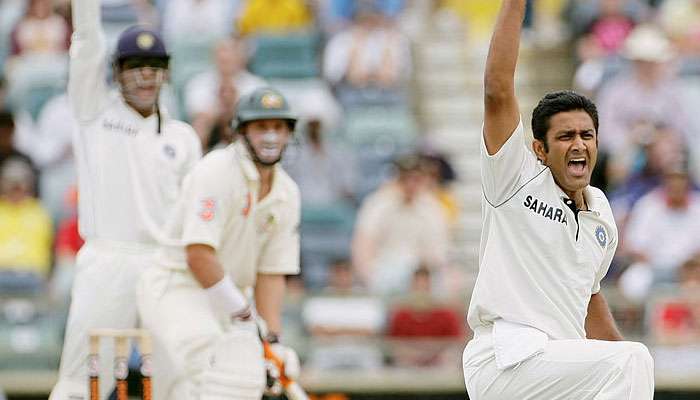 That said, the Indian squad has always been about their batting prowess but Anil Kumble, during his playing days, was one of the few to lead an undisputable bowling attack. Talk about aggression, consistency, determination or stats, 'Jumbo' had got it all.
How many time have you seen a bowler toiling with the opposition with a broken jaw? How many bowlers do you remember who bowled a staggering 72 overs in a single test innings? Who has bowled with 11 stitches on his left hand? Yes, that's Anil Kumble for you.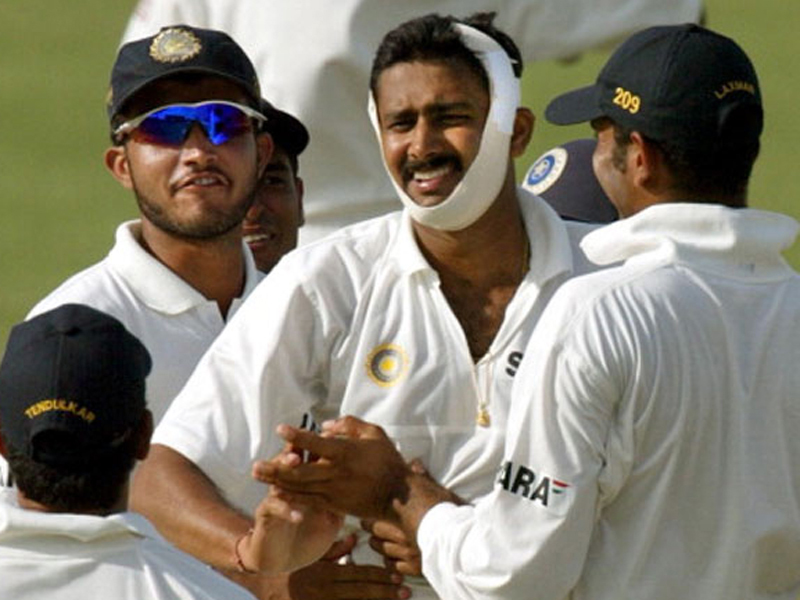 No bowler in the history of Indian cricket can match the number of matches Anil Kumble has won for the team with the bowl, and nobody has ever played with such passion either.
While some say that Anil Kumble was not the greatest turner of the ball, it is also true that even the most subtle variations were enough for him to make a difference, and this is what differentiates him from two other great spinners of the era- Shane Warne and Muttiah Muralitharan.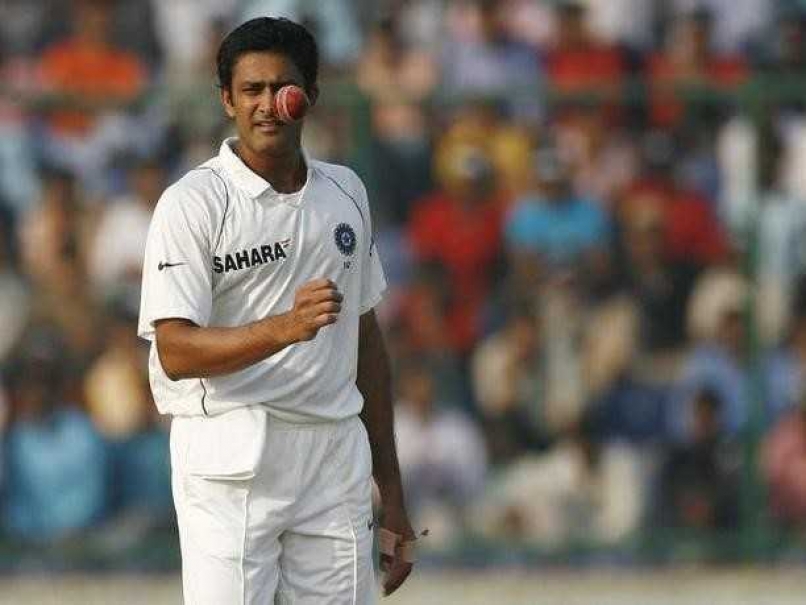 In his 18-year-old career, Kumble played 132 Tests and 271 ODIs while breaking numerous records simultaneously and becoming the 'The Milestone Man' of Indian cricket.
Anil Kumble: 10 Staggering Records Held By 'The Milestone Man'
Kumble holds the record for registering a 10-wicket haul in a single inning of a test match, the only second bowler to do this after Jim Laker.
Anil Kumble hold the record for most number of Test wickets (619) by Indian and third overall, behind Muttiah Muralitharan (800) and Shane Warne (708)
He also holds the record of most number of International wickets (956) by Indian and third overall, behind Muttiah Muralitharan (1347) and Shane Warne (1001).
Highest number of ODI Wickets by an Indian (337)
When it comes to records held by Anil Kumble, his record for claiming the most wickets in a calendar year in ODIs by an Indian is still unbeaten, with 61 wickets in 1996.
He has taken 56 wickets in Sharjah Cricket Stadium, an Indian record for taking most ODI wickets on a particular ground.
Anil Kumble also holds the record of bowling a staggering 40850 balls in entire Test career, the highest for an Indian and the second highest overall.
He has taken 35 five-wicket hauls as well as 8 ten-wicket hauls in Tests and 2 ODI five-wicket hauls, the most explicit tally by an Indian cricketer. Anil Kumble is also the only Indian bowler who to have taken 5 wickets in a test innings, more than 30 times.
In a match against Zimbabwe in 1998, Anil Kumble took his 200th ODI scalp, and became the first ever spinner to claim 200 wickets in the format.
When it comes to maximum caught and bowled dismissals in tests, Anil Kumble still leads the tally with 25 such occasions.
To conclude the list of staggering records held by Anil Kumble, he once was the fastest Indian bowler to take his first 50 test wickets (10 matches) before Ravichandran Ashwin broke the record after reaching the mark in 9 matches.
While he hung his boots for the ODI format on 19 March 2007 vs Bermuda, Jumbo still played Test cricket for more than a year before playing his last match on 29 October 2008 vs Australia.
Kumble was also part of the 2009 edition of IPL and in his 1st match of the season for Royal Challengers Bengaluru (RCB), he took a 5-wicket haul conceding just 5 runs. He ended his first Indian Premier League season with 21 wickets and retired from the league in 2012.