Brian Lara, was, is, and perhaps will always remain as one of the finest batsman to have graced the sport. Lara's genius is recognized around the world for having birthed timeless legends in the sport; records that have stood the test of time.
And frankly, where feats like his grizzly batting gems such as the unbeaten inning of 400 against England and the 501 scored for Warwickshire against Durham stand, it doesn't seem for certain, that they can be bettered by other batsmen.
While surely the likes of David Warner, Chris Gayle, Mahela Jayawardene, and Sanath Jayasuriya have come mighty close to overtaking the "Prince of Trinidad's" 400, a score made against England, whom Lara had oppressed back in 1994 (with his 375), none so far has broken Cricket's only quadruple hundred.
The true legend of Brian Lara stems from the fact that he was not only respected by his own teammates but equally feared by those who challenged his batting authority on the pitch.
Among them, is Sir Alastair Cook, who's himself, a batting legend like Lara. While he may not have possessed the flair and ebullience of Brian Lara, Cook was a dogged collector of lots of runs, the scorer of the highest individual Test score by a left-handed England bat- remember his 294?
For England, Alastair Cook has been the scorer of the bulwark of runs for a period of close to a decade. His greatness as an outstanding opening batsman of all time will forever stand with grace.
But Cook shared that there's one batsman, after all, from the famous Indian camp that can be put in the same league as the great left-handed genius from the Port of Spain.
In fact, before Alastair Cook happened to share who that man was, when interacting with a sports portal recently, he shared what made Lara such a defiant genius.
He shared, "We had a decent bowling attack — Simon Jones, Matthew Hoggard and Min Patel, all of whom were England players.
"Brian Lara scored a century between lunch and tea which made me realize I was witnessing another level of batsmanship altogether. It was genius at work!"
Apparently, the famous Indian batsman whom Cook ranked in the same league as the great Lara is none other than Virat Kohli- the all-format captain of the Men in Blue.
The world, of course, knows the dominant Indian batsman as being among the finest of his generation, the famous leader of the "Fab Four" clan that features some of the greats of the current era, including- Steven Smith, Kane Williamson, and Joe Root, all of whom barring Smith are the leaders of their team.
That being said, what was the former English batsman's views on Kohli and why does he feel that the Delhi-born great batsman is in Lara's league of genius?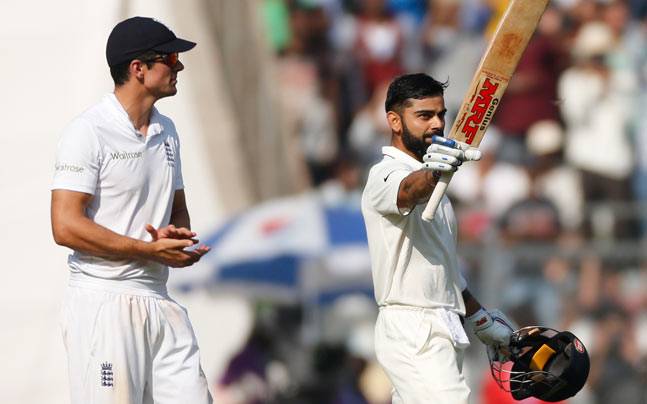 So here's what Cook remarked about Virat, "Now you would have to put Virat Kohli in that group, especially for his ability to score so freely in all three formats."
That being said, while surely Kohli's name on Cook's mind is hardly a surprise, we also know that the other big batsman, another great of the game with whom the current captain is compared is, of course, Sachin Tendulkar- who else?
So, here's Kohli then. In an august company!