Cricket has a long history and in countries like India, England, and Australia where it is important to explain to a toddler, who dreams of becoming a cricketer, why a specific player is a better batsman or a better bowler than others. But the question arises, how does one explain the same to a toddler?
That is where cricket records come in. Be it comparing a player with an other or anticipating someone's next move on the field, cricket records are used by both the teams as well as analysts. But that is not what we are here for.
Also Read: 5 ODI Records That Are Unlikely To Be Broken Ever
Even if you stress on your brain, you might not be able to answer a simple question that every cricket fan should know, when the first international match was played? If you know the answer, good, but if you don't, it's not right to perceive yourself as a Cricket lover. The first Test match was played between England and Australia in 1877.
Let's make it a little difficult. Do you know when was the first ever international match played? Well, the answer to this question is not known by many and it was played on 24 September in 1844 at Bloomingdale Park in Manhattan between the United States of America and Canada.
Now you might have realized that there are numerous facts and cricket records that every fan of the game should know, especially when it comes to statistics of a particular player. From Sir Don Bradman to Harbhajan Singh and Hobbsto Johnson, we've seen witnessed many cricket records being shattered over the past years, in both Tests as well as ODIs. But there are some cricket records that are just meant to remain unbroken forever.
On that note, here are 5 Cricket Records That Are Unlikely To Be Broken Ever
1. Sir Jack Hobbs's 199 First Class Centuries
Scoring a century is still one of the most difficult tasks for many players and taking the tally to three-digits, is just on another level. However, the one we know, who has achieved this feat is Legendary Indian batsman Sachin Tendulkar (100).
However, Sir Jack Hobbs, a famous English Cricketer, holds the cricket record of 199 centuries. While only 18 of them tested centuries, the rest were registered in first class cricket, making it an impossible-to-break cricket record.
2. Wilfred Rhodes' Retirement At 52
In days when 40-year-old Test cricketers are a rarity, it is hard to digest that two of the best crickets that England have ever produced played even after the 50-year-old-mark. Wilfred Rhodes and George Gunn of England retired at the age of 52 and 50, respectively.
For reference, Sachin Tendulkar, the man who gave two decades of his life to International Cricket, retired at the age of 40.
3. Sachin Tendulkar's 100 Hundreds
Unless you were born just yesterday or are living under a rock, Sachin Tendulkar is a name you will associate with modern day cricket. The former Indian batsman debuted in International Cricket at the age of just 16 and went on to become one of the all-time greats and a run machine who scored on every single continent. Known as the Master Blaster, he scored 100 International centuries, including 51 in Tests and 48 in One-Day Internationals.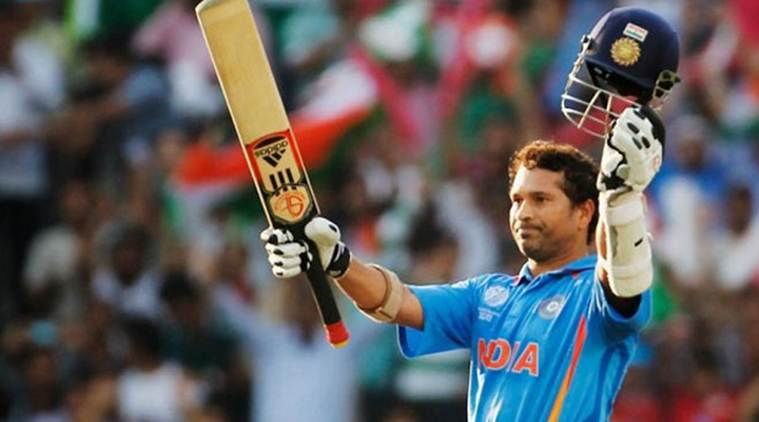 Considering the number of times he went back to the pavilion while being in the nineties, it is safe to say that he will always remain the most consistent modern era batsman and this cricket record will certainly take a supernatural effort to break.
4. Jim Laker's 19/90
England was playing against Australia in the Old Trafford Ashes Test of 1956. The visitors were looking dominant during the series, but one fine morning, Jim Laker helped his team to register one of the biggest upsets in cricket's history.
The Aussies are traditionally weak against spinners, and off-spin, at that time, was particularly not their forte. Jim Laker bamboozled the opposition with his off-spin and the whole Australian batting lineup was demolished by a single player.
In the first innings, Jim Laker claimed all the 10 wickets but that was not it, the next time when the Aussie came to bat, he claimed 9 other, leaving the opposition in horror and ending the match with figures of 19 for 90. Nineteen wickets in a test match is a near impossible task even in this era, however, theoretically, it is possible. But, in more than half a century and a couple of thousand Test being played since then, this cricket record remains unbreakable and is likely to remain so.
5. Sir Don Bradman's average of 99.94
No list of Cricket records concludes without Sir Don Bradman's name. There are just a few, who might not know him, but those are not that great of cricket fan. He widely regarded as the best batsmen to have ever played Test Cricket due to his amazing average of at 99.94 from 52 Tests, which is a staggering number and even T20 greats have found it difficult to achieve this feat in the shortest format of the game.
However, just a solitary boundary would have taken Sir Don Bradman's average to a century, but England's Eric Hollies had other plans that fateful day when the former was playing his last innings. Don Bradman went for a duck in his last innings on a perfectly bowled delivery by Eric Hollies.