In what was called to be a 'revenge match' for PV Sindhu in the Korea Open Final, the Indian shuttler gave Nozomi Okuhara a perfect answer to the latter's World Championship victory last month by becoming the first Indian to lift the Korea Open title.
PV Sindhu vs Nozomi Okuhara is turning out to be the biggest rivalries in women's Badminton and fifth seed PV Sindhu, who had lost to eighth seed Okuhara in an epic 2017 World Badminton Championships final three weeks back, finally got the better of her rival in a thrilling encounter during the Korea Open final that lasted for one hour and 24 minutes.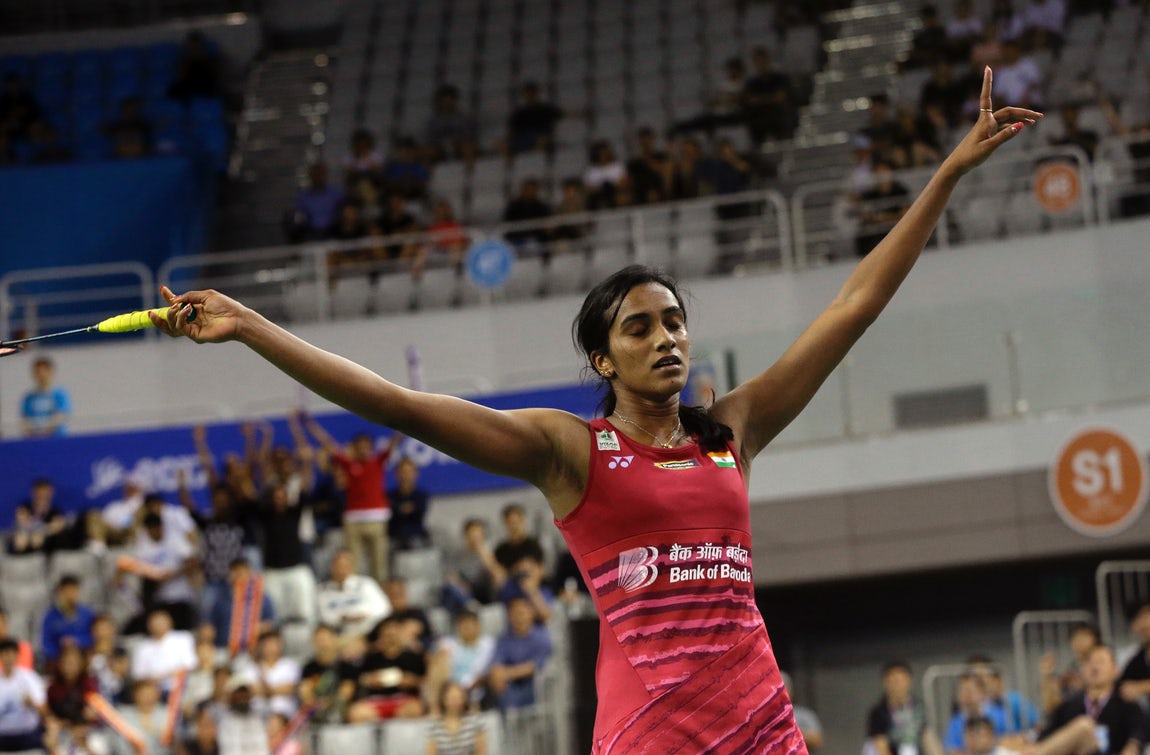 After the two 22-year-olds were involved in the second longest match in the history of women's singles at the Worlds final, which Nozomi Okuhara won by 19-21, 22-20, 20-22, entertained the crowd yet again at another hard-fought major final.
Also Read: 7 Facts About The Flawless Indian Shuttler, PV Sindhu
After Okuhara dominated the Korea Open Final early on, PV Sindhu managed to save two game points while winning the first game before getting crushed by a ten-point margin in the second game. But the Indian ace shuttler got her act together in the third as well as the final game to clinch the title by 22-20, 11-21, 21-18, which is her second Super Series victory this year, and third overall, after the India Open. Meanwhile, the Korea Open victory also helped PV Sindhu to level her head-to-head tally against Japan's Nozomi Okuhara, making it 4-4 in eight meetings.
Watch the final moments of the Korea Open Final here.
The winning point! #Sindhu wins the Korea Super Series title! 🏆 #Congratulations @Pvsindhu1 #OGQ is proud of you. pic.twitter.com/URDIkuYnH8

— OGQ (@OGQ_India) September 17, 2017
Man!! It was a long rally.
The 22-year-old is expected to climb back to her career-best BWF ranking of No. 2 when the new standings are released on September 21, 2017. Interestingly, the Rio Olympic silver medallist first reached the No. 2 spot in April this year after winning the 2017 India Open Superseries.
Also Read: 10 Interesting Facts About Narendra Modi , The 14th Indian Prime Minister
However, despite taking Indian badminton to new heights, PV Sindhu has been subjected to an online controversy that saw Twitterati bashing her dedicating her Korea Open to Indian PM Narendra Modi on his birthday.
After lifting the Korea Open trophy, Sindhu Tweeted
I dedicate this Victory for our beloved Prime Minister Shri Modiji on his Birthday for his untiring and self less services to our Country. https://t.co/frsNmZvtkK

— Pvsindhu (@Pvsindhu1) September 17, 2017
Interesting, her tweet came after PMO took onto social media for congratulating her on the victory but as usual, fans were quick to find the bad side of PV Sindhu dedicating her title to PM Modi and here is what they had to say.
PMO's Tweet
Congratulations to @Pvsindhu1 on emerging victorious in the Korea Open Super Series. India is immensely proud of her accomplishment: PM

— PMO India (@PMOIndia) September 17, 2017
This is how people reacted.
https://twitter.com/KPadmaRani1/status/909439608093470720
https://twitter.com/whyarif/status/909443383038562306
https://twitter.com/AngryBoyfriend8/status/909436231607635969
Oh! So politically correct!

— Joy Moitra (@joymttr31) September 17, 2017
https://twitter.com/PushkarKGautam/status/909445760302800896
Lol Sindhu is new bhakht ..burnol Lao 😂😂

— AT (@arpitacs) September 17, 2017
Congrats Sindhu !!

Your win itself was a heart burn for #Liberals in #India , now this tweet will give them heart attack !! 😂😂

— Navin Srivastava (@navinks) September 17, 2017
See, there is nothing wrong with fans thinking that PV Sindhu's should have dedicated her Korea Open title to the whole nation rather than a particular leader but she did what she believed in and we, as fans, are no one to question her ideologies.
What do you think about the matter? Share your thoughts in the comment section below.