Israel and Palestine and the word peace! Could these ever be used in the same sentence? Could there ever be no rocket shelling from or into Gaza? For the most part of the last five decades, Gazans have lived in a state of constant fear. Wonder what's next from Israel's end? For the better part of this time-frame, Israel's left wondering if it can ever wake up, feeling free from the constant tension that surrounds it from its Arab neighbours.
But none of that seems to matter a bit to Dr. Ghassan Abu-Sitta, a renowned surgeon who can be described, for the lack of a better word, as an embodiment of compassion and patience for the injured Gazans.
Everywhere you see today in one of the most hostile parts of the Middle East, there's bloodshed and a state of constant fears looms at large. Gaza is no paradise on man's earth. But a great relief, nonetheless, to the woeful and embattled lives is Dr. Ghassan Abu-Sitta, who's been visiting the embittered land, time and again to treat injured civil lives.
In the past few days, the amount of tension between Israelis and Palestinians has reached a new crescendo, with newer protests and marches amplifying the worry that lies at the border where dissent and acrimony are everyday realities. The gentle doctor with his calming bespectacled presence is one of the rare comforting sights treating patients at Gaza's Al-Awda hospital. Thankfully, for a young 18-year-old patient- Maddah- who underwent surgery after being shot in the foot, Dr. Ghassan Abu-Sitta was there.
And that, in itself, was a sign that some faint trickle of hope was around to cast off the worries that lay between Gaza and Israel, perhaps a never-ending bitterness. Dr. Abu-Sitta currently serves as the director at the Plastic and Reconstructive Surgery Department at a prestigious hospital- American University of Beirut Hospital.
This is a medical facility where every week, months together, the doctor spends nearly forty percent of his time. His patients are the wounded and jaded, blood-soaked and disturbed from around the Middle East, comprising of different Arab nations- Syria, Iraq, Yemen and Libya and their saviour- a man who's committed to treating the innocent who are near casualties, stuck in the constant strife between Israel and Gaza.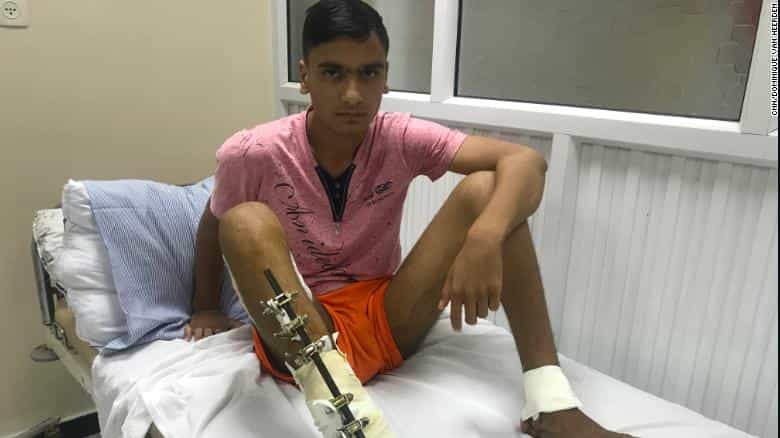 Over the past few years, Dr Ghassan has been involved in treating people with reconstructive surgeries, overseeing medical treatment of people suffering from limb problems and individuals desperately looking to cope up from gunshot wounds and injuries. His medical practice has truly remained unaffected by vitriolic and condemnable or disturbing events such as the armed uprisings between the two warring neighbours that have often compromised peace and amity.
Back in the 1980s, Dr Ghassan Abu-Sitta was a simple medical patient during the time of the First Intifada. Since then, immersed in his practice, the doctor has returned several times to Gaza to treat those who desperately seek his help and guidance. Not someone who can be coaxed into coming up with a politically-motivated rhetoric. And seemingly disinterested in offering his two cents on the region's hostility, it seems the hard working gentleman would rather prefer investing his energies on something that's clearly way more beneficial and productive to the people in a constantly volatile region.
He contends with simply saying, "Unfortunately, we have to accept that war injuries are now an endemic disease in the region."
Even as this is the religious and auspicious time of the revered Ramadan, tensions continue to mount here in the heart of the Middle East. And there's hardly any time on Dr Ghassan Abu-Sitta's watch who's constantly running from one injured to another harmless, caught up in the angst of the violence between Gaza and Israel.
While there's so much that can be done by the governments that are at a constant loggerhead with each other, some souls continue to fight peacefully for what is just and what is right; i.e., the betterment of the poor, innocent and the downtrodden. Dr Ghassan Abu-Sitta, accept our regards and even from the side of an entire world that should take a moment to recognize honest, subservient lives such as yours. It's a pity that some people cannot imagine a world outside of war.