It's easy to criticise and cry foul but difficult to take things in one's stride. To remain calm despite problems galore is actually one of the most difficult things to do. Furthermore, as a matter of fact, amid a mountain of problems it's very hard to even think of solutions but truth be told, not every man is alike. Not every soul finds it feasible to burry himself in a mountain of problems. Some step up and rise to the occasion. Take the example of this Noida-based man who has come out with a creation that may soon become a hot-seller, actually just the kind of thing that one needs in these desperate COVID-riddled times.
So what are we talking about then?
Well, a Noida-based gentleman by the name of Ashutosh Verma has actually created a Water-based Oxygen concentrator that can also function as a mini ventilator. Now, while one certainly hopes and prays that may such a thing never be needed by any individual or patient, but still fact is- Ashutosh's creation could well be the solution to countless around the Delhi NCR region who are gasping for breath and in such a dire need for oxygen.
While this product is water-based, the machines, it must be duly noted, that are used in hospitals are air-based!
Factually speaking, the number of times one has heard news about even the most prominent hospitals in the city of Delhi desperately searching for oxygen (with some even refusing new patient admission unless oxygen-availability is thorough) is infinite. One as simply lost count. In these times, a creation such as the Noida-based man's water-based oxygen concentrator can provide an able fillip.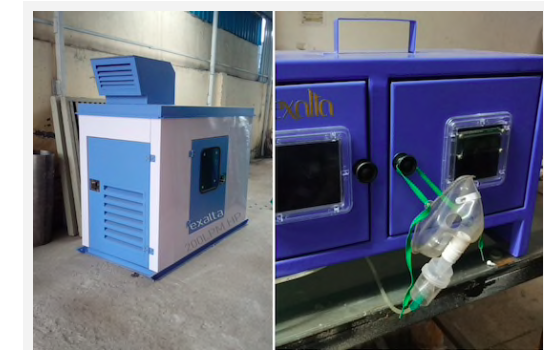 But even then, there seems to be a worry. It doesn't matter that Ashutosh's creation is an indigenous product, the concern is that his manufacturing capacity is limited and he has been having talks with the health authorities of the country to find an able, scalable solution.
More information on the said device suggests that it comes in three variants. It makes from one to eight litres of oxygen per minute from zero TDS or RO water.
A report published on this inspiring bit of story on News 18 suggested the following:
Against the demand of 1,000 per day, he is able to produce only up to 10 to 12 units a day.
Verma is on a hiring spree to get engineers on board to step up the manufacturing also as limited staff due to the Corona lockdown had affected the production.
Meanwhile, Mr. Ashutosh Verma, founder Exalta India suggests, "This product works as an oxygen concentrator, compressed oxygen, as well as a mini ventilator which is 100% made-in-India with no foreign components used. We're calling it a Mini Ventilator because it can provide you with oxygen at the rate of positive pressure to the lungs which can act as a non-invasive-ventilator at your home. It's portable, handy, and easy to carry."
Also Read: Positive News From Indore: Free Delivery Of Dairy Products In The City As Cases Surge!
So far, the product has already proven itself to be a successful one. And just how is that? Well, up to this point, the ingenious creator from Noida has already received 2000 orders. Apart from being a cost-effective offering, there is the added benefit of not depending on vendors for the refilling or supply of oxygen cylinders.
Besides, he's already engaging in talks with hospitals to provide them with oxygen-based concentrators.