In the 2012 Christian Nolan epic, The Dark Knight Rises, we heard a dialogue that swept us off our feet. It said, "A hero can be anyone!" In popular culture, we keep hearing that heroes don't always wear capes. Ever heard that one?
Well, you may have. Now it's time to meet a real hero, away from the luminosity of the big screen and the charm of simple, everyday life. Out here in Mumbai, the quintessential city of dreams, the land of the colloquial screen heroes and stars, it is about time that we met a real hero.
But make no mistake. This is a Mumbai cab driver. He ain't someone who holds a fat wallet, drives a luxury car or resides in a super-luxury, sea-facing apartment.
Life for a hitherto less-known Mumbai cab driver Asif Iqbal Abdul Gaffar, it seems, has undergone a sea-change and within hours of this mild-mannered resident of Mumbai displaying an often forgotten human virtue that makes us stand out from the rest.
Described as honest, simple, and sincere, in a popular social media story that's gaining new ground and crossing hundreds of thousands of eyeballs every passing minute, it was this Mumbai cab driver's simplicity that endeared him to the attention of a social media-obsessing public.
So, now, very quickly on to what exactly did this Mumbai cab driver do?
Well, going out of his way to return a wallet to a passenger whom he was driving around the city, Mr. Asif Iqbal Abdul Gaffar has found his way onto the World Wide Web, a place where stories and emotions- both good or bad- often exchange screens and crowd hearts within seconds.
It turns out that this Mumbai-based simpleton, who happens to be an Ola driver went out of his way to hand over his ride- Darth Sierra, as per the Twitter account- a lost wallet. The incident occurred on June 10, 2019 when the cab passenger, a person who goes on Twitter by the name of @darthsierra was travelling from Hiranandani, Powai along with his wife to a pub, in order to celebrate his birthday.
The Twitter user- @darthsierra- went on to narrate the incident that made him realise the niceness of the Mumbai cab driver who was driving him to his destination and shared the following:
And we overheard him talking to his wife telling her to not let the kids out in the rain. We also chatted a bit about how 1st rains are bad for bikes & that people should ride safely. Patiently negotiating with traffic we reached our destination.
We thanked him & proceeded to meet our friends. About an hr into the evening I realized I don't have my wallet. I freaked out & thought maybe I dropped it while getting out of the cab so went looking. Then called him to check.
Furthermore, when the couple got down from the car and made their way ahead, they'd realise soon that their wallet was no longer with them. And that the cab driver had left quite a few minutes back. And this is where the beauty of this true story lies.
Immediately after calling the driver, the passenger, upon enquiring about his wallet would get to learn that it had been kept safely by the Mumbai cab driver.
Soon thereafter, the driver would see the passenger and the incident narrated in the Tweet goes on as follows: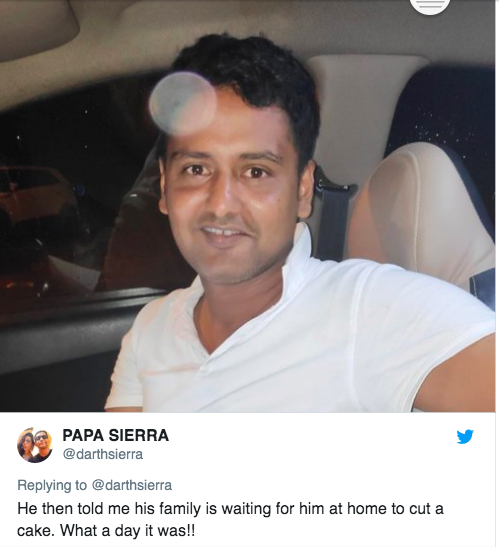 But the biggest surprise was what I got to know when he arrived to hand over my wallet. He gave it to me & wished me happy birthday. I thanked him & then he told me it's his birthday as well!" wrote the Twitter user, marveling at the coincidence.
The above told, this extraordinary tale tells us that how simplicity and honesty are still very much a truth about our world. It then also tells us how despite our world being constantly maligned by lies, greed, jealousy and pretty much everything one would expect from a dystopian reality out there, there are still some whose sincerity and humanity is keeping the world afloat. Kudos to your integrity, Mr. Asif Iqbal Abdul Gaffar.