After every shopping trip to the grocery, when I am done with shelving all my purchases, I am left with a lot of paper and plastic bags and other forms of packaging to deal with. Similarly, whenever we eat out, except for when we are at fine dining restaurants, there are always pieces of packaging or cutlery that need to be done away with. The point here being the additional non-biodegradable waste we unconsciously keep adding to the already burdened environment. Can we make earth sustainable and a better place to live in by switching to eco-friendly packaging and edible cutlery?
We are all aware of the hazards that our environment faces because of the use of single-use plastics. With the recent ban on such items businesses were on the lookout for long term alternatives. A major part of the plastic trash that ends up in landfills and even water bodies is that of single-use cutlery and food service bowls and plates.
Indian food service industry including restaurants, cafes and ice cream parlors were in luck this time as a healthy and eco-friendly option had already been developed by an innovator in our country itself.
Early in the year 2010, an Indian gentleman discovered a little something which was to go a long way in helping environmentalists in reducing the amount of plastic trash which the country and the world would have to recycle in the future.
Mr. Narayan Peesapaty from Hyderabad had had enough and he took matters in his own hand and strived hard to develop edible spoons and forks from locally available grains.
His cutlery was manufactured under the name Bakeys and was designed to have a shelf life of 24 months and would decompose naturally in 7 to 10 days if not consumed after their intended use. The spoons were manufactured in many flavors such as sugar, mint, ginger, carrot and cumin.
His business faced a lot of issues while being crowdfunded and faced demand and supply issues while battling higher cost of the end product as compared to plastic alternatives.
Taking inspiration from his noble intentions, a young engineer from Vadodara, Kruvil Patel decided to ditch his family business going against his relatives who did not see much profit in the edible cutlery business, and started his own entrepreneurial venture Trishula which finally took off in the latter half of 2017.
His cutlery was manufactured in eight unique flavors including beetroot, spinach, chocolate, masala, black pepper, mint, ajwain (carom seeds), and plain, Marketed by Living Essentials, a Mumbai based distributor, Trishula has found favors not only in India but also in far off Norway, South Africa, Australia and Malaysia.
Somewhere in Bangalore two co-workers at IBM, Shaila Gurudutt and Lakshmi Bheemachar, who were saddened by the state of their environment decided to quit their jobs and kickstart their brand EdiblePRO
under the startup Gajamukha Foods, which would go on to produce sustainable alternatives to single-use plastics in the form of edible cutlery and even bowls and plates.
This time around the entrepreneurs being women, the products were offered in more than 80 variants in the form of flavors, colors, textures and designs and were even more affordable. The products are made of locally sourced grains, millets, pulses and spices and have a shelf life of 6 months and can survive under temperatures upto minus 40 degrees.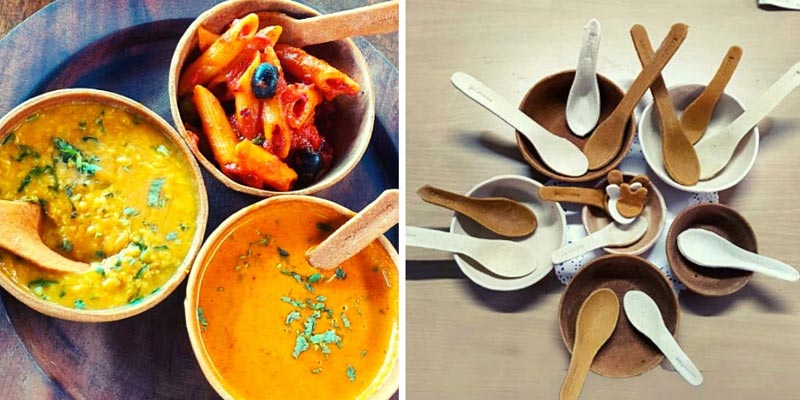 All these people thought about the greater good and invested their time and energy into something that would only gain acceptance slowly over time and they didn't bother about instant profits. Their satisfaction was in the fact that their little efforts would go a long way in doing something for the
betterment of our ecology.
Suggested Read: How Is Guwahati Playing Its Hand In Contributing Toward Wildlife Diversity?
Their products are slightly pricey as compared to their mass-produced plastic competition. The public will have to understand the harm that is caused when plastic ends up in recycling plants or worse in our oceans
and into our food chain in the form of microplastics and it will be their verdict to choose wisely or otherwise.
With determined individuals such as Peesapaty, Patel and Gurudutt and Bheemachar our country can slowly and gradually turn towards sustainable alternatives like this edible cutlery to common plastic and reduce the impact on our land and water bodies.