The time that we're living in is one of the most testing times we have never could imagine for ourselves. Yet, we are here. But some of us are the lucky ones who have the opportunity to stay at home and save ourselves, while some are being treated. But there is a particular group out there who is fighting our battles and being a help at the same time. And, they are – Doctors.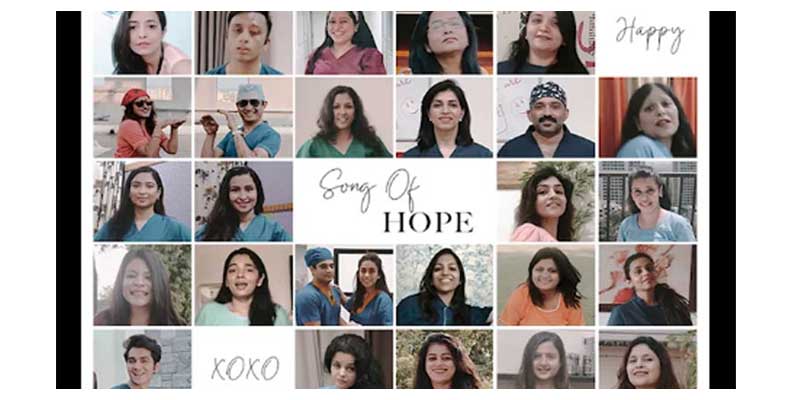 They are at the frontline fighting for us and this has caused them a lot of sleepless nights, family being put to risk, separation from the family and some have even caught the virus, while others have lost their lives to it.
However, these are some brave souls and they're trying their best to keep up with everything by keeping their mood light.
One of those instances is where 60 doctors from all across the country came together, dancing on the tunes of Pharrell Williams' Happy. Each and everyone sent in their videos dancing on the song which was later compiled by Rahul Kedia and shared by The Ministry of Memories on their Instagram handle.
The concept of this video was ideated by Dr. Pooja Nadkarni Singh, Dr. Unnati Mamtora and Dr. Sheetal Sawankar. They have called this video, "The Song Of Hope" and it features doctors from different hospitals in Pune, Delhi, Bangalore, Kolkata, Kanyakumari, Kochi, Indore, Nagpur, Agra and more.
This particular video doesn't just act as a breather for fellow doctors around the world but even the civilians who are relying on them and even worrying about them. It offers a proof that no matter how tense the situation is, it is the bond that we share which makes us stronger. Plus, music and dancing is the best stress buster ever, it produces a bunch of feel-good hormones that are extremely helpful for coping up with the tension we all have been feeling. 
Suggested Read: Heartening Tale Of A Mumbai Cop Who United A Trans Teen With His Dad
So, what are you trying or doing to cope up with the lockdown and this pandemic? Do share it with us.