Disclaimer: Don't take this article seriously because if you do, there's something seriously wrong with you!
In a country where pretty much anything and everything can make the public upset; Virat Kohli getting out cheaply, real estate ads running on the radio, and even loss of electricity during episode number 10,00005 of Taarak Mehta Ka Ooltah Chashmah, one doesn't quite know how to react when a former president is chosen to be conferred with the Bharat Ratna; when he may so easily have found a direct entry into Chinese cinema for bearing an uncanny similarity with the character Han (Shih Kien) from Bruce Lee's epic Enter The Dragon. 
Anyways, let bygones be bygones.
But Mitron here's a piece of exciting news that may require the keenest participation of every single living brain cell in your body.
It's a piece of news that may not bring peace to the Middle East or settle India's problems with the Naxals. This, it must be reminded, is a piece of news that will not propel the introduction of Electric Vehicles in the country and may certainly not make Mamata Banerjee anymore adorable than she really is.
Surely, Hockey hasn't been recognized as the greatest sport in India. Lata Mangeshkar ma'am hasn't moved away from Peddar Road. But then nor have Mukesh Ambani Ji successfully launched the blueprint for 7G in India. And we can confirm you with surety that Mithun Chakraborty's son Mimoh- who is yet to make Finding Mimoh- is not returning to Bollywood albeit with Bobby darling in a lead role.
Uncle Pranab Mukherjee, sorry to the lovely (Frito Lay's) Uncle Chipps, the honorable Mr. Pranab Mukherjee, a man who's, well, an intellectual somewhat and someone who's proven that it's possible to write memoirs on one's self without having to ever smile on the cover of his own book is going to be a Bharat Ratna.
But this leaves us with a question.
Could it be that the other two mortals, who have perhaps done just as much for the world's largest democracy if not less than Shri Mukherjee- Bhupen Hazarika and Nanaji Deshmukh- and therefore, been conferred with the award get the country to think about just what's going on here?
Wasn't the Bharat Ratna supposed to be an embodiment of a Ratna, or jewel as the name says instead of it being an award that recognized any head that God knows, whether functions or not on top of a body?
But let's dispense with harmless queries and offer a Namaskaar to the man of the moment and the many to come, of the kinds you see in the featured image here.
Here's what you've been missing out on for a while now.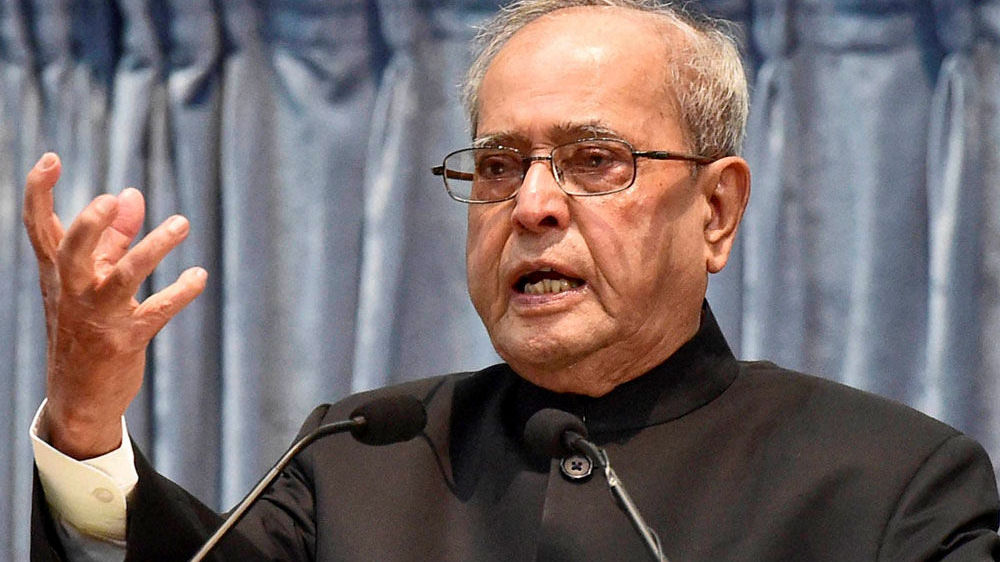 The honorable Pranab Mukherjee is perhaps the finest choice yet for being the Bharat Ratna of the country. Do you know why? Oh, you don't? Ever heard of Goebbels? Ever thought about the spelling of Propaganda. Oh, why would you? Been busy on Netflix?
Anyways, chuck it.
For starters, he is a man who wears specs just like the current President Shri Ram Nath Kovind.
Furthermore? Think deeply.
To a country that although relishes the idea of youth, loves 'experienced figures' at the helm of its affairs, regardless of how debauched an evil, loathsome a tyrant or super successful a business specialist anyone in direct command of the country may be is anyways good.
Isn't it?
In lines with the above, let it be asked, which smart, intelligent, successful and experienced political achiever in India doesn't wear specs? Oh yeah, Amit Shah, Sonia Gandhi and, Mr. Prime Minister (not the late-great Dev Anand's film title) Modi don't count here.
But on a more serious note, Pranab Mukherjee's selection has proven that there's no need to worry about 'bad luck' associated with number 13.
Because, of course, how else is one going to justify the 13th President of the country being conferred with the country's highest civilian award when there's a bit of both: hidden suspicion behind his selection as he's not only not from the BJP (the Bharatiya Janta Party), but also, unfortunately from the Congress, a party that hasn't yet accepted the BJP's Facebook friend request.
And with the 2019 elections being at their fever pitch in the quaint background to all that's happening here on the stage- well, Mr. Shakespeare are you are turning from under your grave- can India also please release a book called 'Political Masterstroke?'
And if yes, then why the hurry?
Quite like Mr. Pranab Mukherjee- former deputy chairman of the Indian Planning Commission in 1991, an achievement considering he was sidelined from the INC after the assassination of Smt. Indira Gandhi in 1984- who has authored books, it is about time that the Prime Minister too, pens one.
And should there be some duress about the title then probably using the help of one of India's finest Bharat Ratna's, a man who was awarded it not for his hairdo but for his batting greatness, maybe it could be called 'The Masterstroke!'
So, 'God' Sachin, can you help? For you must step in this time sir, as there is no Dravid around to save the Bhakt-land from doomsday?
And wait, we didn't say Dhoom.
Anyways, "Hello Yash Raj Studios? Yes, sir! Sir can you please sign up a new actor, yes he's experienced, write down the name, Narendra first name, the surname is 'actor.' Movie? Sir, of course, Doom- 5, what else. Sir, Dhoom-5 I meant!)
—————– This is the end———–