Sunlight is the source of life and energy which brightens up our lives however this is not true in the case of our clothes. Our clothes fade when left in sunlight. But why does sunlight make our clothes fade?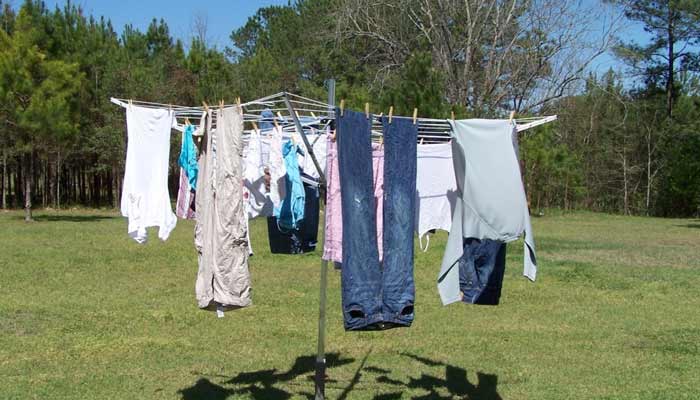 It has been known for generations that white laundry that dries in the sun becomes lighter. The sun bleaches the laundry without any chemical additives. This effect can also be seen on other materials. But Why does sunlight make our clothes fade?
Solar radiation is very high-energy radiation, so, does the sun fade clothes. When the radiation hits colored materials, chemical reactions with the dyes occur. The sun creates so-called oxygen radicals, which lead to the bleaching effect, i.e. the clearly visible lightening of colors. The chemical process is known as oxidation. With the help of the sun, even some unwanted stains can be removed from light materials. If the laundry is wet, the bleaching process is started.
The lightening or a color change occurs because the color molecules can be changed or even destroyed by the sun's energy. In particular, dark laundry should not be hung out in direct sunlight to dry, otherwise, unwanted light stripes can appear along the clothesline. The sun's bleaching power is considerably higher in summer than in winter.
Colors on paintings must also be protected from direct sunlight and the bleaching process that starts with it, otherwise, the appearance and thus the value of the picture could be significantly reduced.
Also Read: These Clothing Hacks Will Simplify Your Life By 100 Times
Hair Also Becomes Paler – Does Ultraviolet Light Cause Color To Fade?
The sun's energy can even make hair lighter. However, not all hair fades equally quickly. There are only two different color pigments in human hair and skin that determine its appearance. Compared to dark hair, light blonde hair contains significantly fewer pigments. The yellow-reddish pheomelanin dominates the light hair. Dark hair is colored by the so-called Eumelanin.
In the case of intense sunlight, the dyes can only partially dissipate the light energy into heat. The rest of the energy leads to the pigments being broken down and finally destroyed, just as with colored laundry. Eumelanin, the dark coloring substance, is much more resistant to the aggressive UV radiation of the sun than pheomelanin. For this reason, blonde hair is much less protected from solar energy than dark hair.
Also Read: How To Remove Stains From Clothes
If you would like to have lighter hair, you can boost the bleaching effect of the sun with lemon juice. For medium-length hair, the juice of two lemons and an hour of the summer sun is enough. However, this only works with naturally lighter hair. To get a visible effect, dark hair would have to be exposed to intense sunlight for much longer.