A man can live without food and other necessities, except for water and air. Sadly, these two necessities are some of the most polluted ones today, still, we can't help but consume it to sustain. In order to save themselves from the polluted junk, people have started installing machineries and systems that clean water and air and makes it consumable. Today, we have accumulated a list of some of the best water purifiers under 10000 in India that do an excellent job of making things safe for you to consume. 
Clean and safe water saves you from thousands of diseases and everyone is advised to drink the same, and for that, you have water purifiers. However, there are tons of different purifiers in the market that promise to do something different and the process of selecting the one that suits your requirements perfectly, is definitely a task. But we have selected some of the high points of different water purifier technologies and what they promise to do, plus, what are they best for.
There are three major water purifying technologies that brands constantly talk and market themselves on the grounds of. These technologies are – RO, UV and UF. Here is what all three actually do. 
A. RO Water Purifier
These water purifiers are some of the most common ones in Indian households. They require electricity to operate, kills and removes bacteria and viruses from the water and removes dissolved salt from the water. RO Purifiers also has a Prefiltration system to work with the Dirty Water and clean it.
B. UV Water Purifier
Even the UV water purifiers require electricity to operate, however, they can work with normal tap water pressure and don't need electricity to boost the tap water pressure. While UV water purifiers kill all the bacteria and viruses in the water, their dead bodies remain in the water since this technology does not remove them. Also, UV water purifiers need the water to be clear in order to work and it cannot also remove the dissolved salt from the water.
C. UF Water Purifier
UF water purifiers require no electricity to operate and can also work with normal tap water pressure. This water purifying technology can work with dirty turbid water and kills and removes all the viruses and bacteria from the water but it cannot remove the dissolved salt from it.
Now, that you're through with the concept of different water purifiers and technologies, let's move on to the real plot of this piece – best water purifier under 10000. All of these purifiers are available on Amazon and have proved to be some of the best purifiers in the market that time and again offer a clean and safe glass of water. Check them out:
1. HUL Pureit Advanced RO+MF 6 Stage 5L Water Purifier
This HUL Pureit is considered to be one of the best water purifiers under 10000 and is also an Amazon Choice product which speaks volumes about the working of this product. It's a high-class water purifier that doesn't just do its work perfectly, but also looks super cool and pleasing. Even though, this particular one is a small purifier it's a rather powerful one and can purify water with TDS up to 1800 ppm. It boasts of 6 stage water purification and comprises of RO and UV technology. It is ideal for all types of water, however, the annual maintenance cost of this particular product can be an issue for some.
2. Eureka Forbes Aquasure from Aquaguard Splash RO+UF 6 litres Burgundy Water Purifier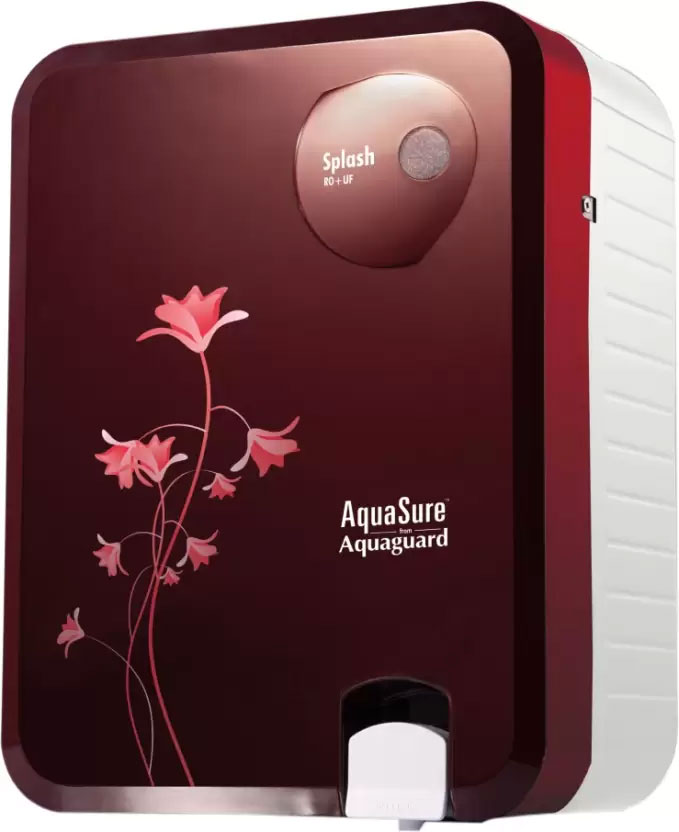 Eureka Forbes is known for its powerful and excellent water purification technology and the same can be observed over here. This Aquasure Splash has a highly compact body and looks absolutely stunning in terms of its style. Moreover, it has some excellent features that will result in a clean, safe and refreshing glass of water. This particular piece has double purification with RO and UF technology and also has a voltage fluctuation guard which is perfect for those with the electricity fluctuation problem. It has a storage capacity of 6 litres and is suitable for TDS levels between 500 to 2000 ppm.
3. KENT Maxx 7-Litres Wall Mountable/Table Top UV + UF (White and Blue)
KENT is another name in the water purification industry that is renowned for its product and has been around for a long time now. It is one of the most trusted brands in the country and continues to make some of the best water purifier under 10000 or at any price range. This particular piece from KENT is ideal for households where the water does not high TDS levels, so you don't need an RO. Places with low TDS are generally the places where treated water is supplied to the residents and in these households, you can go for something that has the UV and UF water purification technology. This water purifier comes with a detachable storage tank of high quality.
4. Blue Star Aristo RO+UV AR4BLAM01 7-Litre Water Purifier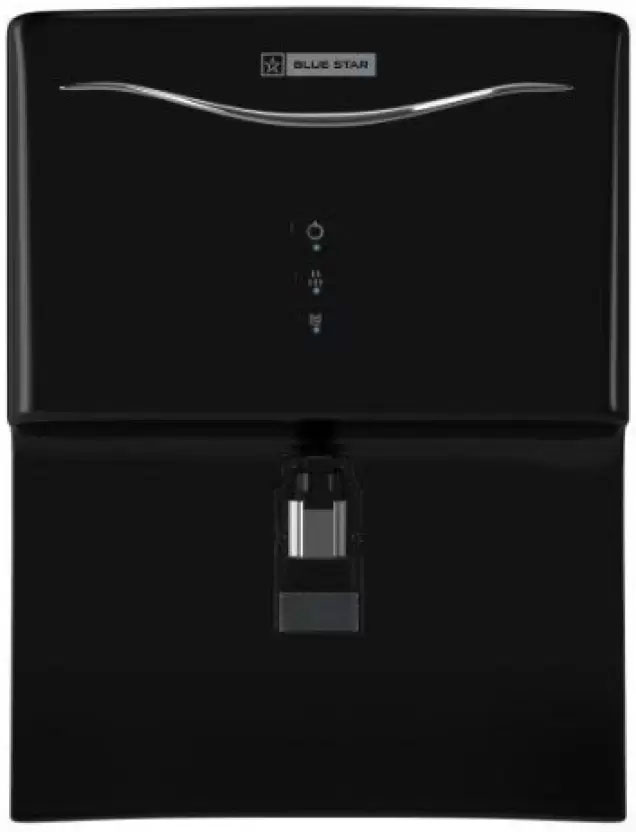 Blue Star is another one of the most trusted brands in the country who are known for making some of the best and premier appliances that work wonderfully well and this is another example of the same. This Aristo RO+UV water purifier is a great piece to have, however, there is just a tiny problem and that is that this one goes a bit above our budget of 10000, apart from that it's a solid piece. This is another best water purifier under 10000 has a pre-sediment filter which removes visible pollutants from the water whereas the pre-carbon filter eliminates the bad odour from it. There are alerts for all kinds of problems in this purifier which means you don't have to stress about the "what happened to my water purifier?" question. But there are also some problems with it, like it does not work well with low water pressure and is not very efficient with water having very high TDS levels.
5. Eureka Forbes Aquaguard Crystal Plus UV Water Purifier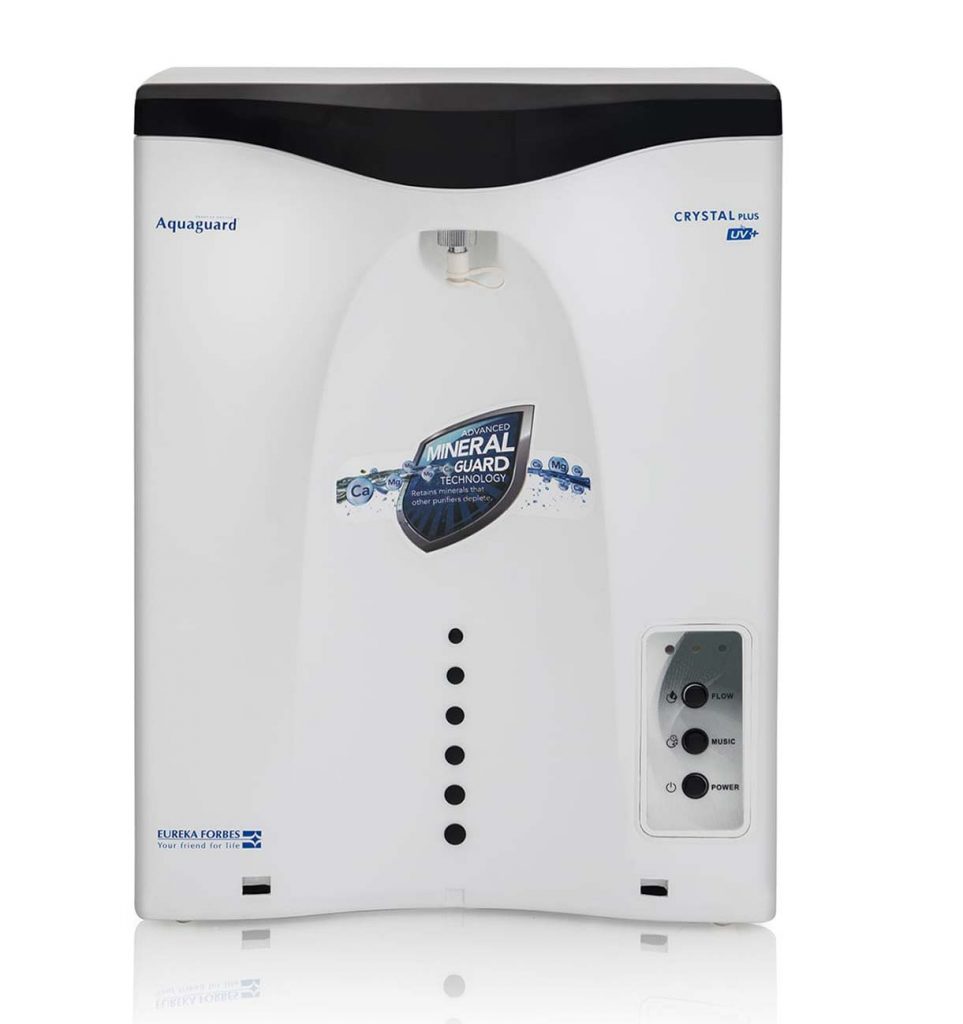 Another Eureka Forbes product on this list of best water purifier under 10000 and it specifically caters to that section of the households that do not need RO purification of their water. This product works on the UV purification system alone is ideal for areas that do not have a very high TDS. One of the best things about this purifier is that it maintains the minerals in the water which are destroyed by some ROs in the process of purifying the water. Products like these also save a lot of power and have a longer life in general. But one of the biggest problems about this particular product is that it does not have any storage of water which means you have to constantly save water from here in some place or the other.
These were some of the best water purifier under 10000 in India and they're known for their quality and work engine. But before you actually decide on buying one, please keep in mind a few pointers: 
Always try to save the water that is discarded from your RO, while you can't drink it, it can be easily used for other things like cleaning, etc.
Always check the TDS level in your water, in order to select the perfect kind of purifier for your home and family.
Do not buy standard RO Water purifiers that don't have a TDS controller. These type of water purifiers remove the useful natural minerals like calcium and magnesium along with Hard Metals.
That's all. Have a happy water purifier buying!