The joy of riding your bike through pouring rains and cold winds with the thunder as your background music is something which you can't put into words. Nonetheless, the truth is, monsoons make for hazardous riding conditions.
While the rains transform the scenes and cut down the temperatures, they additionally unleash havoc, causing water flooding and transport interruptions. Therefore, those who have their own bikes need to keep a few riding tips in mind to enjoy a safe ride during monsoon. Take a look.
Avoid Riding Too Fast
Speeding through a puddle may help you to remember your childhood days when you used to pedal your small cycle and have a ton of fun as the water splashed on your body. However, this can be exceptionally unsafe on a two-wheeler.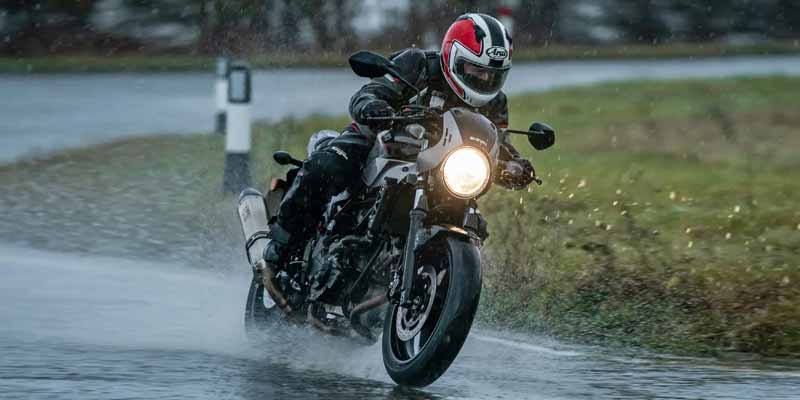 In monsoon, when there is stagnant water on the roads, its vital to keep the revs at a mid-range. Because, when it's raining, any sudden actions on the bike, can easily overwhelm the traction available to your bike's tyres and can cause a crash.
Therefore, always make it a point not to ride faster than you can react, particularly when it is raining. This will also stop water from entering the bike's exhaust system.
Use The Brakes Carefully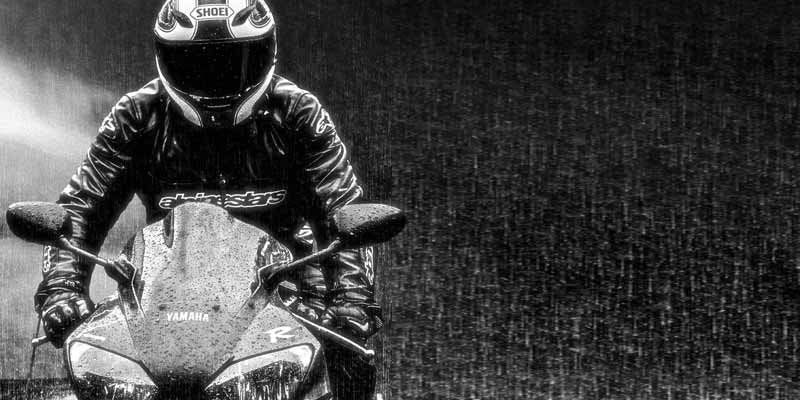 Monsoons do not require being enthusiastic on the brakes either. Instead, in this season, it is essential to get into the right braking zone. Meaning, riding in the wet requires you to apply just a little more pressure on the rear brakes than the front brakes because correcting the rear wheel is easier than correcting the front wheel.
So, be gentle while braking in the wet and work with both the rear and front brakes to gain maximum traction.
Maintain Right Distance
Make it a ground-rule to maintain a safe distance from the vehicle before you. Following another vehicle, especially a car is one of those 'never do' things.
Here's why:
You may not see the pothole that the car misses, which could be a dangerous surprise
The water splashing from the car's rear may reduce your vision
If the car hits an emergency brake, you may not get enough time to react therefore, it's always smart to maintain a safe distance on the road while riding in monsoon.
Additionally, it's wise to keep a cleaning cloth with you, which can be used to clean the headlights, seat, and helmet's visor when you take a break.
Make Yourself as Visible as Possible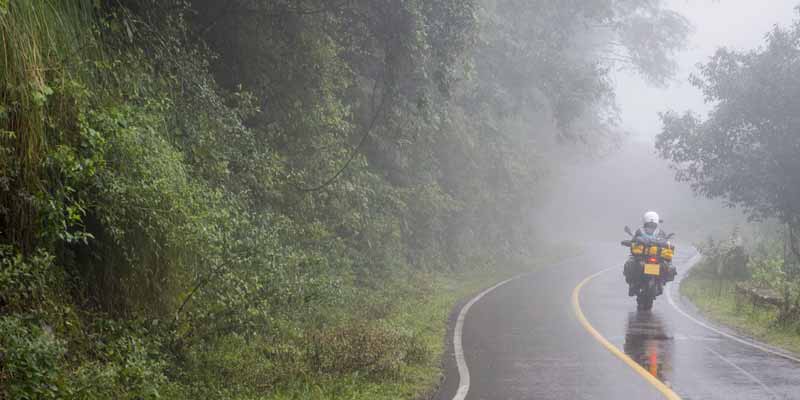 Most accidents occur during monsoon because of low visibility. Low visibility gets you two ways:
You are not able to see other vehicles clearly
You and your bike are not clearly visible to other drivers
The second problem can be solved by sticking a good quality reflector strip at the front and rear of the bike and wearing high-visibility clothes. Also, ride with all your gear on, including:
Waterproof jacket
Gloves and boots
Protective pads for your knees
The problem of 'not being able to see clearly' can be solved by turning on the headlights in heavy rain conditions, even if it's a day.
Be Alert at Intersections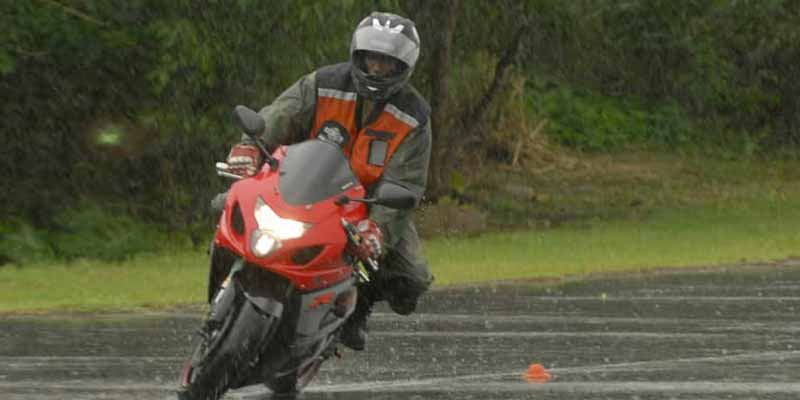 While you can easily notice the oil accumulating in the pavements after rains, it is difficult to see the oil that accumulates on roads while it's raining, usually, at places where cars stop.
Therefore slow down and be careful at intersections. During rains, its best to avoid running yellow lights as making quick turns will be not only difficult but also dangerous.
Additional Precaution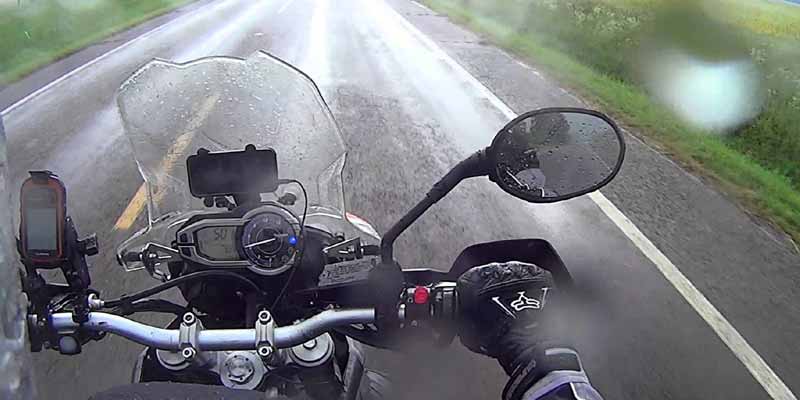 Now that the monsoon is well upon us to ensure that your bike is checked and ready to face the rains. It is likewise advisable to get a comprehensive two-wheeler insurance policy before you ride your machine in rains as there are several factors that are not in your control and can make riding unsafe.
A comprehensive bike insurance policy is an extensive insurance plan for your beloved possession, and it covers:
Damage to the bike
Theft
Legal liability to third-party
Personal accident cover
So, whether it's a breakdown or a mishap, you can always rely on the two-wheeler insurance cover. However, just purchasing a policy isn't enough. It needs to be renewed on time to avail the benefits of bike insurance renewal, which include:
In case of unfortunate events like accidents, you won't be vulnerable to financial losses
You will continue to remain shielded and avoid penalties
A month before the policy's expiration date is usually a good time for your bike insurance renewal.
There you go! A little care, attention, and a comprehensive two-wheeler insurance policy can go a long way in making your ride safe during the monsoon.