Succulents have been all rage from the past year or so, with everyone jumping on the bandwagon of pleasing aesthetics and minimalism at its best, succulents are the best way to get on with the current trend.
Succulents are basically water storage plants that have thick leaves and come in small and cute sizes. And because they're water storage plants, many have started placing them inside the room, on the bedside tables, desk and many such places. Succulents are also said to be the best plants for forgetful gardeners as they're are easy to manage and immediately lift up the entire aura of the room with their presence. They don't die easily and require very less day-to-day care if compared to a normal plant.
Here are some images that would give you a fair idea of how appealing and alluring they can make your interiors look.
#1
#2
#3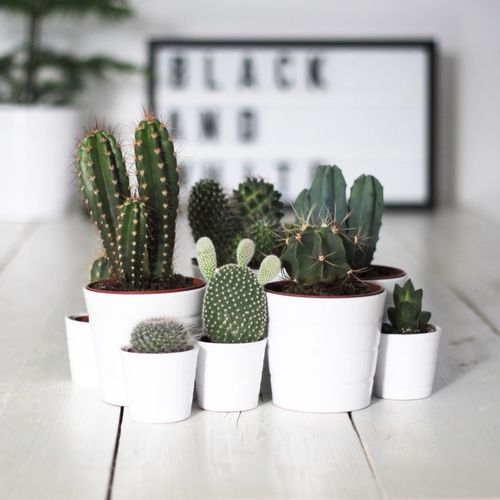 #4
A huge part of their today's popularity can be thanked to social media platforms like Tumblr and Pinterest which have been a medium of room inspirations for many for a long time now.
And now that you saw these beauties in their true blue habitat, there are a new and definitely the cutest sort of succulents in the market. These new type of succulents are called Monilaria obconica that have a rather rare and adorable feature about them.
These succulents look like bunny ears and after seeing them you would definitely want to have one near your bed. This cuteness of these succulents has gone viral in Japan where "Kawai", also known as cute, is one huge portion of Japanese pop culture.
Japan and Japanese adore anything remotely cute which can be seen in any of their work, from Hello Kitty to Manga, the huge presence of cuteness can immediately be spotted in their pop culture. Which is why these succulents are bound to gather a huge fame for themselves in Japan.
A twitter user recently shared the images of these cuties and as expected, the tweet and this succulent's presence has officially blown up.
Check them out here:
#1

#2
#3
#4
#5
#6
#7
Wish we knew where we can one find them in India, because why not? Something like this which also happens to take very less time of the Gardener is always the best thing for newcomers in the pool of gardeners and a certain kind of aesthetic lovers.
Source: Bored Panda, Pinterest
14th March 2017
Jyotsna Amla