Raisins are dried grapes and come in various varieties like black, green, golden, and red. Raisins benefits are numerous like improving digestion, immunity, regulates blood pressure, and many more. They are an easy snack option, can be eaten directly, and are tasty too. They can be added to various food preparations like salads, pudding, cakes, cookies, mixed in cereals, with other nuts and seeds.
Types Of Raisins And Nutritional Profile Of Raisins: 
Raisins that are made using different drying methods or different types of grapes may have different names. Raisins, sultanas, and currants are three kinds of dried grapes. While they share many similarities, they also have their own unique features. Because of the preservative and quicker drying process, sultanas are lighter in color than standard raisins. They look yellow instead of black or brown, which is why they're sometimes called golden raisins. They're usually smaller than natural raisins and have a more juicy sweetness than either raisins or currants.
Nutritional Profile Of Raisins :
Calories per 100 grams – 299
Carbohydrates per 100 grams – 79.2 grams
Sugars — 59.5 grams
Dietary fiber – 3.9 grams
Protein per 100 grams – 3.1 grams
Fat per 100 grams – 0.5 grams
Vitamins – present in raisins are vitamin C, K, B6
Minerals – present in raisins are calcium, iron, magnesium, phosphorus, potassium, and zinc.
Raisins benefits are also contributed due to the presence of antioxidants like polyphenols.
Black Raisin Benefits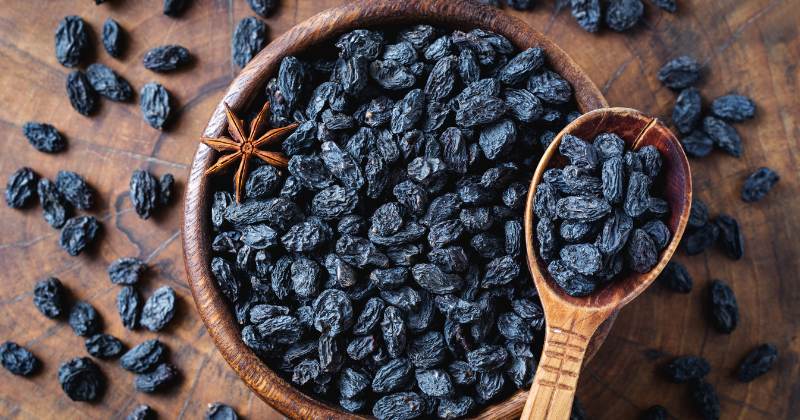 Black raisins, also known as black currants or dried black grapes, are not only delicious but also offer several health benefits. Here are some of the key benefits of black raisins:
Black raisins are basically a concentrated source of various essential nutrients, including vitamins, minerals, and antioxidants. They contain vitamins like vitamin C, vitamin K, and some B-complex vitamins, as well as minerals like iron, potassium, magnesium, and calcium. So they provide energy as well as important nutrients for the functioning of the body.
Improves Digestive Health :
Black raisins are a good source of dietary fiber, which is beneficial for digestive health. Fiber helps in promoting regular bowel movements, prevents constipation, and supports a healthy gut. Even in ayurveda raisins are mentioned as an effective remedy to dissolve the issue of constipation.
Packed With Antioxidant Power :
Black raisins are rich in antioxidants, particularly phenolic compounds and anthocyanins. These antioxidants help neutralize the harmful free radicals in the body, reducing oxidative stress and inflammation, and protecting cells from damage. They also help in preventing and delaying chronic disorders.
The antioxidants present in black raisins may have a positive impact on heart health. They can help lower your blood pressure, reduce your bad cholesterol levels (LDL cholesterol), and may improve overall cardiovascular function, thus reducing the risk of heart disease.
Help In Regulating Blood Sugar Levels :
Some studies have suggested that black raisins may help in improving insulin sensitivity and thus may regulate blood sugar levels. However, this sphere needs more research. Raisins have a moderate to high glycemic index due to their natural sugar content. The exact GI value of raisins may vary slightly depending on factors such as ripeness and processing, but generally, raisins have a GI of around 64-73. This places them in the medium to high GI category. It's important to note that GI values can be influenced by serving size and how the food is consumed along with other foods
Black raisins contain calcium and other essential minerals that contribute to maintaining healthy bones and may help prevent conditions like osteoporosis, arthritis, and others.
Helps Weight Management :
Black raisins are naturally sweet and can be a satisfying alternative to sugary snacks. Their fiber content can also help with satiety, making them a good option for those trying to manage their weight. But, one has to keep a check on the amount consumed.
Black raisins are a good source of iron, which is essential for preventing iron deficiency anemia and maintaining healthy red blood cell production.
Good For Skin and Hair Health :
The antioxidants and nutrients in black raisins can help promote healthy skin and hair. They contribute to collagen production, which is crucial for maintaining skin elasticity and preventing premature aging.
The vitamin C and antioxidants in black raisins can support the immune system and help the body defend against infections and illnesses.
As with any dried fruit, black raisins are calorie-dense, so it's important to consume them in moderation as part of a balanced diet. While they offer many health benefits, they are not a substitute for a varied and nutritious diet. Individual responses to foods can vary, so if you have specific health conditions or concerns, it's best to consult with a healthcare professional or registered dietitian before making significant dietary changes.
It is quite a common practice to soak raisins overnight before consumption. The benefits of soaked raisins are as follows :
Soaking raisins can make them easier to digest as the process helps soften the fruit, making it less taxing on the digestive system.
Better nutrient absorption:
Soaking raisins can enhance nutrient absorption, as water helps release certain nutrients, making them more available to the body.
Natural remedy for constipation:
Soaked raisins are known to have natural laxative properties, which may help relieve constipation and promote regular bowel movements.
Raisins, whether soaked or not, are a good source of antioxidants, which can help protect the body from oxidative stress and reduce the risk of chronic diseases.
Raisins contain potassium and fiber, which are beneficial for heart health. Soaking them can make these nutrients more accessible.
Raisins Benefits For Females :
Raisins are an excellent food item for females, the main benefits are listed below for you:
Raisins especially black ones are excellent for ovulation in women due to its high antioxidant content, minerals like iron and potassium.
Eating soaked raisins daily empty stomach helps in relieving pain during periods (dysmenorrhea) and excessive bleeding also.
The antioxidants in raisins can help protect the skin from oxidative damage, contributing to a healthier complexion
Soaked raisins can aid in digestion, providing relief from common digestive issues that women may experience.
Like men, women can also benefit from the calcium and boron content in raisins, promoting strong bones and reducing the risk of osteoporosis
Due to the iron content, raisins can help prevent and manage anemia, which is more common in women
Raisins Benefits For Men
Improved reproductive health : Raisins contain certain compounds and antioxidants that may support male reproductive health and sperm quality.
Heart health : The potassium and fiber content in raisins helps in maintaining heart health by promoting healthy blood pressure levels and reducing the risk of cardiovascular diseases.
Energy and stamina : Raisins are a good source of natural sugars and can provide a quick energy boost, which may be beneficial for active men or those engaged in physical activities.
Bone health : Raisins contain essential minerals like calcium and boron, which are beneficial for maintaining strong and healthy bones, reducing the risk of osteoporosis.
The Nutrient Bomb : Guava, Learn The Benefits Of Guava, from Immunity Boost to Diabetes Control, from Constipation to Healthy Pregnancy.
Raisins benefits are many but remember that while raisins offer diverse health benefits, they are also high in natural sugars, so portion control is essential, especially for those who are suffering from diabetes or individuals looking to manage their sugar intake. Incorporating raisins as part of a well-balanced diet can contribute to a healthier lifestyle. You can incorporate them in different ways mixed with other cereals, nuts and fruits. They can be stored easily in cool and dry places for months and years.