You've heard of a blood bank, a safe repository of blood of different blood groups. You've also heard of the conventional banks. But have you heard of a love bank? Surely, it must be something to do with keeping someone's emotional vows intact and in safe custody, you'd think! Truth is, there's more to this Love Bank than eyes have seen and minds have deduced. The Love Bank is, in fact, the main point of attraction in an exhibition celebrating the world's first of its kind longest poem. This refers to 'Marina', a love poem penned by Slovak Poet Andrej Sladkovic.
With everyone's favourite Valentine's Day only a few hours away, couples in a small, tranquil Slovak town are coming together to place their romance-stories in a safe place, part of the exhibition celebrating the said poem. Dedicated as a homage to the forlorn story of doomed love- between the poet and his object of affection, Maria Pischlova- the Love Bank is exhibiting the poem penned in 1844, one worth reading every page of the 2900-line strong piece of writing.
So far, as many as 100,000 boxes filled with emotional, moving and mushy love stories by real-life couples have been stored, part of the exhibition that has an interactive layout exploring the poem in fine detail. Part of history, part of moving literature, visitors are surprised to see how an element of the school curriculum has the capacity to interact with real life couples. The house where the poet Andrej Sladkovic's love interest Marina used to stay in the centre point of the Love Bank exhibit. There happens to be a long tunnel in the basement of the same house. This is exactly the spot where 100,000 boxes of promises and vows of love are amassed and where couples can store their tale on a few occasions during the year.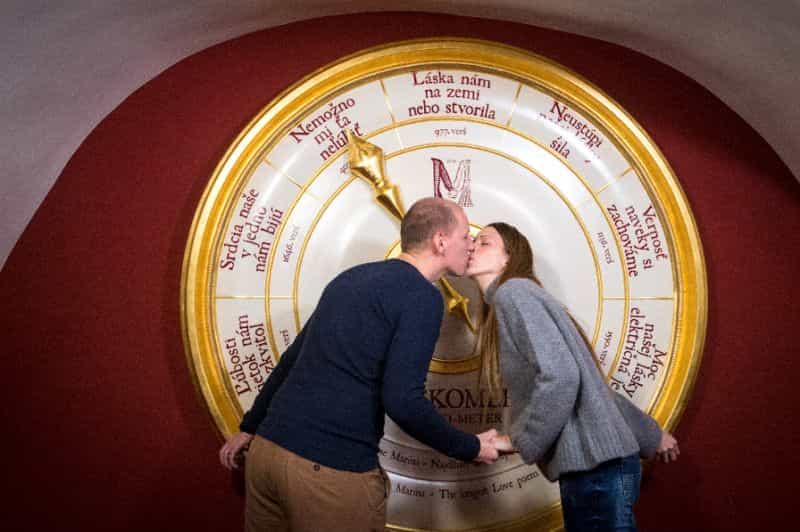 That said, it's not necessary that one can deposit only notes pertaining to one's love or object of adulation. Items that have an emotional preservation value, such as a couple's maiden film tickets are also being decked in the safety deposit of this Love Bank. In another room of the same exhibition, there happens to be a 'Register of Love' which tables the name and notes from lovers who visit the former dwelling of the poet's romantic muse. This weighs a spectacular 53 kilograms. Of all the things that people have done in the name of love, how immensely beautiful is a one of its kind love exhibition, isn't it?