On Tuesday last (November 30th, 2021), the Ministry of Civil Aviation declared that a new terminal at Leh airport will be operational by next year end. Civil Aviation Minister Mr. Jyotiraditya Scindia also said that a civil enclosure will also be constructed at the those Airport in the Nubra region which acts as the sole connectivity to the world's highest battlefield at Siachen.
This is a very important declaration from a national security point of view. What it means to a civilian can be looked at from different angles. This article is a simple an analysis of a strategic aviation solution planned by the Ministry of Civil Aviation and the Airports Authority of India (AAI).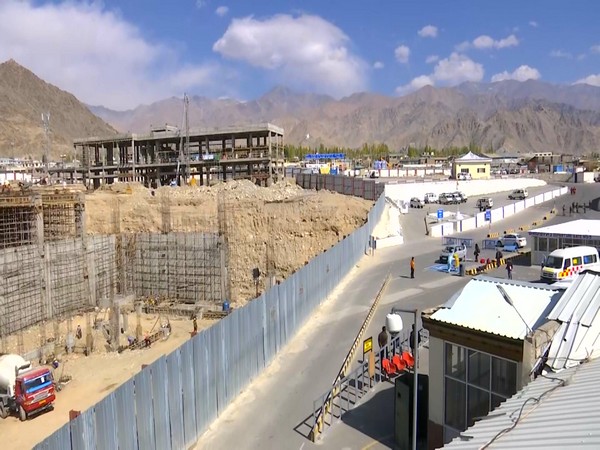 The Coronavirus Pandemic has impacted millions worldwide and has restricted the travelling souls within four walls for almost two years now. Every domestic traveller in India had ambitious plans for the Siachen Base Camp trek, the Chadar Trek and exploring Ladakh in the winter considering that the number of people travelling to this region is sparse in the harsh winter months. This is exactly when two news articles have caught the attention of everyone involved. First is the fear of a third wave due to the Omicron strain of the Novel Coronavirus. It implies immediate restrictions on travel within the country although no directives have been passed officially. The second is the news about an additional terminal at Leh which will be operational by year-end in 2022. This means that all those who have waited for two years will merely have to wait another year and keep their fingers crossed. In all possibilities, they will be able to fulfill their 'Winter Ladakh" dreams next year surely.
Ladakh is a beautiful region and was mostly untouched by commercial tourism till about a decade back. It was with the popularity of the movie Three Idiots which highlighted the Pangong Tso in the Changthang region after which every adventure traveller in India wanted to witness the emerald beauty with their own eyes. The starved tourism sector in Ladakh was quick to encash this opportunity and the roads from Manali and Spiti Valley to Ladakh were constructed and maintained regularly especially in the months garnering most tourist traffic to Leh (June to September). The sole civil airport at Leh was overcrowded during the days in these months as night flights are still not operational here.
Also Read: 5 Tips For A Bike Trip To Ladakh
In July this year, it was declared that four new airports and 37 helipads were being planned across the Union Territory. This would not only boost income for the local inhabitants through tourism and allied activities but also act as a backup for quick action by our armed forces and at times for Disaster Relief and Management as Ladakh is a difficult terrain which often witnesses natural disasters.
Everyone involved is looking at the upside of commercialization and development of road and air connectivity infrastructure in the UT. It should be remembered that Ladakh is a fragile ecosystem with limited water and energy sources and the burden of uncontrolled human traffic is about to create a problem of its own if not tackled within time.
More tourists would mean more water usage at hotels and restaurants for various purposes. Electricity consumption has already reached its peak and outages are common in Leh and to meet the shortage diesel generators are being used which are polluting the thin air of Ladakh.
There also is a problem of disposal of human waste both biological and recyclable. The small towns and villages are not yet equipped with the right technology to handle increasing numbers of tourists.
There is definitely no doubt that the locals in Ladakh earn their living through tourism and adventure sports but the UT government should not rush towards short term gain while overlooking the long term impact of irresponsible tourism in the name of financial gains for an otherwise self-sustaining community. It should be their priority to develop a functional waste management and disposal system along with an energy infrastructure before the new airports and all-weather roads bring in an unmanageable number of people rushing into the Ladakh region which is a sensitive border area apart from being ecologically fragile.
If you get time please also read about the Bar-headed Goose which visits Tso Moriri to nest and breed.